Lodge
Cotton Tree Lodge is a jungle eco-resort situated on 100 acres along the banks of the Moho River in the foothills of the Maya Mountains, in the deep south of Belize. It is a unique eco-lodge in that it supports and cooperates with a local chocolate farm. It is one of the best lodges to combine superb nature adventures with cultural experiences in Belize.
Tours take you chocolate-making with a Mayan cacao farmer and his family, swimming through wet caves to an underground waterfall,  and exploring ruins of the ancient Maya. We will show you the real Belize.
Activities available at the lodge include birding, kayaking, swimming, medicinal plant walks, yoga, massage or simply relaxing in a hammock and enjoying our incredible farm-to-table foods in a jungle paradise. We are only eight miles from the Caribbean – close enough to enjoy snorkeling, diving, or fishing on one of our day trips.
Rooms
Deluxe Cabaña
Deluxe Cabañas are approximately 400 square feet and distinguished by their private balconies with hammocks. Furnished with one or two queen beds, Deluxe Cabanas are appropriate for individuals, couples, friends, or families. A set of bunk beds can be added upon request.
Garden Vista Rooms
The largest living quarters on the property, offering views of the organic garden. Rooms can be reserved individually or in blocks of up to 5 rooms, which suits small groups or family that want to stay close together. Each room has a queen size bed. An additional set of bunk beds can be added.
Boat Cabaña
The most unusual place to stay – right on the Moho River, offering a 360° view of the jungle. This cabaña provides privacy within a truly unique setting. It is fitted with a king-size bed.
Family Cabaña
Large cabañas, perfect for families, each with a queen-sized bed downstairs and two twin beds in the loft. An additional set of bunk beds can be added to the main level to accommodate up to two adults and four children. It measures approximately 400 square feet, and has a private balcony with a hammock.
Standard Cabaña
The standard cabañas measures about 300 sq ft and are fitted with one queen-sized bed. It works best for couples or close friends. If need be, a twin bed or a set of bunk beds can be added upon request.
Deluxe Two-Bedroom Cabaña
These spacious cabañas feature two separate sleeping areas, each fitted with a single queen-sized bed. A twin bed or set of bunk beds can be added to sleep up to four children and two adults. Approximately 1000 square feet with a kitchenette area and private balcony with hammocks.
Honeymoon Cabaña
Featuring a screened in cool soaking tub overlooking the Moho River, the Honeymoon Cabana is one of our most popular accommodations. Cool off with aromatic bath salts in the Jacuzzi tub. Approximately 400 square feet with a king bed and private balcony. Appropriate for individuals or couples.
Jungle Cabaña
This cabaña is for the more adventure-hungry travelers. Locate d1/4 mile away from the main lodge, it can be reached via a footpath into the jungle. Furnished with one king bed, appropriate for singles or couples, and approximately 300 square feet. A small balcony looks straight into the jungle where howler monkeys and tropical birds are frequently spotted. Great for wildlife watchers!
Rates in 2020
Based on double occupancy. For single or triple rates, please inquire.
Edit
Room Type
Rate per couple per night of stay.
(All-inclusive package)
Garden Vista
$534
Standard Cabana
$547
Deluxe Cabana
$587
Honeymoon Cabana
$627
Family Cabana
$627
Jungle Cabana
$627
Cabana Boat
$627
Two-Bedroom Cabana
$720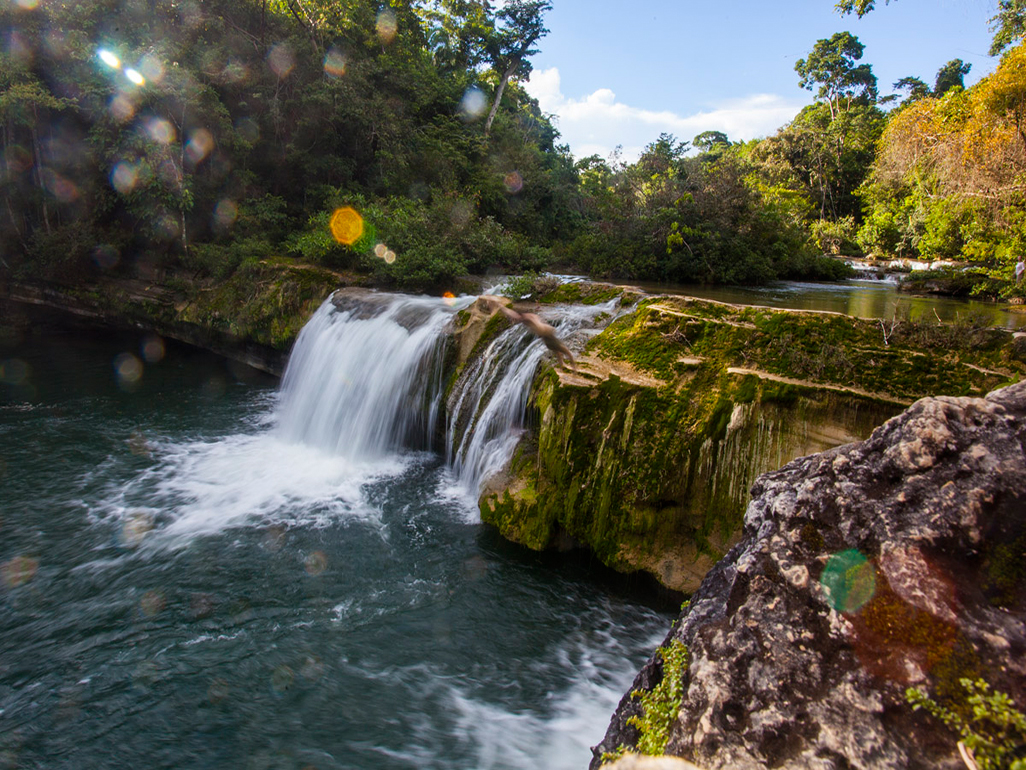 Several international Airlines are flying to Belize either from the US or from other Central American locations.
The main airport is outside of Belize City. Smaller, local planes service different airstrips around the country, starting either from the International Airport or from the domestic airport.
To get to Cotton Tree Lodge it is easiest to grab a short hopper flight to Punta Gorda, where you will be picked up and transferred to the lodge.
Ground transfers between Punta Gorda and Cotton Tree Lodge
Accommodations
All meals starting with dinner on arrival day and ending with breakfast on departure day,
One guided off-site tour each day excluding arrival and departure days.
Local taxes
Each day the Cotton Tree Lodge office will arrange one, two, or three guided group tours around the Toledo District, depending on the number of guests staying at the lodge and their interests. While we make every effort to accommodate your preferences, local conditions in Belize often require some flexibility from our guests. Most tours, unless otherwise specified, are included in the "All-Inclusive" rate.
Tours and activities available daily:
Horseback Riding Excursions
Kayaking* (Guided or Unguided)
Early Morning Bird Walk
Biking* (Unguided)
Lubaantun Mayan Ruins
Nim Li Punit Mayan Ruins
Pusil Ha Mayan Ruins
Blue Creek Cave
Blue Creek Hike
Rio Blanco Waterfall
San Antonio Waterfall
Medicinal Plant Walk
Jungle Survival Hike
Tortilla Making
Tiger Cave
Mayan Harpmaking Demonstration
Barranco Garifuna Village
Eladio Pop's Farm Tour, Chocolate Making, and Lunch with a Mayan Family
Chocolate Making and Lunch in a Mayan Home with Cyrila & Abelina Cho
Cacao Juan Cho's Organic Cacao Farm (Weekends Only)
Cotton Tree Chocolate Factory Tour (Weekdays and Saturdays Only)
Punta Gorda Market (Monday, Wednesday, Friday, and Saturday Mornings)
The lodge is an informal place. Bring what you would wear in a sunny warm climate (casual wear, hat, sunglasses). In addition, bring:
At least two of the following: sandals, sneakers, shoes, hiking boots. Water shoes or sports sandals like Tevas and Keens are great for Blue Creek Cave exploration
At least one lightweight long sleeve shirt
At least one warmer fleece or sweatshirt
At least two lightweight long pants
Waterproof light jacket
Sunscreen and insect repellent (those containing DEET seem to work the best)
Flashlight or headlamp and extra batteries.
Extra film or memory cards for your camera
A refillable water bottle. Filtered drinking water is available in all the cabañas, and we try to minimize our waste by discouraging the use of disposable water bottles.
Weather
Belize enjoys a sub-tropical climate, which means it is warm to hot year round. The wet season is from June-December. In southern Belize, it can get very wet at that time. In the evening it can cool down enough to warrant wearing a light sweater.
Electricity
Electricity is 110V and no special adapters are needed for US travelers.  You can easily charge cameras, phones (though they won't have signal except at the Main Lodge), iPods, etc. in your cabana.  Please note that we are off the grid and run our electricity through batteries charged by solar panels and supplemented with generator power. Don't be surprised by a momentary loss of power as we switch between the two.  Appliances like hairdryers and curling irons drain a lot of power from our system, so please consider leaving them at home.
Water
Filtered water is provided in all rooms for drinking and brushing teeth.  Please consider bringing a refillable water bottle from home to reduce waste.
Internet
If you have an international data plan, there is cell service in the main dining area. We also have Digicel phones for rent at $5US per day. You can purchase 1GB of data for $10US which is valid for 7 days. Your phone can then be used as a hotspot if you wish to share.
Please note that we are at a remote location, and occasionally service is interrupted.
Giving Back to Toledo: Sustainable Harvest International is a non-profit that teaches Central American subsistence farmers sustainable agriculture techniques. SHI is responsible for the organic kitchen garden on our property. You might wish to volunteer with them for a day (see below under "Trips that must be booked in advance") or you could make a monetary donation to their projects. Angel Says: Read is a small non-profit which collects books from hotels and other tourist destinations to be donated to Belizean libraries. Please consider leaving your books at the lodge when you depart. They will be collected by Angel Says: Read and incorporated into the Punta Gorda Library.