Overview
This long, thin country truly is a country of extremes. Stretching from the Atacama desert in the north, all the way to Tierra del Fuego, on the edge of Antarctica. The contrasts, from north to south could not be greater, blessing Chile with exceptionally rich habitat and species diversity. Altiplano desert moonscapes and salt flats, vineyard draped hills in the central valley, emerald lakes, and mountains covered in the temperate rain forest of northern Patagonia, with its fjords and inlets, and finally, the Patagonian pampas, and glaciers of the southern ice-field.
Chile is a country for nature lovers and outdoor adventure seekers. Hiking, mountain biking, horseback riding, kayaking, and white-water rafting are among the top activities. And yet, Chilean hospitality lets you enjoy these thrills in exquisite comfort. There are fabulous, top-rated adventure lodges in every part of this amazing country. Or, you can keep things simple – the choice is yours.
Northern Chile - Altiplano & Atacama Desert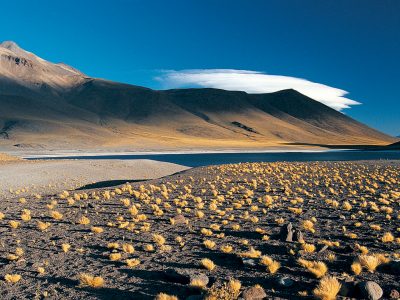 The northern altiplano is sparsely populated, with few notable towns or cities. Arica, in the very north, lies just south of the Peruvian border. The surrounding desert is extremely dry and almost hostile to life. The region is marked by signs of past economic booms – derelict remains of mining ventures that thrived here, especially during the 19th-century. Today, the most significant towns tend to be dotted along the coast – most notable, Antofagasta and Iquique. But the most amazing features of this incredible landscape are hidden among the high, volcanic mountains of the Andes. A remote and starkly beautiful landscape and surprisingly colorful striations. It is also amazingly rich in wildlife, a refuge to species such as vicuñas, guanacos and even flamingos. There are a number of National Parks and protected areas, especially in the mountains, where these species can be observed.
The Atacama desert is generally better known, for its otherworldly formations, salt flats, and sand dunes of the Valley of the Moon. Once in a while, when it does rain in this region, get ready for spectacular wildflower bloom. Against the odds and as incredible as it may seem, indigenous peoples have managed to eke out a living in this harsh environment. Today, it is one of the main destinations for nature and adventure tourists.
.
El Norte Chico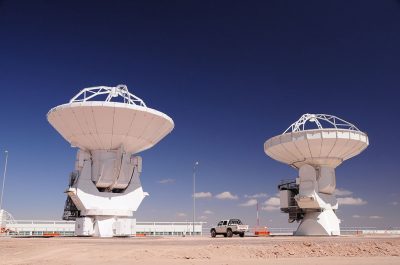 North of Santiago stretches a vast expanse of outback territory. Vineyards hugging rugged hills, dried riverbeds and a landscape that is reminiscent of the American Southwest. This is not a top tourist destination, although the grapes that make the country's favorite drink, Pisco Sour, are grown here. This is also an area that is well known to star-gazers. There are a number of observatories accessible to visitors, which makes it easy to watch the dazzling night skies. There is virtually zero light pollution. The night is jet black and the stars seem almost close enough to touch.
La Serena is the main hub of this region, a coastal town that is popular with Chilean holidaymakers.
Santiago and the Central Valley
Santiago is the capital of Chile and practically all international flights land here. It is a vibrant city and the 'nerve center' of the country. It is almost a world upon itself as signs of modernity soon fade once the city is left behind. The city itself has at its core the remnants of its colonial past, but many old buildings fell victim to earthquakes and a booming economy has expanded the city's horizons rather quickly and in all directions. Santiago today is modern and dynamic, but not exactly charming, with its crazy traffic, and numerous high rises. But, the towering Andes provide a redeeming backdrop to the hustle and bustle.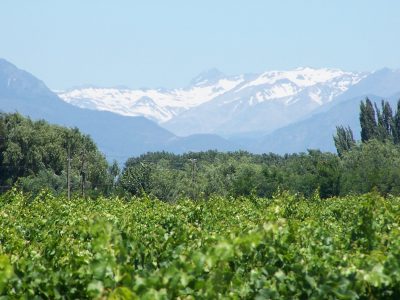 Surrounding the city is a vast expanse of vineyards, as far as the eye can see. Chile has caught up with the best wine producers anywhere and exploring the vineyards in the vicinity is an enjoyable treat. Just get someone else to drive!
Slightly to the northwest, along the coast, are the twin cities of the old and ramshackle Valparaiso in juxtaposition with the ultra-modern and chic Viña del Mar.
The Central Valley is Chile's most important agricultural region with grapes as the premier crop. Chilean wines have come a long way and nowadays some excellent wines can be had for a reasonable price. Colchagua Valley is the most accessible wine region, just a 2-3 hour drive from the capital. Some people like to take an overnight trip and spend the night at a winery B&B or small hotel. Winery tours can be booked through the local tourist office. Some wineries now offer short packages which include cycling or walking tours through the vineyards.
Araucania & Lake District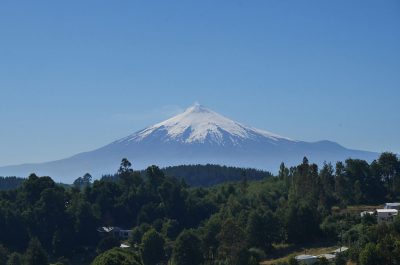 Volcanoes and Lakes line the foothills of the Andes, while agricultural land covers the lower territory, between the mountains and the sea. The region between Temuco and Puerto Montt is beautiful and diverse. The picturesque town of Pucon, situated on Lago Villarrica, at the base of the volcano bearing the same name, has become the regional hub for outdoor enthusiasts. Hiking, fishing, mountain biking, horseback riding are just some of the activities that are on offer here. This region is exceptionally rich in nature reserves and national parks, and needless to say, stunningly beautiful.
Those, exploring the country with their own rented wheels have the choice of heading down south along the coast or crossing over to Argentina to tour the beautiful Argentinean Lake District. The famous 7-Lakes route to Bariloche is simply gorgeous.
The port town of Puerto Montt is the end of the road for northern and central Chile. Beyond this point, the wild and rugged fjord lands of northern Patagonia start. Between Pucon and Puerto Montt is dotted with a string of lakes amidst rural farmland. The largest lake is Lago Llanquehue in the south, with the pretty town of Puerto Varas sitting on its southern shores and facing the perfectly cone-shaped Osorno volcano. To the east, Mountains rise along the Andean spine – many of them active volcanoes.
There are many Nature Reserves and National Parks in this area of outstanding natural beauty, including Chile's oldest National Park, Vicente Pérez Rosales National Park, which protects the 'Todos Los Santos' Lake and the eastern slope of Osorno Volcano and the Petrohue Falls.
The Carretera Austral and Southern Patagonia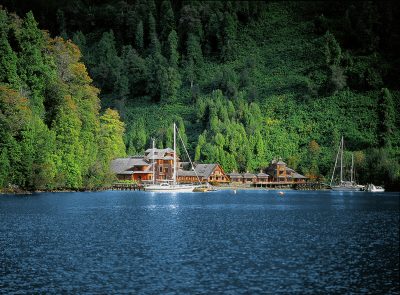 The Carretera Austral still represents one of the great modern adventures. Following the 'Fernweh' – the longing for far-flung places into the deep south, to the end of the world as it were, is both a challenge and a dream. A lonesome wilderness that although remote, can be traversed by 4WD vehicle. The rough road snakes south through what appears to be an almost untouched wilderness. The temperate rainforest clings to the hills, which rise right from the sea, emanating a primeval feel with their lush, verdant mossy softness. Along the shore, the fjords create a secret tidal world. Wild rivers rushing down from the Andes continue to shape and polish the wild and rugged landscape. It is a naturalist's world full of wonder and awe.
Chile has recently inaugurated its largest nature protection effort in this very region. A vast, contiguous swath of land is now protected, for nature and for future generations to enjoy one of the last wildernesses on this planet.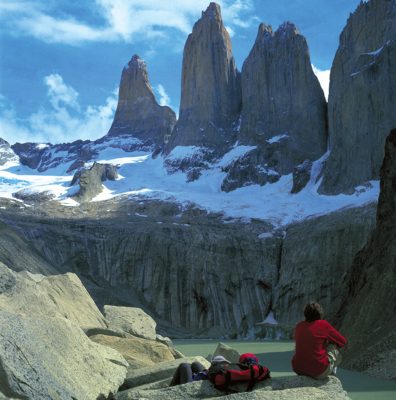 But the Crown Jewel of this pristine landscape is the famous Torres del Paine National Park, a rugged, awe-inspiring massive arising from glacial lakes, bordering the southern ice-field. Despite its remoteness, Torres del Paine National Park is the most popular trekking destination in Chile. The W-trek, which takes in most of the highlights, can be done in 5 or 7 days, but it is the longer treks that really give you that sense of being alone with nature.
Easter Island
Despite its minuscule size Easter Island is big in mystery and culture. A spec of volcanic rock some 2000 miles off the Chilean coast, it certainly takes some determination to go there. But what Easter Island has is unique: a whole army of 'Moai', mysterious human figures carved from stone that can be found all over the island. Although there is plenty of speculation, nobody knows for sure why these figures were carved and what their significance truly is. Easter Island is rich with native heritage, which is celebrated each year in February during the Tapati Festival.
Where to Stay
Chile offers every kind of accommodations imaginable – but sometimes they are hard to find. Chile may be extra long, but with only about 19 Mio people it is not especially densely populated. 'Civilization' tends to be concentrated in small areas, mostly in the central region. Beyond that settlements are far and few between – and so are the tourist facilities. 
The capital, Santiago, has plenty of hotels in every category, as does Valparaiso and Viña del Mar. Surrounding Santiago are the vineyards of the Central Valley and Maipo Canyon. Here you can find some great Winery Boutique Hotels. A nice way to explore this region is to do a self-drive. Alternatively, there are now some first-class establishments that offer multiple-day winery stays as all-inclusive packages.
North of Santiago lies the El Norte Chico region, which is not often visited by tourists – except for La Serena, the coastal hub of this region, which attracts Chilean tourists, especially during their summer holidays. However, it is a region that is well-known among star-gazers for its unpolluted skies – especially Elqui Valley, which is also the home of the Pisco grape, a key ingredient for Chile's most revered beverage of the same name. 
Further north lies the vast expanse of the Atacama and the Altiplano, both quite sparsely populated regions, except for a few spots such as Calama, the airport hub for reaching San Pedro de Atacama, and some coastal towns such as Antofagasta, Iquique, and Arica, close to the Peruvian border. A trip to this region should be well prepared as there are very few facilities making pre-booking essential. The best accommodations can be found in San Pedro de Atacama, a small oasis in a formidable setting, which is the main tourist hub in this region. But venturing further afield to explore the amazing National Parks that protect much of the Andes, can be very rewarding if planned well in advance.
South of Santiago, beyond the Central Valley, starts the Lake District region, which is quite a magnet for outdoor enthusiasts of any stripe. There are lots of hotels, especially in and around Pucon and Villarica, but also in smaller places. The reason for all the 'WOW', are all the amazing National Parks, gorgeous lakes and stunning volcanoes.
To the south, there are two more towns that are particularly noteworthy, Puerto Montt, the gateway to northern Patagonia and a major port town. It is also an important airport for all points south. As a city, it is not very attractive, but interesting for its 'real-life' feeling and bustling market. Most tourists prefer to stay in Puerto Varas, however, a much prettier spot on the shores of Lago Llanquehue.
An interesting excursion in this region would be a short trip to Chiloë, Chile's second-largest island. Steeped in mystery, this island is a world unto itself. Until recently few tourists ever went there, which meant that there were practically no hotels, only rooms in private houses. But this has changed, and it is now possible to stay in pretty good comfort in this 'lost world' place.
Northern Patagonia is a gorgeous region of verdant mountains, lakes, and fjords. There are no real tourist 'hubs' but there are some beautiful lodges dotted around in this remote and serene hinterland. It is an area that is popular for hiking, mountain biking, and fly-fishing. The capital of this region is Coyhaique, which serves as a base for people who fly in via Balmaceda airport.
For being as remote as it is, the southernmost region of Chile is one of the most popular tourist destinations, thanks to Torres del Paine National Park, which attracts a lot of visitors during the short season from about November to the end of March. Spaces are limited and thus at a premium. There are now some hotels that have opened up on the edge of the National Park, thus expanding the range – but most of them, luxury lodges. The nearest service town is Puerto Natales, which lies about 2 hours from Torres del Paine. All kinds of accommodations can be found here. The airport hub for this region, however, is Punta Arenas, approx. 3 hours south of Puerto Natales. It is not the prettiest town but has some decent hotels, too, which is handy for late arrivals or early departures. Punta Arenas is also the jumping-off point for those who want to venture into the real wilderness of Tierra del Fuego or Isla Navarino, which is about as far south as you can go in South America. 
Practicalities
Getting there
Most international flights arrive in Santiago. Depending on individual travel plans, most travellers spend the first and last day of their trip in the capital, not least to have some buffer time in case of delays. 
Getting Around
By air: Given the very large distances between different points of the country it makes sense to fly there. There are three airlines that service the entire country. LATAM (formerly LAN) is the longest established airline, but that doesn't necessarily make it more reliable than the others. it does offer more comfortable planes, though. The discount airlines are Sky and JetSmart.
By car:  Cars are a great way to get around Chile. However, consider the miles. Give yourself plenty of time so you don't end up just sitting behind the wheel. Also, beware that many roads are not paved, which makes it advisable to rent a 4WD. There may also not always be a gas station when you need one, so it is a good idea to fill the tank every time you get the chance.
Many travellers dream of driving the length of the country, or at least all the way from Puerto Montt in northern Patagonia to the far south. It is a great adventures. Unfortunately, Chilean rental car companies charge rather hefty one-way rental drop-off fees, which are calculated by the mile (distance between pick-up and drop-off location).
GPS doesn't always work or isn't always accurate, so map reading skills also come in handy. 
For driving in the Santiago region it is necessary to purchase a toll tag.
Taking a rental car across the border into Argentina necessitates the purchase of a permit, the price of which varies depending on the duration of its validity.
By bus: Chile has some very good long distance bus services, which can come in handy, especially when crossing the border into Argentina. 
Money:
Time:
Language
Electricity
National Parks & Protected Areas