Posada Amazonas
Posada Amazonas is ideal for those looking for a short introductory experience of the Tambopata Rainforest, as travel time required to get there from Puerto Maldonado is less than 2 hours. There are plenty of interesting natural and cultural experiences to fill your agenda: giant river otters at an oxbow lake, parrots at a clay lick, a canopy tower, an ethnobotanical trail and now even a rainforest spa!
Refugio Amazonas
Refugio Amazonas is a simple, 24 room lodge located in a 120-hectare private reserve surrounded by the community of Condenado, 3 hours by boat from the nearest town, Puerto Maldonado, and 2 hours up-river from Posada Amazonas.  It is ideal for an introductory excursion to the Tambopata rainforest, for family trips or as a stop-over for those traveling on to Tambopata Research Center.
Tambopata Research Center
The Tambopata Research Center is the most remote jungle lodge in the Amazon, far away from civilization.  Correspondingly, wildlife observation is richer and more rewarding than at any of the other lodges in the area. The distance from Puerto Maldonado means it is best for longer jungle stays.
Sandoval Lake Lodge
Located deep in Peru's Tambopata National Reserve, Sandoval Lake Lodge overlooks sparkling, palm-rimmed Lago Sandoval, the most beautiful and wildlife-rich of all oxbow lakes in the Tambopata area. This privileged location gives you exclusive access to the lake in the early morning and late afternoon, the best hours for wildlife viewing and photography.
Heath River Wildlife Center
Only 4 hours by river from Puerto Maldonado, the Center is superbly situated lodge with easy access to two different eco-systems, the rainforest, and the savannah. It features a nearby macaw clay lick, Capybaras (120-pound Guinea Pigs), oxbow lakes with Giant Otters, 480 bird species, and 6 monkey species. Furthermore, we feature healthy populations of Tapirs and Jaguars. Though very traditional, the lodge in Sonene does not sacrifice comfort in the least. Guests enjoy roomy, private, double-occupancy bungalows with electric fans and en-suite facilities with hot showers.
Manu Wildlife Center
The Wildlife Center is located in a private, 40,000-acre rainforest reserve adjacent to the 1 million acres protected area named the "Amarakaeri Reserved Zone". The Center is the only lodge in the Manu lowlands with roomy, private bungalows, each of which has en-suite private bathrooms complete with tiled, hot water showers. No other lodge in Manu offers all the major wildlife attractions in one spot: the world's largest tapir lick; the most photogenic large macaw lick; miles of monkey-rich trails through mature rain forest; two 120-foot-tall (35-m) canopy platforms and two mature lakes complete with Hoatzins and Giant Otters.
Cock-of-the-Rock Lodge
This lodge offers the world's best Andean Cock-of-the-Rock experience in a pristine cloud forest reserve. Manu, Peru. Situated at an elevation of 5000 feet (1600 meters) in the cool, mosquito-free Kosñpata Valley close to the wild Cusco-Shintuya road, the lodge protects and supports a 12,500-acre private cloud forest reserve. It consists of 12 double-occupancy bungalows with private bath facilities, and a separate complex with a large dining room.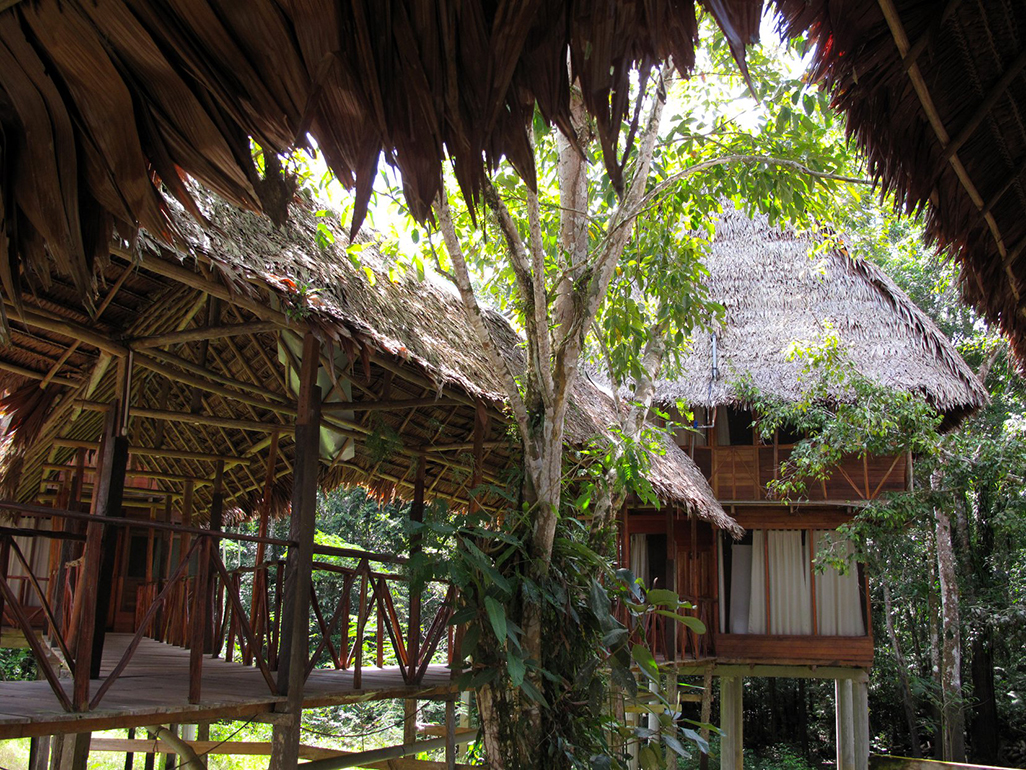 Tahuayo Lodge
Tahuayo Lodge is situated in the Tamshiyacu Reserve, which is a unique pocket of biodiversity, with an exceptionally interesting and diverse mammal population. The lodge, which is also linked to a Research Center, has various types of accommodations, some large family cabins with private bathroom, standard rooms, also with private bathrooms, as well as some simple student accommodations with shared bathrooms. This lodge has a great range of activities from which you can choose to design your own adventure, your way.