This is a journey that takes us into the endless heart of biodiversity, the Amazon Basin. Our First-Rate River Cruise Vessel makes it possible for you to explore the remote nature of this jungle in total comfort and leisure. The Anakonda Amazon Cruises is our state-of-the-art vessel specifically designed to navigate on the Napo River in the Ecuadorian Amazon. Our wide array of onboard services and amenities will ensure your full comfort and enjoyment as you explore this region of the world.
The Anakonda Amazon Cruises, winner of the World Travel Award 2016 as South America's Leading Boutique Cruise, offers an exclusive experience characterised by comfort, exceptional culinary offerings and once-in-a-lifetime journeys involving Amazonian cultural immersion, unique and vibrant wildlife, and the unrivalled wonders of its many ecosystems. In this rich and diverse environment, we have the chance to observe enchanting animals such as the pink river dolphin, giant otters and turtles, as well as hundreds of native birds and primates, while navigating along the region's freshwater rivers, both whitewater and blackwater.
Manatee
The Manatee River Boat, built in 2017 is a very comfortable vessel with space for up to 30 passengers in 10 standard cabins and 4 deluxe cabins. It also features a hot tub on the observation deck and a spa, as well as an indoor and outdoor lounge, conference room and bar. Explore the Ecuadorian Amazon in style! Daily excursions with native naturalist guides provide an unforgettable experience.
Anakonda
The Anakonda is the only Ecuadorian Luxury River Cruise Boat. It can accommodate up to 40 passengers in 16 standard and 4 suites. Anakonda's suites include panoramic windows that allow every guest extraordinary views of the sunrise and sunset contrasts in the Amazon jungle. The observation deck features a jacuzzi and there is an indoor and and outdoor lounge and conference room.
Both vessels follow the same routes and have practically the same itineraries, but they sail on different days. The chief difference is the comfort level. Both cruise ships boast a dazzling array of amenities not easily found elsewhere in the Ecuadorian Amazon, the award-winning Anakonda offers superior amenities. The individual cabins a little larger, stylishly decorated and providing every modern comfort one could desire.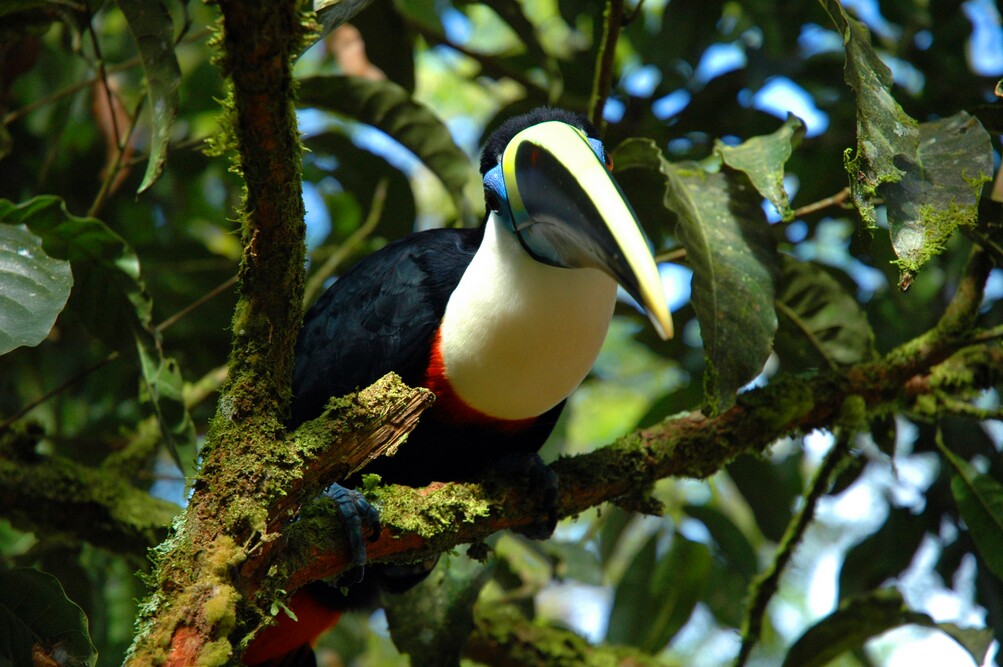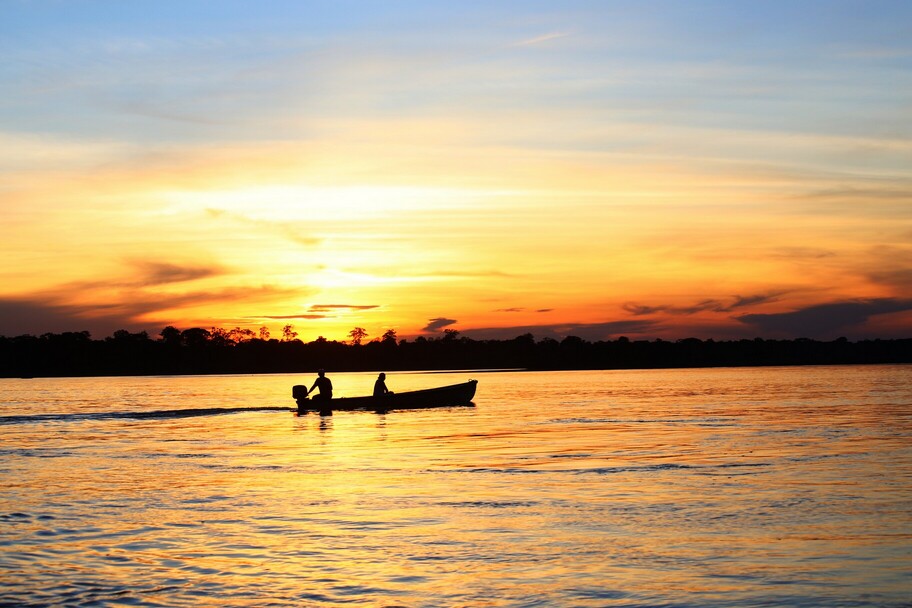 The Napo River Cruises start from the little jungle port town of Coca. There are regular flights from Quito, the capital of Ecuador, to Coca. If you would like us to help you book this flight, please let us know.
On-board accommodations
All meals on board
Scheduled visits according to the itinerary with a certified naturalist guide
Unlimited supply of water, coffee, and tea
Transfers to Coca from the vessel when arriving on recommended flights
Air ticket Quito – Coca – Quito, USD 230.00 net per person. This rate will apply to adults and children. (The rate includes upon issuing the air ticket with us: private and personalized assistance for Quito – Coca – Quito flights at both airports. Exclusive access to our VIP Lounge (before and after the cruise), with modern, well-equipped facilities and air conditioning system, where we will provide our guests with complimentary coffee, tea, water and light snacks. ** For those passengers who choose not to purchase their air tickets with us, an additional fee of USD 40.00 per person, shall apply for the services listed above.
* Subject to change without prior notice
Admission to local communities and natural reserves (USD 70.00 net per person for 4 & 5-day cruises, USD 80.00 net per person for an 8-day cruise)
* Subject to change without previous notice.
Transfers to and from Quito's airport
Alcoholic and non-alcoholic beverages
Gratuities
Wi-Fi Internet (Due to the remote area of navigation, satellite internet is only available in certain zones and during certain times. Should our guests require this, we are able to offer it for the price of $15 for the entire duration of the cruise)
Personal expenses
Other services not specified in the program
Medical and Health:
Good physical health is required to best enjoy an Amazon River Cruise. Visitor sites are accessible by small, motorized boats, and will possibly require wet landings. Irregular terrain may be present during hikes and daily nature excursions, and embarking and disembarking occasionally requires a degree of physical effort. Travelers do not require vaccinations for malaria and/or yellow fever, although we recommend you consult your physician.
Dietary Needs:
Manatee Amazon Explorer requires written notification 30 days prior to departures from travelers requesting specific dietary needs. Every effort will be made to cater to these dietary needs, as long as the products are available in Ecuador.
Insurance:
We strongly recommend that you plan to arrive in Quito an extra day before cruise departure, given that no refunds are applicable in the unlikely event that weather-related flight cancellations cause you to miss your embarkation. Flight cancellation is beyond our control and as a cruise operator; we must adhere to strict operating standards, which include our schedules. We advise travelers to purchase trip cancellation insurance, to reimburse the cost of air tickets and other non-refundable fees incurred during trip reservations in the event of unexpected cancellations.
Standard International medical, baggage loss and airline delay insurance are also recommended.
Visits to the Amazon Communities and Natural Reserves:
A portion of our excursions take place within protected areas, and visitors are required to comply with these area's rules and regulations. Naturalist guides will inform guests about these rules. Manatee Amazon Explorer, represented by its onboard guides, reserves the right to deny access to any guest who ignores, violates or is unable to comply with these regulations. We appreciate your understanding.
PACKING LIST
Passport (and a color copy kept in a separate bag)
Comfortable walking or tennis shoes
Walking stick (optional)
Several lightweight pants (more than two)
DON'T BRING JEANS!
3 or more long and short-sleeved shirts or blouses
Vests with pockets are useful for carrying camera equipment and other accessories
A windbreaker or sweater for breezy afternoons
Waterproof cotton socks (one pair per day)
Small, sturdy umbrella (one)
Shorts (at least one pair)
T-shirts (at least three)
Bathing suit/swimwear
Cotton underwear
Hat or cap
Water bottle
Sunscreen lotion
Sunglasses
A flashlight and extra batteries
Binoculars (available on board as a rental item)
Small waterproof backpack (available for purchase on board)
Insect repellant
Camera and extra batteries, enough memory cards
Personal first-aid kit
Plastic bags for storing wet clothing
Your own medications, if applicable. Don't forget them!
Cash – we also accept credit cards on board.
The Amazon/Napo River Cruise Company puts conservation at the heart of their operation. In order to help slow or even reverse the loss of wildlife, they have set up a conservation organization known as CAPI, which runs three different programs, the Pink Dolphin Program, the Manatee Program and the Charapas Program, all of which work to preserve and to breed these iconic Amazon species to prevent them from going extinct.
Our Mission
To preserve wildlife that has been threatened by human activity through the implementation of sustainable projects involving local communities and conservation entities.
Our Vision
To become an organization that will actively keep, defend and promote the preservation of the Amazon Region biodiversity.
Our goal is not just to bring together international societies, scientists and volunteers, but also -and more importantly, people living in nearby settlements who are willing to get involved. The country of Ecuador has very little funding available for research, education, and conservation management. To make this rescue project self-sustaining it is necessary to increase and support tourism; a much less invasive presence in the rainforest.
The tourist's contribution would be to guarantee the permanence of the Amazon River station project. It will also help to continue the development of conservation programs in these areas. We also think it is critical to increasing public awareness by the development of educational programs which encourage local communities to preserve and protect the ecological patrimony of Ecuador.