Peru knows how to do 'eco' in style! There are quite a number of exquisitely beautiful hotels and lodges in some fabulous settings, mostly in the southern parts of Peru, Cusco, the Sacred Valley, Machu Picchu, Tambopata and Lake Titicaca (not shown). 
Machu Picchu Pueblo
An exquisite hotel in Aguas Calientes, Machu Picchu Pueblo Hotel resembles an intimate Andean village with terraced hills, waterfalls, stone pathways and 83 whitewashed adobe casitas tucked away in the cloud forest. The property has 12 acres of exquisite natural beauty, where 214 bird species – such as the golden-headed quetzal and the iconic Andean cock-of-the-rock – and the world's largest native orchid collection (372 species) have been registered. On-site activities include early morning bird watching. It is an ideal base for those who are on the way to the Machu Picchu Citadel.
Hacienda Urubamba
Hacienda Urubamba is a contemporary hacienda-style hotel in the Sacred Valley of the Incas, in-between Cusco and Machu Picchu. Immersed in the countryside in a gorgeous area, Inkaterra Hacienda Urubamba spans approximately 100 acres surrounded by imposing green mountains.
Hacienda Concepcion
Located deep in the heart of the Amazon, between the Tambopata National Reserve and the shores of the Madre de Dios River lies Hacienda Concepción. Nineteen private cabanas sitting majestically on stilts and a six-room casa grande with high ceilings and a rustic thatched roof are peppered around the property.
An astonishing selection of activities is led by local explorer guides, offering first-hand knowledge of the Peruvian Amazon. Excursions include a visit to Lake Sandoval, a water mirror inhabited by Howler monkeys, caimans, and giant river otters.
Reserva Amazonica Suites
Your rainforest retreat comprises a private covered terrace with plunge pool, plus sunbathing chairs and outdoor shower in four integrated areas in a comfortable Ese' Eja style wooden cabaña with tall fishtail palm rooftops. Experience absolute respite in the 840-square foot bedroom (78 square meters), which has 1 king or twin beds, graceful canopy mosquito net, all cotton sheets and hypoallergenic pillows.
La Casona
Relive Cusco's unique mestizo grandeur, the inspiration for the remodelling, which maintains original murals blended with lavish contemporary comforts in the Plaza Suites, overlooking the picturesque Plaza Nazarenas.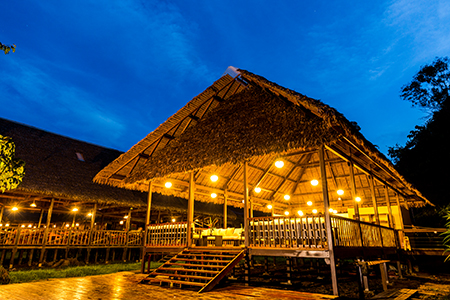 Tambopata Research Center – Suites
The Tambopata Research Center is located in the 1,600,000 ha. Tambopata-Candamo Reserved Zone, which is regarded as one of the premier nature destinations in the world. An abundance of wildlife viewing opportunities, such as the macaw clay lick (where up to 15 species of macaws and parrots can be seen on any given day) and frequent encounters with troops of capuchin, howler, tamarin, squirrel or spider monkeys are within easy reach of the lodge. TheLodge has recently been completely renovated and now offers 4 categories of rooms, including some very beautiful, spacious, and luxurious suites.