Situated in the Maya Mountains in the Cayo district of Belize, this exclusive, cosy luxury forest lodge is a hidden gem. With only 12 rooms privacy and tranquillity are guaranteed. The Inn enjoys a privileged location surrounded by a 7200-acre private reserve in the Mountain Pine Ridge region of the Maya Mountains. Remote, yet with access to some of the most stunning sights of Belize, the lodge serves as a convenient base for visiting various scenic and historical attractions of the area.
Guests at this luxury Boutique hotel enjoy exclusive access to over 90 miles of hiking and mountain biking trails as well as many secluded crystal pools and waterfalls set in a tropical rainforest. For those seeking romance, one of the waterfalls may be reserved exclusively for the day.
Lazily float down the Macal River on a canoe trip to observe indigenous fauna, flora, and birds. Explore the lofty pine ridge or jungle trails on horseback, guided by a knowledgeable local Hispanic guide; mysterious caves can be explored on foot, by canoe or tube whilst you step through a portal of San Ignacio towards major Maya sites.
Hidden Valley Inn offers a unique, first-class experience combining exquisite lodging and fine dining with a wide range of soft adventure options. An extensive trail network on the property of approximately 90 miles of hiking and mountain biking trails offer a wide range of close range destinations to secret waterfalls and caves. The unique setting of the lodge with access to both dry tropical pine forest and tropical forest provides an especially interesting environment for bird watchers as many unusual birds can be observed in this unique habitat.
Rooms
All of the Cottages are constructed with solid rooftops (not thatch), screened windows and ceiling fans. WiFi is available throughout the Inn, in the cottages, in the lodge, and every room is equipped with its own telephone.
Please note, rooms do not have televisions or air conditioning. (Average nightly temperature is 70 F.)
Estate Rooms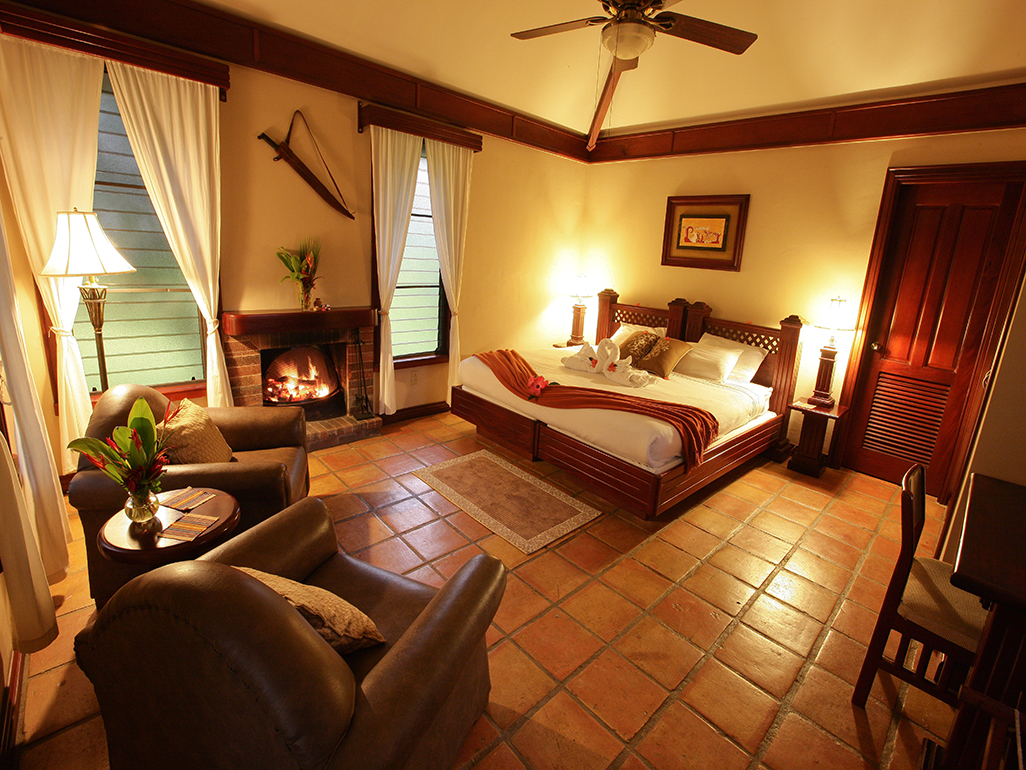 Hidden Valley Inn has 10 Estate Rooms, 5 of which are fitted with a king bed, and the other 5 have queen-sized beds. The rooms with King-sized beds can be turned into twin bedrooms.
Every cottage is comfortably appointed with fireside seating, a full bath and shower, a writing desk, closets, and a queen or king bedroom.
The decor of the Hidden Valley Inn cottages includes handsome mahogany and leather furnishings, terracotta tile flooring and local accents.  Soft furnishings and amenities include luxury bedding, plush bath towels, and complimentary in-room terry robes.
Estate Suites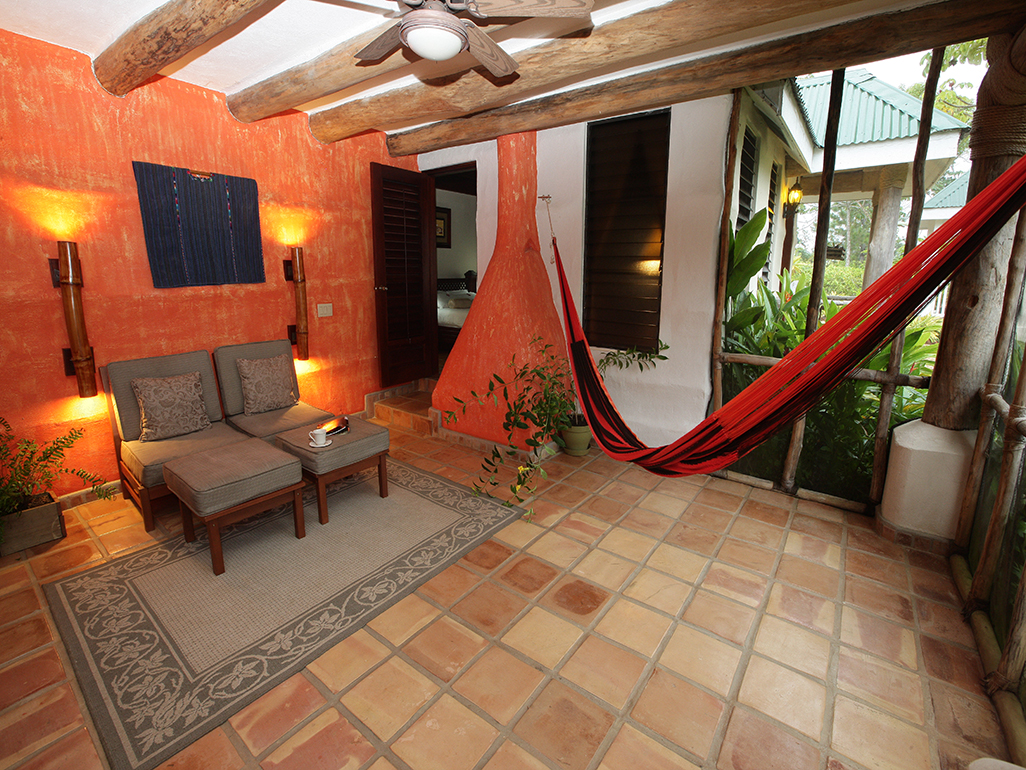 Estate Suites are beautifully appointed with handsome mahogany and leather furnishings set on terracotta tile floors, local artwork and screened patios with hammocks. Hanging orchids, gardens and pails of firewood greet arriving guests. Every Suite has fireside seating, a full bath and shower, a writing desk and a queen or king bed (or twin beds). Soft furnishings and amenities include luxury bedding, plush bath towels, and complimentary in-room terry robes. The Estate Suites are available as two separate suites or as an entire unit, perfect for families or friends travelling together. The two Estate Suites are connected by a private screened patio furnished with hammocks, comfortable outdoor loungers, and a coffee valet.
Rates in 2022/2023
Rates are per person, based on double occupancy. For single or triple rates, please inquire.
Programs:
The packages are not available during the peak holiday time from Dec 19th – Jan 05.
Nature, Mayan history and soft adventure are part of this comprehensive inclusive package.  Enriching escorted tours showcase The Mountain Pine Ridge areas natural beauty and the awesome Mayan city of Caracol, combined with the luxuries of Hidden Valley Inn, this package is a favorite among our guests.
This package includes:
4 nights' accommodation in Estate Room
Daily full breakfast
Daily lunch at Hidden Valley or Packed Lunch on tour days
Nightly à la carte dinners at Hidden Valley Inn's Restaurant
A guided full day tour of Caracol Maya site with an additional stop at the Rio Frio Cave and Rio on Pools
A guided canoe tour of Barton Creek Cave OR a 1/2 day guided forest horse-back riding tour
A guided ½ day hiking tour of Hidden Valley's private reserve
Complimentary use of our mountain bikes (on property), access to our reserve and trails
Road transfers: Belize City/Airport to Hidden Valley Inn to Belize City/Airports
All Taxes & Service Charge where applicable
Hidden Valley Inn & Reserve is home to some of the most rare raptors and birds in the world.  We attract avid birders from around the globe looking to catch a glimpse of  "the BIG 5," the orange-breasted falcon, black and white hawk eagle, the king vulture, the stygian owl and the solitary eagle. This inclusive package is perfect for birders.
The Big 5 Package includes:
5 nights' accommodation in Estate Room
5 days full estate breakfast
5 days restaurant lunch or packed lunch on tour days
5 days of a la carte dinners
Complimentary Evening Snack Daily
Guided full day birding tour of Caracol Maya Site with additional stops at Rio Frio Caves and Rio On Pools
2 Sunrise or Sunset Birding Tours
Guided full day birding tour on the trails of Hidden Valley's Reserve
Road transfers: Belize City/Airport to Hidden Valley Inn to Belize City/Airports
All applicable taxes & service charge
The Mayan Immersion Package offers a view of the Mayan country and its people. The ancestors of the ancient Maya civilization, are very much a part of our the modern world, but their customs and traditions still live on in village life.
Through Hidden Valley Inn's Maya Immersion Package visitors are offered a once in a lifetime experience of the Maya culture, people and land.
This package includes:
All Meals – Full Breakfast, Lunch, Full Dinner
Guided Tour to Xunantunich Mayan Site & Chechem Ha Cave
Visit Mayan Shaman's home for ceremonial ritual & offering to the God's.
Visit the Mayan Women's Cultural Group in San Antonio Village to practice arts & craft, food preparation.
½ day horseback riding tour with a Mayan Guide in San Antonio Village
Road Transfers: Belize City/Airport to Hidden Valley Inn to Belize City/Airport
All Taxes and Service charges
Hidden Valley Inn is located within the Mountain Pine Ridge Forest Reserve located in the Cayo District of Western Belize on a private 7,200-acre estate.
Situated at an altitude of over 2000 ft / 610m
Transfer time: 2.5 to 3 hours (53 miles / 85.6 km) The last hour to HVI is on an unpaved dirt road
Hotel Facilities:
Full a la carte restaurant:
breakfast (7:00 am – 9:00 am), lunch (12 noon – 2:00 pm), complimentary daily high tea (4:00 pm – 6:00 pm) and dinner (7:00 pm – 9:00 pm).
Meal plans available.
Bar: with lounge and fireplace; open daily (10:00 am to 10 pm)
Lounge: several seating areas with library and fireplace
Gift shop: regional arts and crafts, sundry items
Spa: holistic spa services by resident masseuses.
Pool: fresh water pool with stone terrace and Jacuzzi; open 24 hours.
Tour desk: available at front desk (7:00 am – 10:00 pm daily)
Conference room: 344 sq. ft. / 31 sq. metres, max capacity 15 people; projector and screen available; also features a fireplace.
Private nature reserve: access to over 90 miles of hiking and biking trails to explore flora and fauna, rare birds, and waterfalls. Guided and non-guided tours available.
Jungle platforms: available for yoga and meditation experiences, or rest stops on jungle explorations.
Hotel Services:
Check in: 2:00 pm / Check Out: 10:00 am (early check in's and late check out's will be dependent on availability)
Money exchange on property: none
Credit cards accepted: MasterCard, Visa, American Express, Discover
24 hour duty manager
General managers live on site
First aid trained staff on premises
Luggage assistance: yes
Housekeeping service: yes – available all day
Room service: yes – during restaurant hours
Smoking policy: all buildings non – smoking. Outdoor areas are designated smoking areas.
In house guide services
Complimentary drop off and pick up service anywhere within the reserve
Bike rental: mountain bikes are complimentary for guests.
Two way radios and maps provided for hiking / biking
Domestic transfers: we are able to provide transfer services as per listed prices
Weddings services available:
Waterfall or jungle platform ceremonies (dependent on party size)
Weather
Due to the higher elevation, the temperatures are slightly cooler than at sea level and there are not quite so many insects either. Evenings can be cool.
Temperatures: Average winter low 65°F / 18°C
Average winter high 77°F / 25°C
Average summer low 68°F / 20°C
Average summer high 85°F / 29°C
Your content goes here. Edit or remove this text inline or in the module Content settings. You can also style every aspect of this content in the module Design settings and even apply custom CSS to this text in the module Advanced settings.
Hidden Valley Lodge has an extensive trail system spreading for over 90 miles throughout the reserve. Trails are well maintained and way-marked, so you can explore them on your own. Nevertheless, it is highly recommended to take at least one guided hike as you will be able to see and learn so much more with a guide. 
When you go on a hike on your own you will be given a two-way radio in the event a return ride or directions are needed. 
Hiking and biking routes include short treks and all-day excursions. Along the way, resting places have been created and sometimes include hammocks, chairs and table and jungle platforms. Hidden Valley Inn can provide pack lunches and, for a little on-trail luxury, guests can request that lunch and drinks be set up at a pre-designated point along their route — anything from a casual picnic lunch to a luxury spread.