The Lodge
Lamanai Outpost Lodge is one of Belize's original Jungle Lodges. It is superbly situated, deep within the heart of Belize, on the doorstep of one of the country's most important Mayan Archaeological sites, the ceremonial city of Lamanai.
The lodge is nestled on the shores of a spring-fed lagoon, offering excellent wildlife viewing opportunities right from your cabaña. The lodge is often used by the Audubon Society for their birdwatching tours due to the great location.
Lamanai Outpost Lodge is a great place to stay for those, who look for serene, close-to-nature experiences in a low-key, yet very comfortable setting. The cabañas are very comfortable. Air conditioning is available as an optional add-on. Internet access is complimentary and available throughout the lodge.
But the idea is to unplug and simply relax and enjoy this immersive experience, surrounded by nature and the enigma of the Mayan civilization.
Rooms
Lamanai Outpost Lodge has a range of cabañas available to suit different requirements, including King cabañas, special family cabanas, and double cabañas with a connecting door for groups of friends.
The main differences between the different types of cabañas are their bedding arrangement and their location on the grounds. All cabañas were renovated in 2017 and now have electronic safes, new bathrooms, memory foam mattresses, more outlets, stocked refrigerators & new verandah seating.
Rates in 2022/2023
Rates are per person, based on double occupancy. For single or triple rates, please inquire.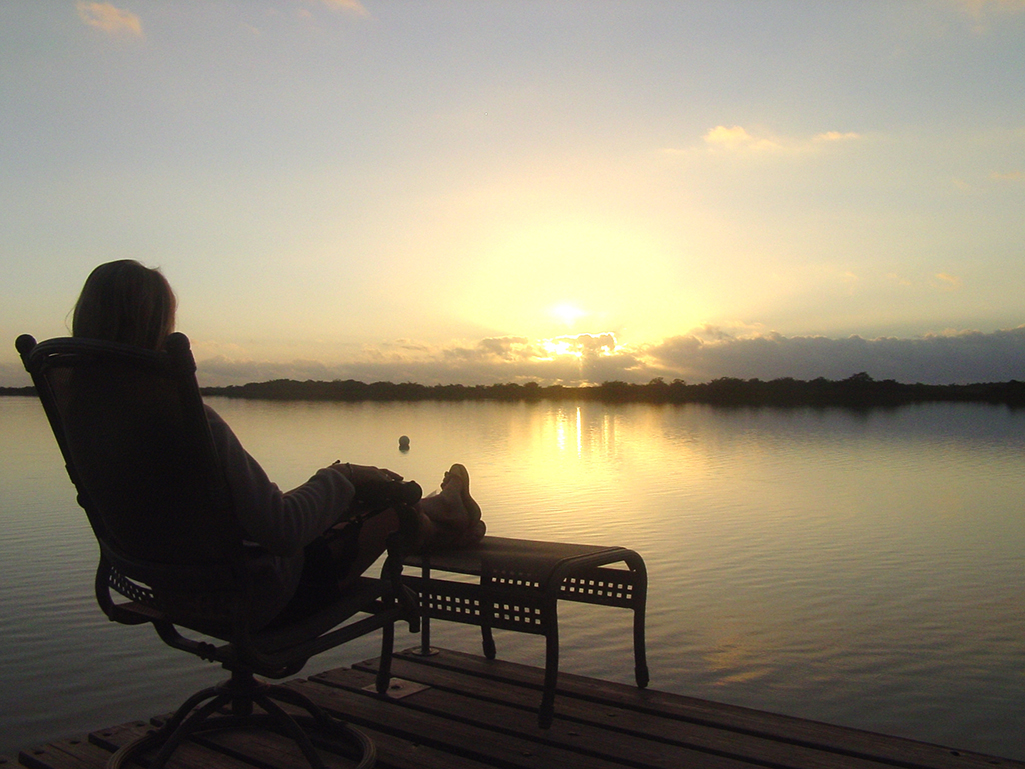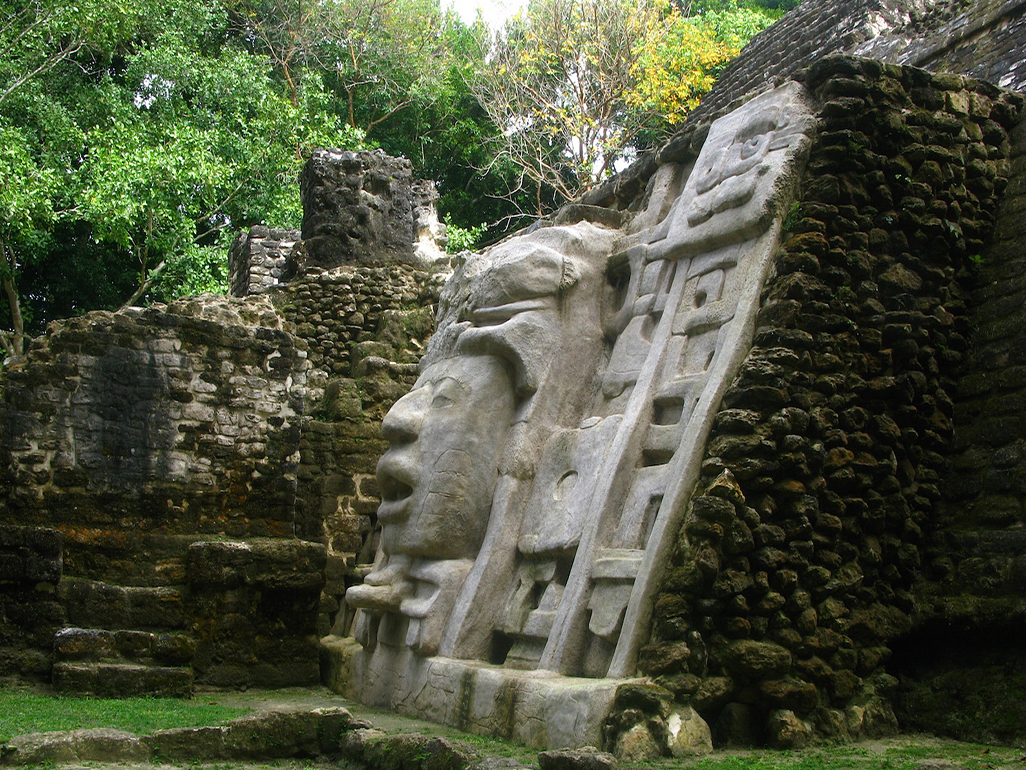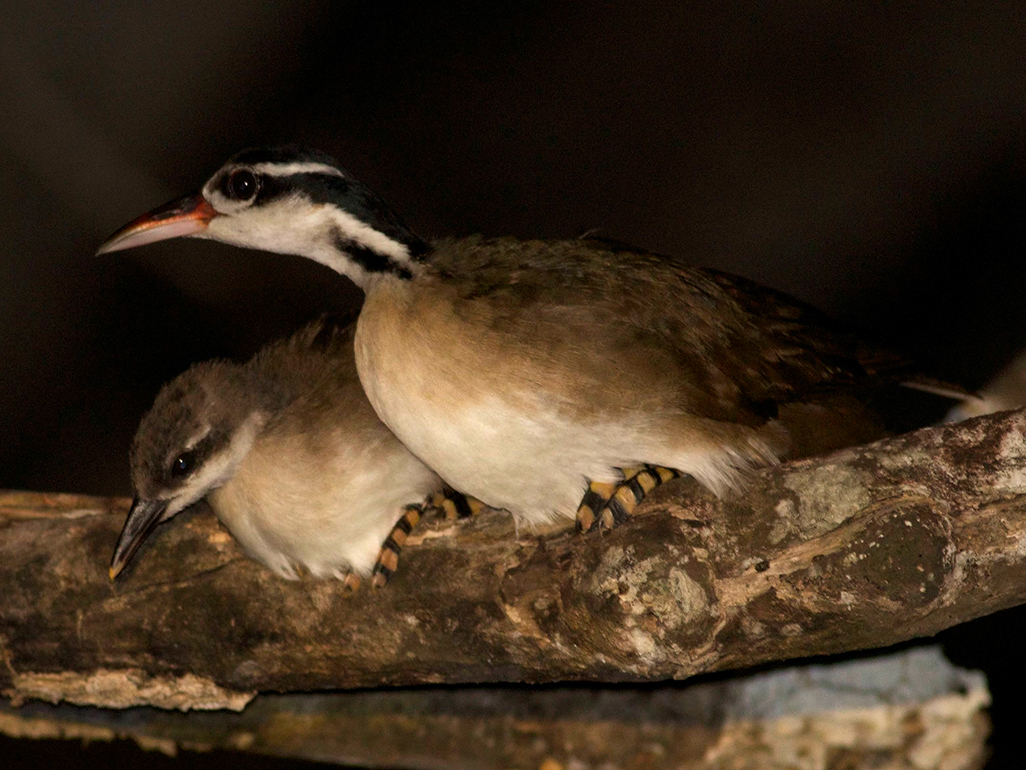 Belize International Airport can be reached via US airports such as Atlanta or Houston, or from other Central American destinations.
Once arrived, you will be transferred to the lodge via road and boat transportation.
Meeting point is right outside the airport, at the Lamanai Outpost office, located across from the parking lot toll booth, building with large green frog painted on it.
There are 3 regular, scheduled transfers a day, one early in the morning, one around lunch time and one in the afternoon.
Non-standard transfers are available at other times at an additional charge.
The all-inclusive package includes:
Accommodation in Superior Garden View Cabaña
All scheduled meals – FAP
Two activities per each night's stay – with a total of 8 daily activities to choose from
Transfer from/to Belize International Airport (IN and OUT via combination road and river trip)
Refreshments served on transfers and tours
Taxes
All guiding and entrance fees
Coffee, tea and cocoa bar – 4:30 am through 8:00 pm
Happy hour snacks at the bar
Meet and greet service at Belize Int'l Airport
Porter service at check-in and check out
International flight reconfirmation and luggage storage
Internet access via lodge's or your own laptop
Wake-up call service
Bar Tab
Unscheduled meals
Special adventures
additional standard activities
Laundry Service
Phone calls / Faxes
Gratuities
The package includes 2 Standard activities per night's stay, which can be freely chosen according to your preference. There are also some special, non-standard activities available, which must be booked and paid for at the lodge. They cannot be substituted for standard activities.
Standard Activities:
Early Morning:
Sunrise Canoe Expedition
Strike out across the lagoon in an exploration of Dawson's Creek and its surrounding tributaries. Keep an eye out for manatees, otters, crocodiles and endemic parrots to name but a few. Sure to thrill the nature-loving side of all who participate in this adventure.
Duration: 2 to 2.5 Hours
Minimum Participants: 2
Jungle Dawn
As dawn breaks and the mist rises through the canopy, explore the jungle as it awakens. In the company of a naturalist guide, you'll learn about the intricacies of a habitat that is home to creatures as diverse as the jaguar, the impressive Black Howler monkey, the Jaguarundi, and the vividly-coloured Keel-Billed toucan.
Duration: 1.5 to 2 Hours
Minimum Participants: 2
Morning
Lamanai Maya Ruins
In the company of an expert guide, explore the mysterious jungle-shrouded temples of this once powerful 3000-year-old civilization where nature and ancient history coexist. The ruins of Lamanai encompass over 700 structures, a visitor's centre, and a museum.
Truly fascinating!
Duration: 3 Hours
Minimum Participants: 2
Maya Jungle Medicine Walk
As the only resource for medicinal aid, indigenous people have long used a wide variety of local plants for their powerful and effective medicinal properties. Unlock the secrets and learn first-hand how basic potions and salves are prepared and used to this day in Belize's jungle villages.
Duration: 1.5 Hours
Minimum Participants: 2
Afternoon
Sunset Cocktail Cruise
There can be no finer way to end the day than on the New River Lagoon surrounded by tropical forest and wildlife with a well-stocked cooler, snacks, and your own personal bartender as you watch the sun disappear below the treetops from a 30-foot pontoon boat. Drinks not included.
Duration: 1.5 to 2 Hours
Minimum Participants: 2
Nature Walk
Enjoy a nice walk around the lodge and reserve to observe nature at work; butterflies, orchids, and the wildlife.
Duration: 1 – 2 hours
Minimum participants: 2
After Dinner
Spotlight River Safari
After dinner, climb aboard one of our comfortable custom-built river safari boats and head out into the night. This exciting adventure gives you the opportunity to encounter anything from Morelet's crocodile to the elusive and endangered jaguar. All this plus close-up views of some of Belize's fascinating river birds as they roost on the water's edge make this a not-to-miss adventure!
Duration: 1.5 to 2 hours
Minimum Participants: 4
Night Walk
Experience the jungle under the evening stars or by the light of the moon. Listen as the owls and bats come out to hunt and gather, and the troupes of Howler monkeys speak to each other across the canopy. Sounds come from everywhere as many species such as frogs and tarantulas, other mammals and species of birds thrive in the late hour of the evening. You will meet your guide in the dining area around 8:00 pm to depart. We recommend you wear long pants and bring a small flashlight.
Duration: 1.5 – 2 hours
Minimum participants: 2
Special Activities
The following activities are not included in the package. Due to scheduling, they cannot be pre-booked, but rather booked at the lodge upon arrival.
Native Fishing
Fishing becomes a cultural adventure when it's done jungle-style. You'll catch live bait using the local bottle method and use the most basic of equipment. Paddle out along the banks of the lagoon with a local fisherman and settle into a quiet cove to land Big Mouth Bass and other local species.
Duration: 2-3 Hours
Minimum Participants: 1
Howler Monkey Trek
Observe troops of Howler monkeys as they start the day foraging high in the jungle canopy. Babies cling tightly to their mother's backs under the protective gaze of the dominant male, whose call can be heard for miles. Learn about the species' lifestyle, social dynamics, and infant rearing practices.
Duration: 2 Hours
Minimum Participants: 2
Sunset Airboat Safari
Board one of our custom-built Florida-style airboats for an exciting trip into the New River floodplains; cocktails, snacks, and nature watching over sunset. Drinks and snacks included.
Duration: 2 Hours
Minimum Participants: 2
Crocodile Encounter
Travel by airboat into the surrounding floodplains and observe and even assist if you wish, as one of our naturalist's endeavours to capture, collect data and expand our understanding of the endangered Morelet's crocodile. Something that most people only see on television!
Duration: 1.5 to 2 Hours
Minimum Participants: 4
Night Spear Fishing
Travel by pontoon boat to a choice fishing location, strap on a headlight, board your canoe and go night spearfishing with a local expert.
Duration: 2 to 2.5 Hours
Minimum Participants: 2
Birding Expeditions 
With almost 400 species documented within a 3-mile radius, Lamanai Outpost Lodge is definitely Belize's premier birding location. Habitats range from vast wetlands and broadleaf forests to pine savannahs and all are easily accessible by boat, trails, vehicle or canoe. Our guides will tailor your activities to access your target species in an environment where 200+ species in 3 days is far from unusual. Our Spotlight Safari provides an amazing opportunity to see roosting waders, nocturnals and some of the more elusive diurnal species up close and personal. Regular sightings include the Northern Potoo, Yucatan Nightjar, Common Pauraque and Nighthawk, Grey-necked Wood Rail, Sungrebe and Agami Heron.
Weather
Belize has a subtropical climate. That means, it is hot all year round, however, from June to December it is 'wet season'. This usually means that during the days it is hot and humid and in the afternoon or at night it rains, sometimes, a lot. During the dry season it can also rain, but usually, it is dryer. The wet season is also the time when hurricanes are most likely, although due to the location of this lodge they are not generally considered an issue.
Christmas to May is high season in Belize.
Electricity & Water
The electricity at the lodge uses 110 volt/60Mhz electricity, the same as it is in the States and power is supplied twenty-four hours per day. Water from any lodge faucet is suitable for drinking and bottled water is readily available.
Insects:
Around the lodge grounds, main lodge facility and cabanas, insects are extremely minimal and do not present a problem. Insects encountered in the jungle are normally minimal but at times they can be a consideration that is easily attended to with bug spray – very similar to many locations in the States. All cabanas are fully screened.
What to Bring:
Lightweight clothing and footwear
A windbreaker and raincoat
A flashlight, binoculars, camera, spare
film and batteries, chargers
Any medicines that you may require