Self-Drive: Chilean Lake District
Itinerary
This 6-day itinerary explores some of the most beautiful parks and regions of the Chilean Lake District.
Start your adventure in Pucon, the 'outdoor adventure' hub of the region. Beautifully situated on the shores of Lago Villarica this small but bustling town is brimming with activity options: hiking, canyoning, zip-lining, horseback riding, or visiting hot springs and watching nature – among others
The second part of the trip is spent at the amazing Huilo-Huilo nature reserve, near the Argentinian border. This place is a real gem. Whatever your outdoor kick, you can have it at Huilo-Huilo. But what's more, the hotels are built in the most architectural style. It is a real gem!
The final leg of the trip takes you south to Chile's oldest National Park, to a tranquil spot on the shores of Lago Todos Los Santos. This is a one-way journey that finishes in Puerto Montt. Or, you can easily extend it and spend a few extra days in Puerto Varas.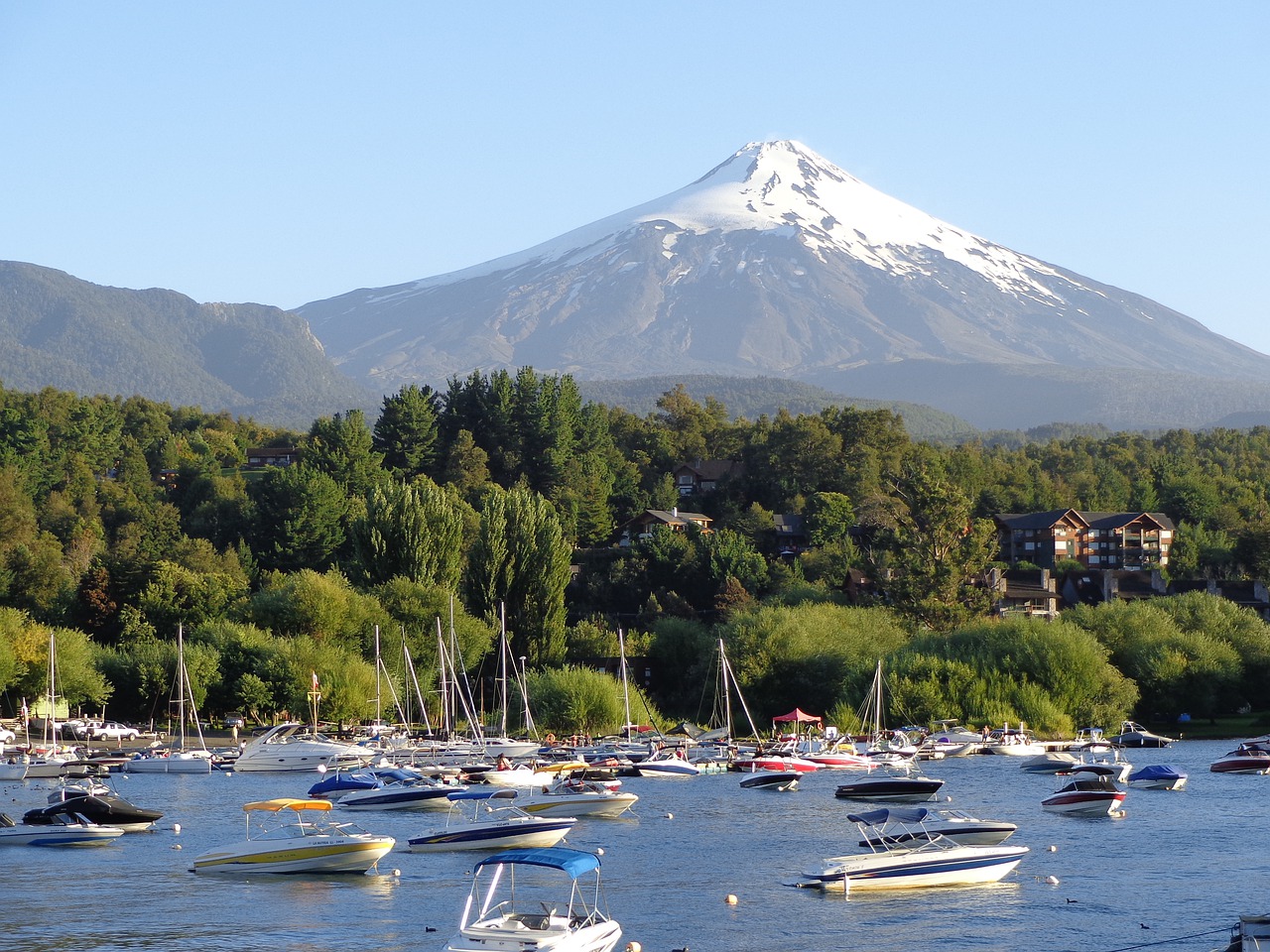 DAY 1: TEMUCO – PUCÓN (112 km / 70 mi)
After picking up your rental car at Temuco airport, your adventure can begin! Head down south to Pucón, about an hour's drive from the airport. Perched at the eastern end of Lake Villarrica Pucón is surrounded by forest-covered mountain slopes and impressive volcanoes. This is a verdant wonderland.
DAY 2: PUCÓN – HUILO HUILO RESERVE (155 km / 91 mi)
Pucón is a marvellous place, but even more amazing is your next destination – the private nature reserve of Huilo-Huilo. 
As you cross the northern part of the Lake District, you have time to explore some side excursions, visiting a national park (4×4 only) or visiting natural hot springs.
You will reach the private, 60.000 hectares / 148.260 acres reserve of Huilo-Huilo, in the afternoon. You have two days to discover its natural treasures. There are lots of trails for hiking, mountain biking or horseback riding – or, you can even go skiing. There are also some water adventures like rafting and floating the Fuy River. (B)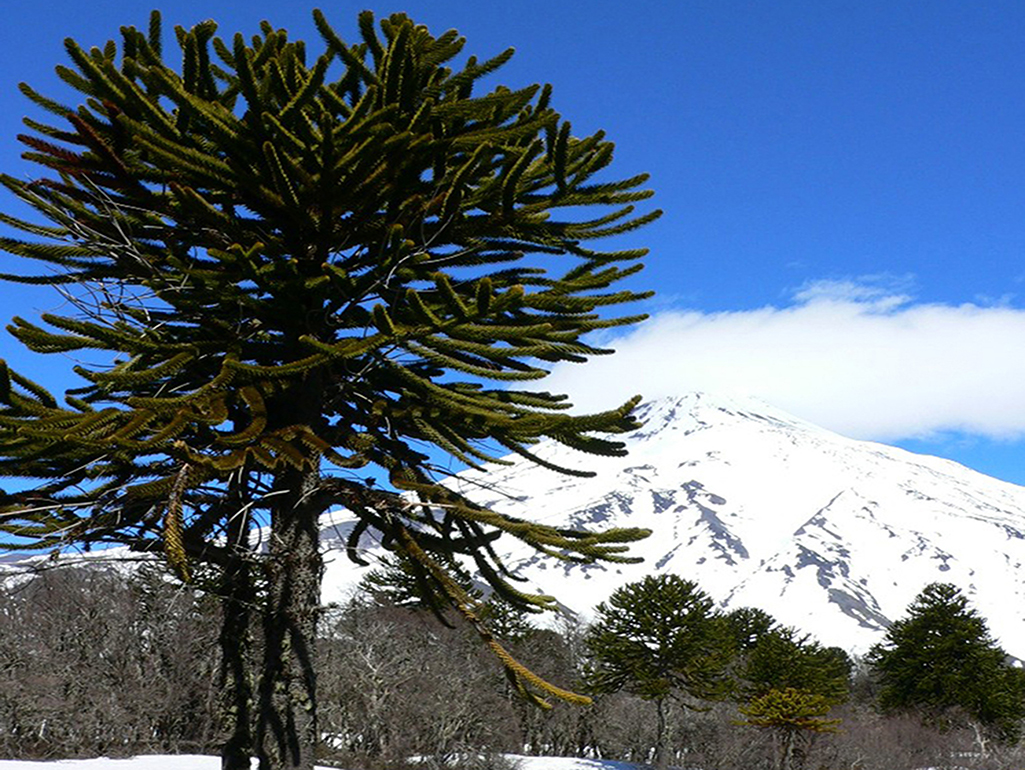 DAY 3: HUILO HUILO RESERVE
Explore the various nature thrills of the reserve; you will be able to walk the trails through the forest and up the Choshuenco Volcano, visit the falls of Huilo-Huilo, enjoy a canopy excursion through the native forest or just relax on the beach of Puerto Fuy, or at the Spa and Wellness center. (B)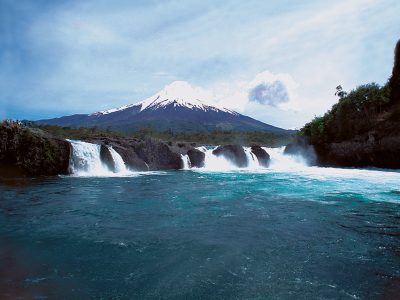 DAY 4: HUILO HUILO – PETROHUE (240 km / 149 mi)
Your driving adventure continues down south, to the outer reaches of northern Patagonia. After breakfast, say goodbye to Huilo-Huilo and head for the oldest national park in Chile, the Vicente Pérez Rosales National Park. Soon after you enter the park, stop to admire the Petrohué waterfalls. Your destination for the day is the beautiful, emerald-green waters of the 'Todos Los Santos' Lake. Overnight in the National Park at hotel Petrohué. (B)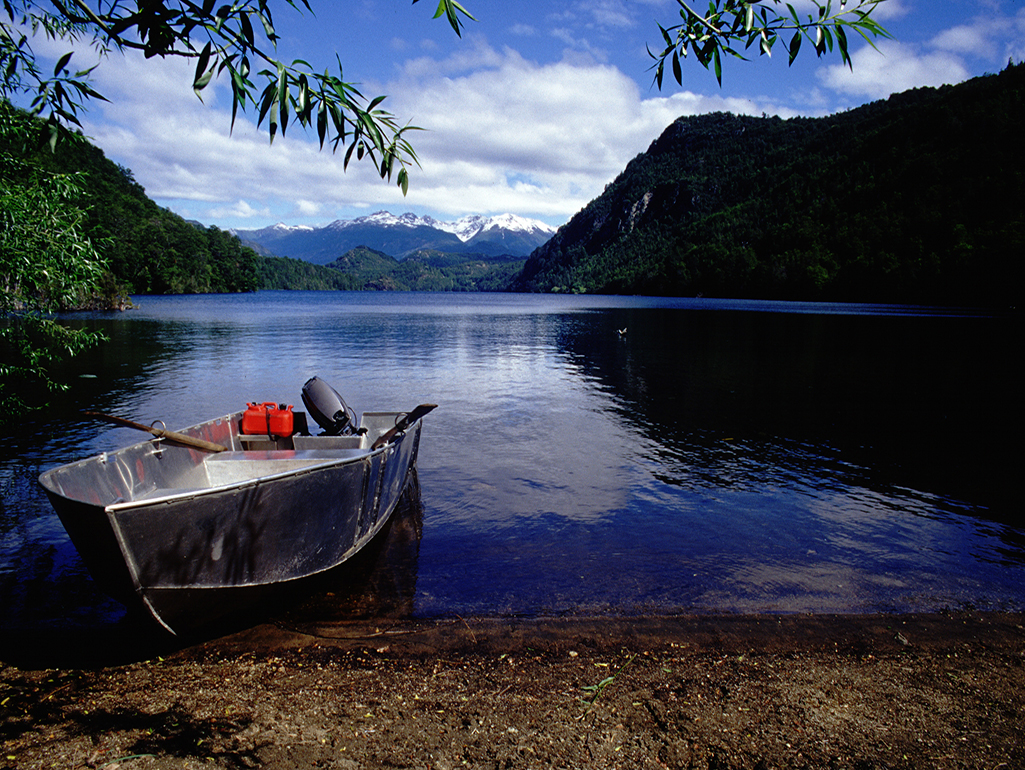 DAY 5: PETROHUÉ
The serenely beautiful Vicente Pérez Rosales National Park offers many attractive hiking trails, white water rafting, and canoeing. It is a place where you can feel the power of water.
A great way to experience the whole park is to take a boat excursion all the way to the other side of the lake, to Peulla, by catamaran. Overnight in a selected hotel. (B)
DAY 6: PETROHUÉ – PUERTO MONTT (90 km / 56 mi)
Sadly, it is time to leave this beautiful region (unless you wish to extend the journey.)
After breakfast, head west to reach Puerto Montt, if you are dropping off the car at the downtown location. If you are heading for the airport, please note that the airport is located 20km outside of Puerto Montt, almost on the way to Puerto Varas. (B)
Itinerary Download:
The Chilean Lake District
Rates in 2021/2022
Self-drive itineraries are highly flexible and can be adjusted to your preferences.
The rates are based on two people sharing a room using the hotels mentioned under 'Hotel Information'. They can be exchanged for other options if desired, or if the standard options are not available. This will change the rates accordingly. A single supplement will apply if two people, travelling together, require their own room. Breakfast is included.
Rate per person, based on double occupancy. For single or triple rates, please inquire.
| Car type | Standard | Superior |
| --- | --- | --- |
| with Mitta cat C | $1065 | $1099 |
| with Europcar cat D1 | $1168 | $1201 |
After arriving at the international airport in Santiago you need to take a domestic flight, either to Temuco, or to Valdivia.
The drive from Temuco Airport to Pucon takes approx. 1h30min
The drive from Valdivia Airport to Pucon takes about 2h.
Included:
5 nights including breakfast.
6 days car rental (Category D1) including unlimited free mileage.
Local tax.
Full CDW coverage with a deductible (for details see rental contract)
Drop off charge.
Roadmap and descriptions.
Chile car rental companies charge an additional airport service fee when the vehicle will be picked up from the airport. This service charge is not included in the published rates. This extra fee has to be paid upon returning the car.
Weather
The lake district is a fairly large region and weather conditions may vary quite significantly between places. In general, it can be said that temperatures are relatively mild throughout the year, never getting very hot or very cold. However, it is rather wet, especially during the winter months, between May and August.
Road Conditions
Most main roads in the Lake District are in reasonably good condition and paved. It is possible to use a regular car with this itinerary, however, it is not recommended to take regular cars off road in the National Parks, as the insurance will not cover that.
Car types
Europcar cat D1 – New Mazda 3 Sedan S1,6 5 (mt) or Similar
Mitta cat C – Toyota Yaris Sedan or similar
Please note that car rental companies only reserve a specific category of cars, not a specific type of car within that category.
Please mention at the time of booking if you need a vehicle with automatic transmission.
Rental cars do not come with a GPS system by default. They can be added on at an additional cost, but the cover is not complete in remote areas.
Driving License
Foreign nationals must have an international driver's license in order to be able to drive in Chile.
Standard Option:
Landhaus San Sebastian (Pucón)
Landhaus San Sebastián is located 30 minutes outside of Pucón. It is surrounded by beautiful nature and nestled within a 23-hectare park. The accommodation, owned by a German family who provides personalized service, features 13 comfortable rooms that include a private bathroom and central heating. In addition, there are 2 small apartments for up to 5 people, equipped with a kitchen and big living room. The hotel's sustainable restaurant serves dishes mainly made with homegrown vegetables and other regional products.
Hotel Nothofagus
The Nothofagus Hotel & Spa is located right in the middle of the Huilo Huilo Biological Reserve. Passengers can enjoy the simplicity of nature while exploring the unspoiled forest of the surrounding area. The extraordinary wooden building features 55 rooms on 7 floors and from each accommodation, the guests have magnificent views of the reserve. The hotel includes a restaurant, bar, internet access, free parking and spa facilities such as a heated swimming pool, whirlpool, and sauna. This is the perfect spot for guests to experience unforgettable excursions as well as relaxing in nature.
Hotel Petrohué
Located in the Vicente Pérez Rosales National Park, Petrohué Lodge features incredible views of the Todos Los Santos Lake and the majestic volcano Osorno. The accommodation offers 20 comfortable rooms including a private bathroom, safe and heating. In addition, the lodge includes services such as an indoor swimming pool, private parking, laundry service and a restaurant with Chilean and international dishes. This is the perfect spot for travelers to enjoy the beautiful nature of Chile's lake region and to spend some free time in a place full of unique flora.
Superior Option
Hotel Monte Verde (Pucón)
Monte Verde, which is located a few kilometers west of Pucón, features a small boutique hotel and 16 spacious cabins. The cabins have a capacity for up to eight people and come with a fully equipped kitchen, TV, and terrace. Guests can enjoy a grand variety of amenities including a swimming pool, sauna, hot tub and a game room. The boutique hotel boasts six cozy rooms and a common living room with a fireplace. Each of them is individually designed and offers amazing views of the Villarrica Lake.
Hotel Petrohué (see above)