Self-Drive: Hidden Treasures of the Lake District
Itinerary
This is a great itinerary for nature lovers. The Lake District is an amazing assembly of natural features, perfect, cone-shaped volcanoes, crystal clear turquoise lakes, hot springs, monkey puzzle tree forests and weird and wonderful plant species reclaiming areas that were once swamped with lava flows. This itinerary allows you to explore several exceptionally beautiful National Parks and Nature Reserves in this stunningly beautiful region. If 8 days hardly seem enough, you are right. But the good thing is, you can extend your stay and add extra days if you wish.
DAY 1:
FREIRE AIRPORT – MALALCAHUELLO NATIONAL RESERVE (140 KM / 87 MI)

Pick up your rental car at Freire Airport,  and start your adventure in the unspoiled nature of the Malalcahuello National Reserve. It is not the size that is impressive about this protected area. With a surface area of 13,730 hectares (30,206 acres), it covers an area roughly the size of the British Channel Island of Jersey. But the variety of different landscapes, and ecosystems is truly remarkable, especially for such a small area.  It comprises the Lonquimay Volcano, rivers, lagoons, ravines and marshes, each with its own specific ecosystem of different plants and animals. Overnight in the Malalcahuello National Reserve.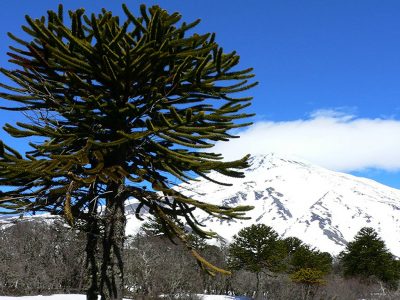 DAY 2:
MALALCAHUELLO NATIONAL RESERVE
You have the whole day to enjoy this magnificent national reserve. The ancient Monkey Puzzle Tree (Auracaria) forests against a backdrop of snow-capped volcanoes create stunning scenery that makes every nature photographer's heart leap. For those looking for more active adventures, there are many options available, such as trekking, mountaineering, fishing, skiing and horseback riding.
Overnight in the Malalcahuello National Reserve. (B)
NOTE: Which activities and excursions are available depends on the season.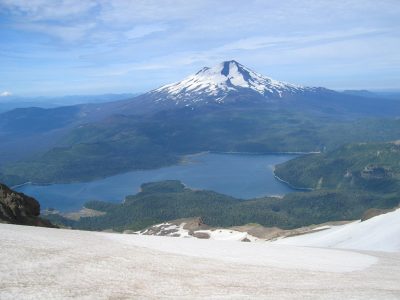 DAY 3:
MALALCAHUELLO NATIONAL RESERVE – CONGUILLÍO NATIONAL PARK (135 KM / 84 MI)

After breakfast, continue your journey to the Conguillío National Park. Among this park's attractions are the Llaima Volcano, the Sierra Nevada, and wild landscapes formed by bizarre volcanic activity.  Llaima is one of the most active volcanoes of Chile. The combination of endemic plants and volcanic rock formations produces a landscape of raw and unforgettable scenic beauty. Overnight in the Conguillío National Park (B).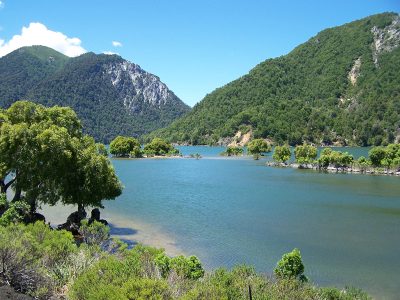 DAY 4:
CONGUILLÍO NATIONAL PARK – BUDI LAKE (200 KM / 124MI)

Continue your explorations, or book a half-day excursion, or simply relax and enjoy the scenery of this stunning National Park.
In the afternoon, it's time to continue your journey and head towards the ocean to reach Budi Lake. What sets this lake apart is that it is among the few lakes on the west coast of the Americas that have seasonal inflows of seawater. As a result, the wildlife is unusually diverse.  This region is still inhabited by the indigenous Mapuche people, who have their settlements along its shore and Huapi Island, which can be visited by ferry from Puerto Futrono. Overnight near Budi Lake. (B)
DAY 5:
BUDI LAKE – VALDIVIA (175 KM / 109 MI)

After breakfast, visit the Mapuche people or explore the birdlife of Lake Budi.  In the afternoon, continue your journey south, towards Valdivia. You can get there by following the highway, or by choosing a more interesting and adventurous route along the coast, passing several local villages on the way. Overnight in Valdivia (B).
​
DAY 6:
VALDIVIA
Valdivia is an unexpected gem in this part of Chile, with a blend of historic and modern influences, it is full of unique characteristics. The day is yours to explore as you please and to get to know this fascinating southern city, its amazing fish market or the area's many forts and castles. Overnight in Valdivia. (B)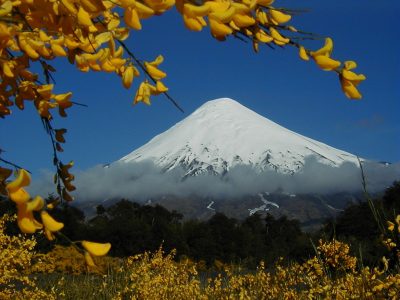 DAY 7:
VALDIVIA – PUERTO VARAS (197 KM / 122 MI)

Todays' drive leads through rolling hills and incredible scenery to the city of Puerto Varas. Along the way, make sure to stop at the Osorno Volcano, or make a slight detour to the eastern side of Lago Llanquihue to visit the awesome Petrohué Waterfalls. Other worthwhile stops along the way are the charming towns of Puerto Octay and Frutillar, each with their hidden curiosities.
After arriving in Puerto Varas, enjoy the a night out in this 'city of roses'. Overnight in Puerto Varas. (B)
DAY 8: PUERTO VARAS – PUERTO MONTT AIRPORT (20 KM / 12 MI)

You have reached the end of your journey, and it is time to return your rental car to the airport of Puerto Montt and board your onward flight. (B)
​
Itinerary Download:
Self-Drive: Hidden Treasures of the Lake District
Rates in 2020/2021
Self-drive itineraries are highly flexible and can be adjusted to your preferences. The rates below are sample rates for this itinerary with the specific car types and hotels mentioned in the table. However, Hotels are subject to availability as well as your choice. The final rate of this itinerary will reflect the specific options you have chosen in the course of developing your itinerary.
Rates are per person, based on double occupancy. For single or triple rates, different hotels or extra nights, please inquire.
| car type | until Apr 30, 2020 | May 1 - Dec 31, 2020 |
| --- | --- | --- |
| Europcar cat D1 | $1003 | $996 |
| Europcar cat I3 | $1076 | $1076 |
| Mitta cat C | $912 | $996 |
| Mitta cat G | $1041 | $1023 |
| Mitta cat J | $1013 | $996 |
After arriving at the international airport in Santiago, you need to take a domestic flight to Temuco, or, if you are doing the itinerary the other way around, to Puerto Montt.
7 Nights including breakfast.

8 Days car rental (Hertz category G) including unlimited free mileage.

Local tax.

Full CDW coverage with a deductible (for details see rental contract).

Drop off charge.

Roadmap and descriptions.
Chile car rental companies charge an additional airport service fee when the vehicle will be picked up from the airport. This service charge is not included in the published rates. This extra fee has to be paid upon returning the car.
This itinerary includes no meals or excursions
Weather
The lake district is a fairly large region and weather conditions may vary quite significantly between places. In general, it can be said that temperatures are relatively mild throughout the year, never getting very hot or very cold. However, it is rather wet, especially during the winter months, between May and August.
Road Conditions
Most main roads in the Lake District are in reasonably good condition and paved. However, as this itinerary explores several remote areas and takes you into the National Parks, it is recommended to use a 4×2 or 4×4 vehicle for this journey.
Car types
Europcar
cat D1 – New Mazda 3 Sedan S1,6 5 (mt) or Similar
cat I3 – Mitsubishi L200 Katana (Mt) or similar
Mitta
cat C – Toyota Yaris Sedan or similar
cat G – Toyota RAV4 or similar
cat J – Mitsubishi L200 4×2 Katana or similar
Please note that car rental companies only reserve a specific category of cars, not a specific type of car within that category.
Please mention at the time of booking if you need a vehicle with automatic transmission.
Rental cars do not come with a GPS system by default. They can be added on at an additional cost, but the cover is not complete in remote areas.
Driving License
Foreign nationals must have an international driver's license in order to be able to drive in Chile.
Hosteria Suizandina
Suizandina is a very cosy, small and family-run hotel. It is surrounded by volcanoes and close to the town of Curacautín, situated at about one hour and a half from Temuco. This Swiss styled property features a main house, a guesthouse and a cabin with a combined capacity for up to 44 people. The main house includes a restaurant that serves breakfast, lunch and dinner. The guesthouse and cabin feature a kitchen and common areas. In addition, the grounds also boasts a camping site in the middle of lush green vegetation.
Ecolodge Baita
Set in the beautiful surroundings of Conguillo National Park, Baita Ecolodge was inaugurated in 2008. Its earthy design is dominated by wood. Despite the rustic looks and remote location, it is a very cosy and comfortable place.
Cabin Lago Budi
These simple cabins provide basic comforts in an amazing, natural setting, on Budi Lake, which due to its saltwater inflow attracts numerous species of birds. It is also an area where Mapuche culture still thrives.
Hotel Naguilan
Hotel Naguilán is set in a German style heritage building and can be found near the city center of Valdivia, located only a few minutes from the main square. The hotel overlooks the Haverbeck channel and boasts 36 fully equipped rooms featuring Wi-Fi, TV, minibar, private bathroom and balcony. The Esencia restaurant serves Mediterranean dishes using fresh fish and seafood and other local ingredients. After a full day of exploring Valdivia guests can relax at the hotel's pool, take a drink at the Naviera Lobby Bar or enjoy the beautiful surrounding scenery.
Hotel Cabaña del Lago.
This grand property overlooking the Llanquihue Lake has a total of 157 rooms. In addition, there are also fully equipped modern cabins which can accommodate up to 6 travellers each. The hotel is decorated with recycled materials, creating a unique and comfortable atmosphere. Furthermore, the property features a bar and restaurant which offers an excellent menu of regional dishes and amazing views of the bay of Puerto Varas and the Osorno Volcano. The hotel's own Piscina Club House is located at the opposite side of the main building and there, guest can enjoy swimming in the pool or using other spa facilities including an outdoor hot tub, sauna and fitness center. Likewise, the hotel has a variety of conference room's ideal for all types of events.