Self-Drive: Chilean and Argentinean Lake District
Itinerary
A week-long itinerary of amazing contrasts as you explore the incredible differences on both sides of the Andes. This trip is for nature lovers and provides plenty of opportunities to discover some of the amazing National Parks in both the Chilean and the Argentinean Lake District.
Day 1
FREIRE AIRPORT – PUCÓN (112 KM / 70 MI)

Pick up your car at the Freire airport or the car rental office in Temuco. Your destination for today will be the town of Pucón located at the foot of the Villarrica Volcano and at the eastern end of the Villarrica Lake surrounded by extensive native forests. This town will be a good base for visits to the nearby national parks, hot springs, waterfalls, and lakes. Overnight in or close to Pucón.

Day 2
PUCÓN
For this day, we recommend a combination of hiking in the Huerquehue National Park (which will offer you the experience to see the famous Araucaria trees close-up) with a visit to one of the many relaxing thermal springs. Overnight in or near Pucón. (B)

Day 3
PUCÓN – SAN MARTÍN DE LOS ANDES (192 KM / 120 MI)

Today you will experience the natural contrasts between the Chilean and Argentinean slopes of the Andes. Crossing the mountains the countryside will change dramatically. Green rolling farmland and lush native forests of the Villarrica National Park will be replaced by the dry but very colorful Pampa of the Lanín National Park. The immense Lanín Volcano will be a constant point of reference during the trip as you drive through a spectacular forest of ancient Araucaria trees growing at the base of the volcano. In the afternoon you will reach San Martín de Los Andes situated on the Lácar Lake. Overnight in the center of San Martín De Los Andes. (B)
Day 4
SAN MARTÍN – VILLA LA ANGOSTURA (105 KM / 66 MI)

Explore seven beautiful lakes on the route to Villa La Angostura and pass through two different national parks; Lanin and Nahuel Huapi. The (unpaved) Seven Lake Route will take you to the tranquil village of Villa Angostura. From there drive along the Nahuel Huapi Lake to your hotel in Villa La Angostura where we highly recommend visiting the world famous peninsula Quetrihué known for its beauty and Myrtles trees. Overnight in or close to Villa La Angostura. (B)

Day 5
VILLA LA ANGOSTURA – PUYEHUE (114 KM / 72 MI)

Today you will drive back to Chile over the Cardenal Antonio Samoré pass. Here, you will cross from Nahuel Huapi National Park into the Chilean Puyehue National Park. Overnight at or close to Puyehue Lake. (B)

Day 6
PUYEHUE AND SURROUNDINGS
You will have all day to enjoy the beautiful natural surroundings of the Puyehue Lake and National Park where there are several attractive hiking trails. In addition, the park boasts 220,000 acres of natural thermal springs, volcanoes, and evergreen forests. Overnight at or close to Puyehue Lake. (B)

Day 7
PUYEHUE – PUERTO VARAS (140 KM / 88 MI)

After a brief journey inland past Lago Rupanco drive along the border of the Llanquihue Lake: the third largest lake in South America. On your way to Puerto Varas stop and visit the town of Puerto Octay known for its German influences. From there head towards the charming town of Frutillar recognized for its 19th-century architecture, famous theater, and the local museum. Afterward, continue your drive around the waterfront where the perfectly cone-shaped Osorno Volcano will be continually seen. This is the same route that German colonists embarked on centuries ago. Overnight in Puerto Varas (B)

Day 8
PUERTO VARAS – PUERTO MONTT (19 KM / 12 MI)

Return your car to Puerto Montt airport or to the downtown car rental office. (B)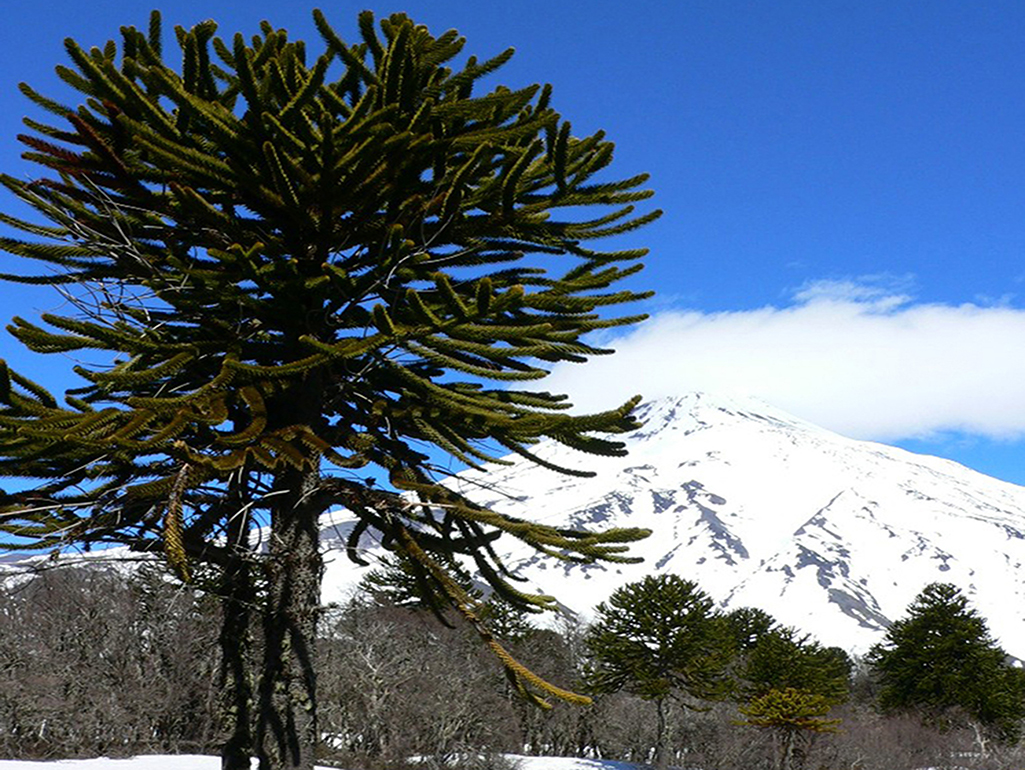 Rates in 2020
Self-drive itineraries are highly flexible and can be adjusted to your preferences. The rates below are sample rates for this itinerary with the specific car types and hotels mentioned in the table. However, Hotels are subject to availability as well as your choice. The final rate of this itinerary will reflect the specific options you have chosen in the course of developing your itinerary.
Rates are per person, based on double occupancy. For single or triple rates, different hotels or extra nights, please inquire.
Car type
Standard
valid thru Apr 30, 2020
Standard
May 1 - Dec 31, 2020
Superior
valid thru Apr 30, 2020
Superior
May 1 - Dec 31 2020
Europcar cat D1
$1336
$1317
$1928
$1605
Europcar cat F2
$1455
$1536
$2047
$1723
Mitta cat C
$1248
$1171
$1790
$1458
Mitta cat G
$1376
$1300
$1917
$1586
Mitta J
$1348
$1272
$1890
$1558
This itinerary can start in Temuco or in Valdivia. There are regular, scheduled flights from Santiago to either city and the driving distance from Valdivia to Pucón is only slightly further.
Temuco – Pucón 1h30min, approx
Valdivia – Pucón 1h45min approx
The itinerary ends in Puerto Montt.
7 nights including breakfast
8 days car rental (Europcar category F2 including unlimited free mileage)
Local tax
Full CDW coverage with a deductible (for details see rental contract)
Drop off charge
International permission to cross into Argentina
Roadmap and descriptions
Chile car rental companies charge an additional airport service fee when the vehicle will be picked up from the airport. This service charge is not included in the published rates. This extra fee has to be paid upon returning the car.
Weather
The weather in the Lake District is temperate – never really hot, nor really cold, although, due to the mountains, there is snow in winter. It is rather wet, however,.The Chilean side receives quite a bit more rain than the Argentinean side of the Andes.
During the winter months, the pass across the Andes may be closed.
Car types
Europcar
cat D1 – New Mazda 3 Sedan S1,6 5 (mt) or Similar
cat F2 – Mazda Cx-5 4×4 (At) or similar
Mitta
cat C – Toyota Yaris Sedan or similar
cat G – Toyota RAV4 or similar
cat J – Mitsubishi L200 4×2 Katana or similar
Please note that car rental companies only reserve a specific category of cars, not a specific type of car within that category.
Please mention at the time of booking if you need a vehicle with automatic transmission.
Rental cars do not come with a GPS system by default. They can be added on at an additional cost, but the cover is not complete in remote areas.
Driving License
Foreign nationals must have an international driver's license in order to be able to drive in Chile.
Standard
Landhaus San Sebastian
Landhaus San Sebastián is located 30 minutes outside of Pucón. It is surrounded by beautiful nature and nestled within a 23-hectare park. The accommodation, owned by a German family, who provides personalized service, features 13 comfortable rooms that include a private bathroom and central heating. In addition, there are 2 small apartments for up to 5 people, equipped with a kitchen and big living room. The hotel's sustainable restaurant serves dishes mainly made with homegrown vegetables and other regional products.
Hotel Le Chatelet
A cozy little guest house offering comfortable rooms in the heart of San Martin. Standard rooms are equipped with free Wi-Fi, central heating and LCD cable TV. Superior rooms are a bit more spacious and offer a telephone, cable TV, flat-screen TV, safety deposit box, desk, bathtub, hairdryer, complimentary toiletries, minibar, electric kettle, and a fireplace.
Hotel Sol de Arrayan
A beautiful hotel in a gorgeous location, Sol Arrayán is located 1km from the center of Villa La Angostura. Rooms in all categories are classy, though some offer more comforts than others. But the best thing about this hotel is the amazing view! The hotel also has a spa, providing various health and beauty treatments.
El Lodge Taique
This wonderful lodge is nestled in the middle of four hectares of forests and meadows near the picturesque town of Puyehue in the Lake District. The lodge has eight exclusive guest rooms and two cabins for up to 4 people, spacious common areas, internet service, restaurant, and bar. This is the perfect place to enjoy the peace and quiet of the region while surrounded by soaring peaks and an immense variety of native flora and fauna.
Hotel Casa Kalfu
This homely hotel is situated in Puerto Varas, only a few meters away from the Llanquihue Lake and the city center. Casa Kalfu is a small and cozy accommodation offering 14 individually designed rooms. Each room is equipped with TV, a private bathroom, and decorations inspired by the region. In addition, the hotel includes services such as private parking and an extensive breakfast buffet including local pastries. This is the perfect place to enjoy the Chilean Lake District and its surrounding.
Superior
Hotel Monteverde
Monte Verde, which is located a few kilometers west of Pucón, features a small boutique hotel and 16 spacious cabins. The cabins have a capacity for up to eight people and come with a fully equipped kitchen, TV and terrace. Guests can enjoy a grand variety of amenities including a swimming pool, sauna, hot tub, and a game room. The boutique hotel boasts six cozy rooms and a common living room with a fireplace. Each of them is individually designed and offers amazing views of the Villarrica Lake.
Hotel Antares Patagonia
An upscale hotel in San Martin that offers suites only, to more demanding clients. The hotel provides all creature comforts – as well as fabulous views. The suites are spacious and fitted with all amenities, There is also an indoor and an outdoor pool, spa facilities, a sauna, and a whirlpool, as well as a fitness studio.
Hotel Puerto Sur
A comfortable hotel with a fabulous location in Villa la Angostura, features an indoor swimming pool, spa, relax area and massages services. All rooms at Puerto Sur enjoy panoramic views of the surrounding woods, mountains, and Lake Nahuel Huapi. They are equipped with a safe, minibar, and cable TV.
Hotel Puyehue
Hotel Termas Puyehue is located in the middle of the Puyehue National Park, offering its guests pure relaxation and tranquility. Travelers can explore the surrounding nature, enjoy soaking at the hotel's thermal pools as well as take a break from everyday life. This property also features 107 comfortable rooms with magnificent views. In addition, the hotel's restaurant boasts traditional European and Chilean cuisine along with several available bars.
Hotel Puelche
Hotel Puelche welcomes guests with a warm and relaxing atmosphere. It is located a short distance from the Llanquihue Lake and near the city center of Puerto Varas, next to various shops, restaurants, and bars. It boasts 21 fully equipped rooms that feature a variety of wood elements. Amenities include Wi-Fi, TV and a minibar. Other facilities include a sauna, Jacuzzi, restaurant and common areas with a fireplace.