Self-Drive: Highlights of the Altiplano
Itinerary
The arid highlands of Chile are almost otherworldly in their stark, barren, yet colourful beauty. Snow-capped volcanoes tower majestically over a forbidding emptiness. A sense of timelessness sets in. And yet, there is something fascinating about such a place and the people who have lived there, managing to survive on the merest resources. This journey will take you from the Altiplano in the very north of Chile to the port town of Iquique and on to San Pedro de Atacama, which has become quite a hub for those seeking a special kind of experience in this mysterious and enigmatic place.
Day 1: ARICA – CODPA VALLEY (135 KM / 84 MI)
Pick up your car at the airport or the downtown rental office in Arica, and your adventure begins! Start driving towards the Codpa Valley. On your way out of town, visit El Morro, a steep hill located south of Arica. Enjoy beautiful views of the Azapa Valley, a fertile basin where olives, tomatoes, and tropical fruits are grown. Azapa Valley also is famous for its archaeological sites that date to the 10th-century. The archaeological "Museo San Miguel de Azapa", a small University museum, tells the story of the local discovery and the remains of the Chinchorro culture. Afterwards, continue your journey south towards Iquique and spend the night in the pristine highland valley of Codpa. Overnight at the Codpa Valley Lodge.
​
Day 2: CODPA VALLEY – PUTRE (160 KM/ 100 MI)
Today's scenic route will take you to the petroglyphs of Ofragía, passing the villages of Timar, Tignamar, Saxamar, Belen, and Chaquipiña. Along the way, you will also be able to visit the Tambo de Zapahuira. This resting spot and  buildings are located 107 km from Arica and have been declared National Monument. During the Inca Empire, this place served as a storage for textiles, food, and arms. When you get to the highland village of Putre (3,600 m / 11,811 ft above sea level), the surrounding sights and nearby snowcapped volcanic peaks will take your breath away. Overnight in Putre. (B)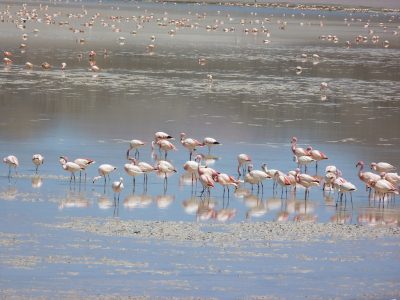 Day 3: PUTRE – LAUCA NATIONAL PARK – ARICA (200 KM / 125 MI)
During today's drive, you will discover the stunning beauty of the Lauca National Park with its impressive variety of exotic flora and altiplano wildlife: vicuñas, alpacas, Andean flamingos and many other species. Lauca National Park is also the home of Chungará Lake, the highest lake in the world. Afterwards, explore the village of Parinacota and its beautiful church before making your way back to Arica. As you slowly descend back to sea level, Lluta Valley is spread out in front of you. Overnight in Arica. (B)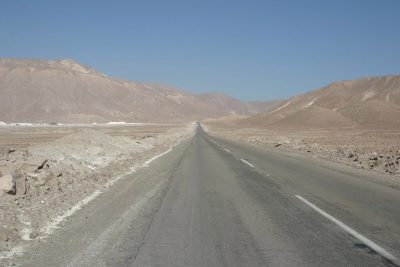 Day 4: ARICA – IQUIQUE (300 KM / 186 MI)
After breakfast, head south towards the dry Pampa, a desert expanse situated at 1.000 –1,200m / 3,280 – 3,940 ft above sea level. Deep canyons carve out this vast plain. Continue on to the port city Iquique, which had its heyday in the 19th-century. At that time, the Atacama Desert was being mined for saltpetre to make explosives for the weaponry of WWI. Overnight in Iquique. (B)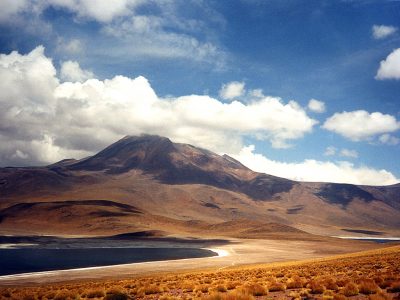 Day 5: IQUIQUE – SAN PEDRO DE ATACAMA (550 KM / 342 MI)
Today you have a long drive ahead of you as you are heading south through the Pampa del Tamarugal. Eventually, you will turn east towards the famous Atacama Desert and the bustling oasis town of San Pedro de Atacama. Overnight in San Pedro de Atacama. (B)
​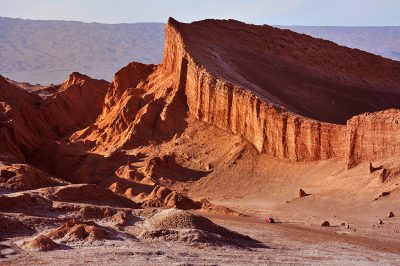 Day 6: ATACAMA SALT FLAT AND MOON VALLEY (100 KM / 62 MI)
Taking full advantage of being in San Pedro, make sure to visit the well-known Atacama Salt Flat, the Salar de Atacama, and the Moon Valley. The Salar de Atacama is the largest salt flat in Chile. Surrounded by towering volcanoes and the Andes Mountain range, this stunning sight is simply unforgettable. The impressive range of colours and textures found in the Valley of the Moon is reminiscent of the lunar surface. Otherworldly stone and sand formations that have been carved by the forces of erosion dot the eery landscape. Overnight in San Pedro. (B)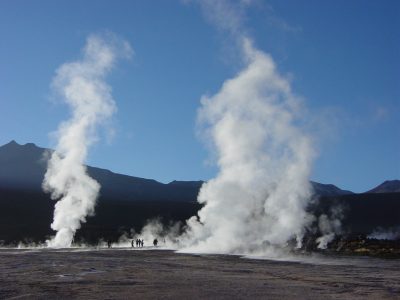 Day 7: EL TATIO AND PURITAMA (94 KM / 58 MI)
While in San Pedro, don't miss a visit to El Tatio Geysir. However, it is recommended to go with an organized group rather than on your own. Before the break of dawn, depart San Pedro and head north to the famous El Tatio Geysers, a geothermal field flanked by soaring peaks. El Tatio is situated at 4,300 m above sea level. It is the highest geothermal field in the world and boasts spectacular scenery. At dawn, you will be able to observe powerful spurts of steam that shoot out from various geyser blowholes and steaming ponds. Afterwards, on your way back to San Pedro, continue to the Puritama hot springs, where you can relax in the warm waters of these natural thermal hot springs.
Day 8: SAN PEDRO – CALAMA – ANTOFAGASTA (100 KM/62 MI TO CALAMA – 320 KM/199 MI TO ANTOFAGASTA)
After breakfast, return your car to either Calama or Antofagasta Airport or the downtown car rental office. (B)
​
Itinerary Download:
Highlights of the Altiplano (Northern Parks)
Rates in 2021/2022
Self-drive itineraries are highly flexible and can be adjusted to your preferences. The rates below are sample rates for this itinerary with the specific car types and hotels mentioned in the table. However, Hotels are subject to availability as well as your choice. The final rate of this itinerary will reflect the specific options you have chosen in the course of developing your itinerary.
Rates are per person based on double occupancy. For single or triple rates, different hotels or extra nights, please inquire.
Car Type
(valid to Apr. 30, 2022)
Standard
Superior
Europcar cat F2
$1310
$1416
Europcar cat I3
$1260
$1366
Mitta cat G
$1232
$1479
Mitta cat J
$1210
$1302
This itinerary is a point-to-point drive, starting in Arica, in the very north of Chile.
There are daily scheduled flights from Santiago to Arica.
The journey ends in Calama, the access town for the Atacama. There are also daily flights from here back to Santiago.
 7 nights including breakfast
8 days car rental including unlimited free mileage, local tax, and full CDW coverage with a deductible (for details see rental contract)
drop off charge
roadmap and descriptions
Chile car rental companies charge an additional airport service fee when the vehicle will be picked up from the airport. This service charge is not included in the published rates. This extra fee has to be paid upon returning the car.
Weather
The Atacama Desert is one of the driest places on earth! But that does not mean it never rains. Occasionally, a phenomenon known as 'Bolivian winter', can be observed during the months of January – April, which can bring tremendous downpours, which don't last long but can be very intense, and may be accompanied by lightning.
The rest of the year it is pretty dry and sunny during the day and cool or cold at night. The desert sands do not retain any heat. Nights are often clear, and skies are almost entirely free of light pollution, which makes for perfect star-gazing conditions.
Altitude
San Pedro is located at an altitude of 2443m above sea level. Many of the nearby attractions will take you even higher. It is important to keep in mind that above 2500m of elevation anyone can be affected by altitude sickness. Symptoms include headaches, nausea, dizziness, shortness of breath etc. It is recommended to take it easy on the first day, drinking plenty of water and abstaining from alcohol. If you do experience symptoms return to lower elevations as quickly as you can.
El Tatio Geyser
We strongly recommend that you join a guided tour to visit the El Tatio Geyser (4320m above sea-level) or follow one of the several tour vehicles to get to the geysers, due to the darkness and the very complicated road conditions.
Codpa Valley
*The Codpa Valley Lodge is located in a small oasis in one of the driest deserts of the world. This means that water and electricity are not to be taken for granted. The generators are working well, however, occasional power outages can occur. There is always water, however sometimes with little pressure and guests are requested to think and act environmentally friendly and use water and electricity wisely.
Fleece and wind- and weatherproof outdoor coat or jacket
Short- and long-sleeved cotton shirts.
Trekking pants (preferably ones that can be unzipped into shorts). Thermal underwear for high ascents or to visit the geysers, especially during winter.
Comfortable hiking boots with anti-slip rubber soles and sturdy ankle support to avoid possible sprains.
Sneakers or sports shoe
Swimsuit
Flip-flops for use at the Termas de Puritama hot springs or at lakes
Sunglasses, sun hat, sunscreen, and lip balm
Hat or headband to protect your ears from the wind or the cold when at the geysers.
Small Backpack
Casual, light, informal clothing for hotel
Car types
Europcar
cat F2: Mazda Cx-5 4×4 (At) or similar (Jeep)
cat I3: Mitsubishi L200 Katana (Mt) or similar (Pickup)
Mitta
cat G: Toyota RAV4 or similar
cat J: Mitsubishi L200 4×2 Katana or similar (diesel)
Please note that car rental companies only reserve a specific category of cars, not a specific type of car within that category.
Please mention at the time of booking if you need a vehicle with automatic transmission.
Rental cars do not come with a GPS system by default. They can be added on at an additional cost, but the cover is not complete in remote areas.
Driving Licence
Foreign nationals must have an international driving licence in order to be able to drive in Chile.
Driving at High Altitude and in the Desert
Thin mountain air can affect your car's engine and diminish your acceleration and climbing power
The potential for overheating is greater
The potential for vapour locks is greater
Driving in remote areas bears certain risks and should only be attempted by competent drivers, who should be capable of changing a tire if need be.
Always carry plenty of water.
Avoid driving at night (very dark and no street lights).
Be aware that the heat and dry air can play tricks on your visual perception.
Standard
Codpa Valley Lodge (Standard Room),
Codpa Valley Lodge invites travelers to discover the Arica region. It boasts a welcoming infrastructure and unique geographic position, located in the middle of the area's main touristic attractions. The property has a total of 16 cabins with terraces and features private parking, Wi-Fi, an outdoor swimming pool, sauna, hot tub, and an on-site restaurant. Guest are sure to fully enjoy their stay while relaxing at this accommodation.
Notes
Please note: the Codpa Valley Lodge is located in a small oasis in one of the driest deserts of the world. This means that water and electricity are not to be taken for granted. The generators are working well, but occasional temporary power cuts can occur. There is always water, however sometimes with little pressure and guests are requested to think and act environmentally friendly and use water and electricity wisely.
Hotel Qantati (Standard Room)
This cozy hotel was built in a local Andean style, mostly out of stones from the region. It is located on a plain just outside of Putre with great views over the Andes mountain range. It features 10 comfortable guest rooms with a private bathroom. Additional services are cable TV, telephone and Internet access and parking.
Diego de Almagro Arica (Standard City View Room)
Located in the Heart of Chinchorro Beach a few meters from the Ocean, downtown city and the main tourist attractions. It offers cozy and modern rooms, all of which have an excellent view of the sea and the city of Arica. The Hotel has 166 rooms, and all of them have digital security box, TV Cable, air-conditioning, mini bar, private bathrooms, hairdryer, Internet connection, Wi-Fi, electronic key lock.
Hotel NH Iquique (Standard City View Room)
NH Iquique is ideally located overlooking the ocean, just minutes away from the city's business district and the social hot spots of Playa Brava and Cavancha. Most of the 78 rooms offer work desks, cable television, telephone, ironing boards, and wireless internet access. The hotel's Brick Restaurant is one of the city's most frequented venues, blending international cuisine with local Chilean specialties, particularly seafood. NH Iquique furthermore offers two meeting rooms with capacity for up to 30 people and ample parking.
Hotel La Casa de Don Tomas (Standard Room)
Hotel Casa de Don Tomás is a beautiful oasis nestled in the middle of the San Pedro de Atacama desert. It features 41 spacious rooms, all of them with private bathroom, telephone, safe deposit box, and heating. Amongst its facilities, there is also an outdoor swimming pool, a coffee shop and a snack bar. All these along with the comfort and the relaxation ambiance it offers will surely guarantee a magical stay in northern Chile.
Superior
Codpa Valley Lodge (Standard Room), Hotel Qantati (Standard Room) – see above
Hotel Arica (Superior Room)
Hotel Arica is the best in town; modern in style with spacious rooms. It is located right on the Pacific Coast, at the base of El Morro, the most famous hill in Arica, at 20 km / 12 mi from the airport. Hotel Arica has 114 rooms divided into suites, junior suites, superior, standard and cabins, most with ocean view. The rooms are equipped with cable TV, telephone, minibar, music, safe deposit box. Additional services are two swimming pools, tennis court, mini golf, restaurant, and bar; easy access to the beach, room service.
Hotel Terrado Suites Iquique (Executive Room)
Hotel Terrado Suites Iquique is a modern and tall building, perfectly situated on the Cavancha Peninsula, right on the Pacific Ocean side at only 35 km from Iquique airport or a five-minute drive from downtown Iquique. The hotel offers 98 acclimatized suites, fully equipped and with high tech security; plenty of additional services like a heated pool, sauna with a complete health center with hydro massage, a good restaurant and bar are available.
Hotel Altiplanico (Standard Room)
The Hotel Altiplánico San Pedro de Atacama is situated outside of San Pedro, at 10 minutes walking distance from the city center. It is an exceptional and impressive accommodation built completely out of adobe which gives the hotel a special local identity. It features 29 rooms, all of them with a unique design aiming to emphasize the highland roots and boast a terrace showcasing the Andes. From the inner garden, you can enjoy a great view of the snow-capped surrounding volcanoes. In this magnificent hotel, you can also find a swimming pool, a bar-restaurant, internet access, a private parking, and laundry service. It is definitely the perfect place for some peace and quiet.