Self Drive: Northern Shores and Parks
Itinerary
This 8-day itinerary sets out to explore beyond the Atacama hub around San Pedro. Discover the beautiful and amazingly diverse National Parks of the region, both inland, and along the coast. Despite the seemingly desolate landscape, there is a lot to discover.
After spending a couple of days in San Pedro de Atacama to explore its natural highlights, the journey takes you to the historic port town of  Antofagasta. Heading south, discover the fascinating National Park of Pan de Azucar, one of the few protected coastal areas.
Finally, head to Copiapó, once Chile's northernmost outpost. Visit the nearby Nevado Tres Cruces National Park, which at an altitude between 3800 – 4200 m is a rarefied adventure.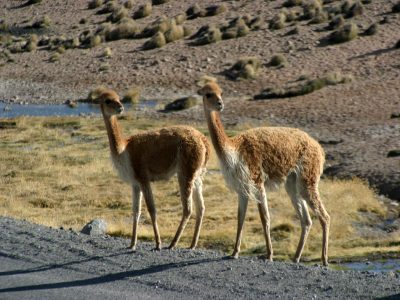 DAY 1: ARICA – CODPA VALLEY (135 KM / 84 MI)
Pick up your car at the airport or the downtown rental office in Arica, and your adventure begins! Start driving towards the Codpa Valley. On your way out of town, visit El Morro, a steep hill located south of Arica. Enjoy beautiful views of the Azapa Valley, a fertile basin where olives, tomatoes, and tropical fruits are grown. Azapa Valley also is famous for its archaeological sites that date to the 10th-century. The archaeological "Museo San Miguel de Azapa", a small University museum, tells the story of the local discovery and the remains of the Chinchorro culture. Afterwards, continue your journey south towards Iquique and spend the night in the pristine highland valley of Codpa. Overnight at the Codpa Valley Lodge.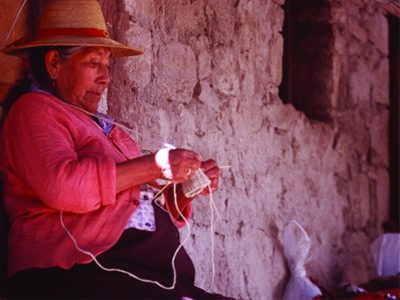 DAY 2: CODPA VALLEY – PUTRE (160 KM/ 100 MI)
Today's scenic route will take you to the petroglyphs of Ofragía, passing the villages of Timar, Tignamar, Saxamar, Belen, and Chaquipiña. Along the way, you will also be able to visit the Tambo de Zapahuira. This resting spot and buildings are located 107 km from Arica and have been declared National Monument. During the Inca Empire, this place served as a storage for textiles, food, and arms. When you get to the highland village of Putre (3,600 m / 11,811 ft above sea level), the surrounding sights and nearby snowcapped volcanic peaks will take your breath away. Overnight in Putre. (B)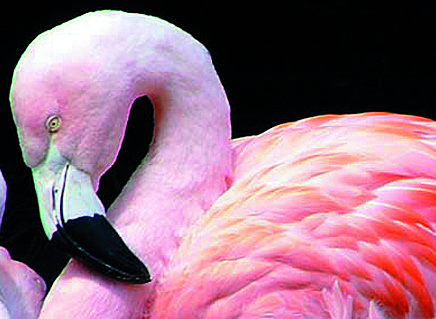 DAY 3: PUTRE – LAUCA NATIONAL PARK – ARICA (200 KM / 125 MI)
During today's drive, you will discover the stunning beauty of the Lauca National Park with its impressive variety of exotic flora and altiplano wildlife: vicuñas, alpacas, Andean flamingos and many other species. Lauca National Park is also the home of Chungará Lake, the highest lake in the world. Afterwards, explore the village of Parinacota and its beautiful church before making your way back to Arica. As you slowly descend back to sea level, Lluta Valley is spread out in front of you. Overnight in Arica. (B)
Day 4: ARICA – IQUIQUE (300 KM / 186 MI)
After breakfast, head south towards the dry Pampa, a desert expanse situated at 1.000 –1,200m / 3,280 – 3,940 ft above sea level. Deep canyons carve out this vast plain. Continue on to the port city Iquique, which had its heyday in the 19th-century. At that time, the Atacama Desert was being mined for saltpetre to make explosives for the weaponry of WWI. Overnight in Iquique. (B)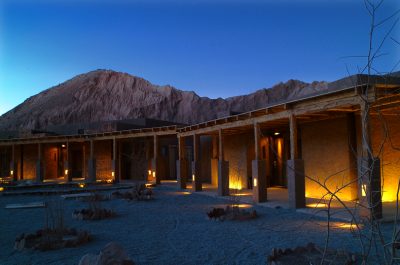 DAY 5: IQUIQUE – SAN PEDRO DE ATACAMA (550 KM / 342 MI)
Today you have a long drive ahead of you as you are heading south through the Pampa del Tamarugal. Eventually, you will turn east towards the famous Atacama Desert and the bustling oasis town of San Pedro de Atacama. Overnight in San Pedro de Atacama. (B)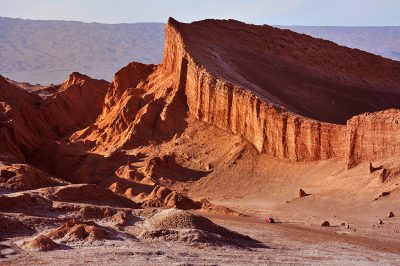 Day 6: ATACAMA SALT FLAT AND MOON VALLEY (100 KM / 62 MI)
Taking full advantage of being in San Pedro, make sure to visit the well-known Atacama Salt Flat, the Salar de Atacama, and the Moon Valley. The Salar de Atacama is the largest salt flat in Chile. Surrounded by towering volcanoes and the Andes Mountain range, this stunning sight is simply unforgettable. 
The impressive range of colours and textures found in the Valley of the Moon is reminiscent of the lunar surface. Otherworldly stone and sand formations that have been carved by the forces of erosion dot the eery landscape. Overnight in San Pedro. (B)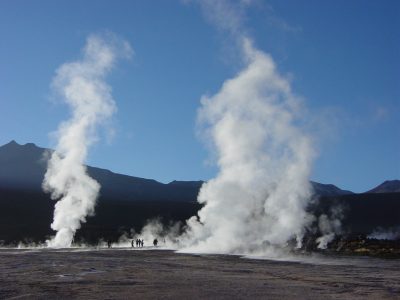 DAY 7: EL TATIO AND PURITAMA (94 KM / 58 MI)
While in San Pedro, don't miss a visit to El Tatio Geysir. However, it is recommended to go with an organized group rather than on your own.
Before the break of dawn, depart San Pedro and head north to the famous El Tatio Geysers, a geothermal field flanked by soaring peaks. El Tatio is situated at 4,300 m above sea level. It is the highest geothermal field in the world and boasts spectacular scenery. At dawn, you will be able to observe powerful spurts of steam that shoot out from various geyser blowholes and steaming ponds. Afterwards, on your way back to San Pedro, continue to the Puritama hot springs, where you can relax in the warm waters of these natural thermal hot springs.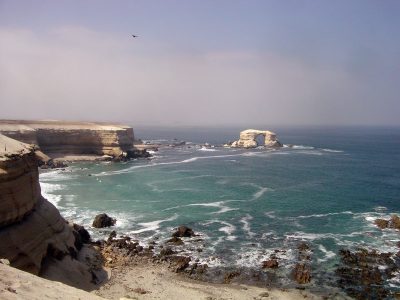 DAY 8: SAN PEDRO – CALAMA – ANTOFAGASTA (100 KM/62 MI TO CALAMA – 320 KM/199 MI TO ANTOFAGASTA)
After breakfast, return your car to either Calama or Antofagasta Airport or the downtown car rental office. (B)
Itinerary Download:
Atacama and Northern Parks
Rates in 2021/2022
Self-drive itineraries are highly flexible and can be adjusted to your preferences. The rates below are sample rates for this itinerary with the specific car types and hotels mentioned in the table. However, Hotels are subject to availability as well as your choice. The final rate of this itinerary will reflect the specific options you have chosen in the course of developing your itinerary.
Rates are per person, based on double occupancy. For single or triple rates, different hotels or extra nights, please inquire.
| Car Type | Rate per person |
| --- | --- |
| Europcar cat F2 | $1220 |
| Europcar cat I3 | $1176 |
| Mitta cat G | $1189 |
| Mitta cat J | $1166 |
Many international airlines fly to Santiago, the capital of Chile. The nearest airport that serves the Atacama region and its main tourist hub, San Pedro de Atacama, is in Calama.
The flight between Santiago and Calama takes about 2 hours and there are several flights per day.
The driving time between Calama and San Pedro is 1 hour 30 minutes.
The return is from Copiapo Airport. There are several scheduled flights back to Santiago per day.
Flight time is approximately 1h15min.
6 nights including breakfast
7 days car rental including unlimited free mileage, local tax (IVA), and CDW coverage with a deductible (for details see rental contract)
drop-off fee Calama – Copiapo
Roadmap and descriptions.
Chile car rental companies charge an additional airport service fee when the vehicle will be picked up from the airport. This service charge is not included in the published rates. This extra fee has to be paid upon returning the car.
Weather
The Atacama Desert is one of the driest places on earth! But that does not mean it never rains. Occasionally, a phenomenon known as 'Bolivian winter', can be observed during the months of January – April, which can bring tremendous downpours, which don't last long but can be very intense, and may be accompanied by lightning.
The rest of the year it is pretty dry and sunny during the day and cool or cold at night. The desert sands do not retain any heat. Nights are often clear, and skies are almost entirely free of light pollution, which makes for perfect star-gazing conditions.
Altitude
San Pedro is located at an altitude of 2443m above sea level. Many of the nearby attractions will take you even higher. It is important to keep in mind that above 2500m of elevation anyone can be affected by altitude sickness. Symptoms include headaches, nausea, dizziness, shortness of breath etc. It is recommended to take it easy on the first day, drinking plenty of water and abstaining from alcohol. If you do experience symptoms return to lower elevations as quickly as you can.
El Tatio Geyser
We strongly recommend that you join a guided tour to visit the El Tatio Geyser (4320m above sea-level) or follow one of the several tour vehicles to get to the geysers, due to the darkness and the very complicated road conditions.
Fleece and wind- and weatherproof outdoor coat or jacket
Short- and long-sleeved cotton shirts.
Trekking pants (preferably ones that can be unzipped into shorts). Thermal underwear for high ascents or to visit the geysers, especially during winter.
Comfortable hiking boots with anti-slip rubber soles and sturdy ankle support to avoid possible sprains.
Sneakers or sports shoe
Swimsuit
Flip-flops for use at the Termas de Puritama hot springs or at lakes
Sunglasses, sun hat, sunscreen, and lip balm
Hat or headband to protect your ears from the wind or the cold when at the geysers.
Small Backpack
Casual, light, informal clothing for hotel
Car types
Europcar
cat F2: Mazda Cx-5 4×4 (At) or similar (Jeep)
cat I3: Mitsubishi L200 Katana (Mt) or similar (Pickup)
Mitta
cat G: Toyota RAV4 or similar
cat J: Mitsubishi L200 4×2 Katana or similar (diesel)
Hotel Casa de Don Tomas (Standard Room)
Hotel Casa de Don Tomás is a beautiful oasis nestled in the middle of the San Pedro de Atacama desert. It features 41 spacious rooms, all of them with private bathroom, telephone, safe deposit box, and heating. Amongst its facilities, there is also an outdoor swimming pool, a coffee shop and a snack bar. All these along with the comfort and the relaxation ambiance it offers will surely guarantee a magical stay in northern Chile.
NH Antofagasta (Standard City View Room)
The NH Antofagasta is situated in the exclusive southern zone of Antofagasta City, at only 10 minutes from the civic and commercial centre. The hotel offers 136 acclimatised rooms, divided into standard rooms (single/double) and suites. All of them feature cable TV, heating, air conditioning, hair dryer, line telephone, mini bar and safe deposit box. Additional services include a swimming pool, restaurant, bar, room service, laundry service and parking.
Aqua Luna Hotel (Standard Room)
The Aqua Luna Hotel is located in the small town of Chañaral, 28 km south of Pan de Azúcar National Park. The accommodation offers 15 rooms with free WIFI connection, minibar, cable TV and private bathroom. General facilities include comfortable common areas, parking, meeting facilities and a cafeteria.
Atacama Suites (Superior Room)
This beautiful and modern 15-story hotel is nestled in the heart of Copiapó, only a few minutes away from several highlights of the city. Atacama Suites has 99 elegant and fully equipped accommodation units designed to meet the needs of all guests. Amenities vary with some featuring living room, dining area, terrace, kitchen, and Wi-Fi. The hotel also has a work-out room, business centre, meeting rooms and an outdoor pool with a terrace boasting magnificent views of the city and the surroundings. Atacama Suites is a great alternative for an unforgettable stay.