Self-Drive: Quintessential Carretera Austral
Itinerary
This itinerary can easily be combined with the Northern Carretera Austral itinerary, or one of the Lake District itineraries.
Day 1
BALMACEDA – COYHAIQUE (56 KM/ 35 MI)
Pick up your car at Balmaceda Airport and start your self-drive adventure through Patagonia. Your destination for the day will be Coyhaique the capital of the Aysén Region and home to nearby rivers and green landscapes. Overnight in Coyhaique.
Day 2
COYHAIQUE – GENERAL CARRERA LAKE (258 KM / 160 MI) This morning, you will need to depart early and follow the road leading you to the General Carrera Lake. Along the way make sure to make stops at the different lookout points with beautiful views. Continue your journey along the lengthy and uninhabited stretch of the Carretera Austral. Don't miss a visit to the Marble Caves close to Puerto Tranquilo. Overnight at the shores of the General Carrera Lake. (B)
Day 3
GENERAL CARRERA LAKE You will have the entire day to enjoy and discover your surroundings. Lake General Carrera is the biggest lake in Chile and home to several outdoor activities including; hiking, horseback riding, fishing and boat ride excursions. Overnight at the shores of the General Carrera Lake. (B)
Day 4
GENERAL CARRERA LAKE – LAGO POSADAS (202 KM/ 126 MI) After breakfast, start your drive south following Route 7. Today's journey will take you near the Cochrane National Reserve and through the Chacabuco Valley, both known for their incredible views. Once having reached the border crossing of Paso Roballos you will be met with by the famous pampas of Argentina. A little further along the drive, you will reach the city of Bajo Caracoles and then your stunning destination Lago Posadas. Overnight in Lago Posadas. (B)
Day 5
LAGO POSADAS – EL CHALTÉN (535 KM / 333 MI) For the majority of the day, you will follow the famous "Patagonian Highway" (Route 40) to El Chaltén, situated at the foot of the Fitz Roy Mountain Range. Overnight in El Chaltén. (B)
Day 6
EL CHALTEN – VIEDMA GLACIER (112 KM / 70 MI) Today take advantage of your location and visit the Viedma Glacier that is part of the huge Southern Patagonian Ice Field. It is located on the western end of Lake Viedma in the undefined part of the limit between Chile and Argentina (B)
Day 7
EL CHALTÉN – EL CALAFATE (212 KM / 132 MI) Your drive today will take you past breathtaking landscapes and natural beauty including lakes and vast expanses. Your destination is El Calafate known as a quaint town filled with local charm. Overnight in El Calafate. (B)
Day 8
EL CALAFATE – PERITO MORENO GLACIER (48 KM / 30 MI) After breakfast take a trip to the Los Glaciares National Park to visit the magnificent Perito Moreno glacier. This is a true spectacle of nature and a must see. In addition to enjoying the various walkways of the park for up-close views of the glaciers, a trek or boat ride can also be organized. Overnight in El Calafate. (B)
Day 9
EL CALAFATE – TORRES DEL PAINE NATIONAL PARK (253 KM / 157 MI) You will drive into Chile via Cerro Castillo through the vast steppe or Pampa and arrive in one of the most beautiful national parks of the American continent; Torres del Paine. Enjoy the view of the Torres on your way to your hostería. Overnight in or close to the Torres del Paine National Park. (B)
Day 10
TORRES DEL PAINE NATIONAL PARK You will start early to make the most of this day. Visit some of the various sites within the park, navigate to the Grey Glacier in a boat or trek on one of the shorter trails to experience this magnificent landscape close-up. Overnight in or close to National Park Torres del Paine. (B)
Day 11
TORRES DEL PAINE – PUNTA ARENAS (347 KM / 216 MI) Today you will start to get back into civilization by driving to Punta Arenas: the southernmost port city in the world. It is located by the Brunswick Peninsula and the Magellan Strait. Overnight in Punta Arenas. (B)
Day 12
PUNTA ARENAS – AIRPORT Your adventure through Patagonia has come to an end. After dropping your car off you can catch your connecting flight. (B)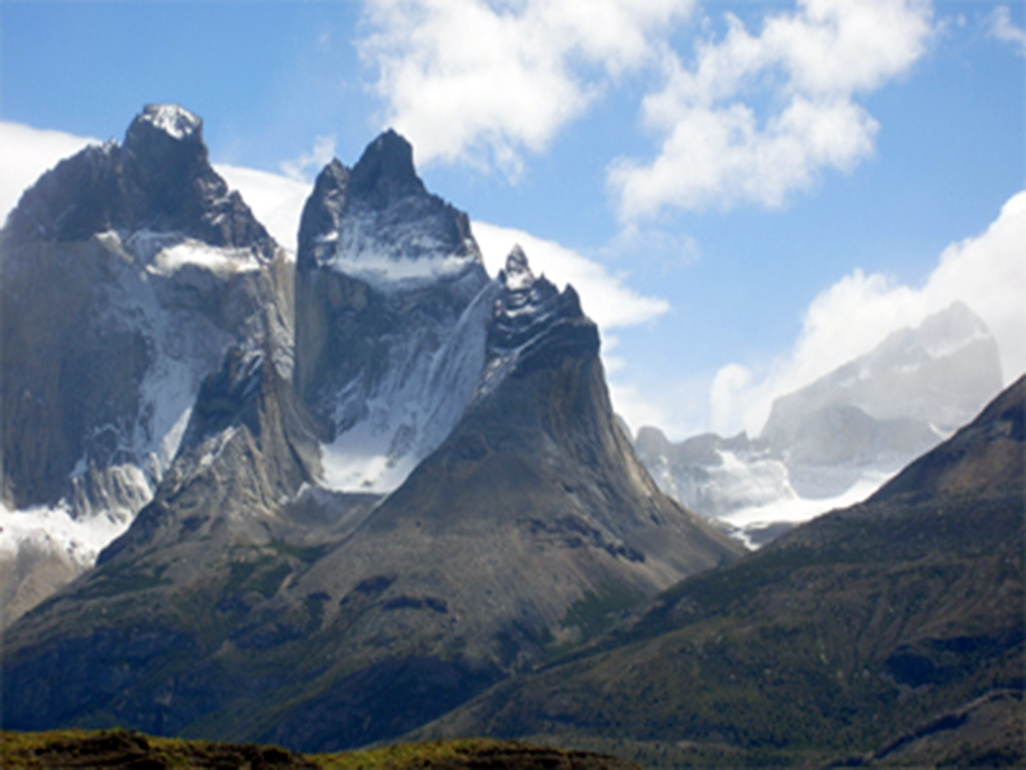 Rates in 2020/2021
Self-drive itineraries are highly flexible and can be adjusted to your preferences. The rates below are sample rates for this itinerary with the specific car types and hotels mentioned in the table. However, Hotels are subject to availability as well as your choice. The final rate of this itinerary will reflect the specific options you have chosen in the course of developing your itinerary.
Rates are per person, based on double occupancy. For single or triple rates, different hotels or extra nights, please inquire.
| Car Type | valid thru Mar 31, 2020 | Oct 15, 2020 - Mar 31, 2021 |
| --- | --- | --- |
| Europcar I3 | $2670 | $2670 |
| Europcar cat J3 | $2948 | $2948 |
| Mitta cat G | $2462 | $2462 |
| Mitta cat J | $3003 | $3003 |
The port town of Puerto Montt is the main hub of northern Patagonia. Most flights to Balmaceda have a stop-over in Puerto Montt. To return to Santiago there are several flights per day from Punta Arenas.
Program includes:
11 nights including breakfast
12 days car rental (Europcar category J3) including unlimited free mileage
Local tax
Full CDW coverage with a deductible (for details see rental contract)
Drop off Coyhaique- Punta Arenas
International permission to cross into Argentina with the vehicle
Roadmap and descriptions
Chile car rental companies charge an additional airport service fee when the vehicle will be picked up from the airport. This service charge is not included in the published rates. This extra fee has to be paid upon returning the car.
Weather The Chilean Lake District is known for its temperate but wet climate. In that regard, it is somewhat similar to the Pacific Northwest. The Argentinean side of the Andes is much drier, but not any warmer. Southern Patagonia is well-known for its changeable weather conditions. One can experience all kinds of weather all in a single day. It never gets very hot, even at the height of summer, between December and February. Gas in remote areas, gas stations are few and far between. It is highly recommended to ALWAYS fill up on gas whenever you see a gas station so as to avoid running out, somewhere in the middle of nowhere. Torres del Paine National Park Torres del Paine is a National Park of outstanding awesomeness, with a short season and relatively few tourist facilities within the park., and a short season. Accordingly, rates are high, especially during the height of the season. Getting there a little earlier than the crowds or a little later in the season will improve your experience. Also, as there are no real supply stores within the park to speak of, and everything that is available has to come from a long way away, it is a good idea to stock up on anything you might need before you get there, either in El Calafate or in Puerto Natales. The park entrance fee is not included and must be paid at the gate.
Due to the variable weather conditions, it makes sense to pack for all weathers and to think 'layers'.
thermal underwear
fast drying, weatherproof outdoor pants
warm socks (preferably woollen)
breathable Shirts (e.g. merino wool)
wind and weatherproof jacket
warm hat and scarf and gloves
sun protection, lip balm, sunglasses
comfortable, non-slip hiking boots
day pack
flashlight and spare batteries
Car types
Europcar
cat J3 – Mitsubishi L200 Katana Crt 4×4 (Mt) or similar
Mitta
cat G – Toyota RAV4 or similar
cat J – Mitsubishi L200 4×2 Katana or similar
Please note that car rental companies only reserve a specific category of cars, not a specific type of car within that category.
Please mention at the time of booking if you need a vehicle with automatic transmission.
Rental cars do not come with a GPS system by default. They can be added on at an additional cost, but the cover is not complete in remote areas.
Driving License
Foreign nationals must have an international driver's license in order to be able to drive in Chile.
Hotel Belisario Jara (Standard Room)
Hotel Belisario Jara, which is named after an Argentinian pioneer, is situated in the city centre of Coyhaique, near the main square. The accommodation boasts 8 rooms, each featuring a private bathroom, central heating, Wi-Fi access and TV. Other facilities include a common living and dining room, snack bar, laundry service and parking lots.
Mirador Playa Guadal (Superior Cabin)
El Mirador de Guadal is situated on the shores of General Carrera Lake and features six cosy cabins with a capacity for up to 10 people. Each accommodation offers lake views, is equipped with a kitchen, private bathroom, TV, heating, and barbecue area with grill. The cabins are built with local Cypres and Lenga wood, which makes them warm and comfortable, inspired by the simplicity and beauty of the native forests. In addition, there are two family suites available, which can accommodate up to four people.
Rio Tarde Casa Patagonia (Standard Room)
Situated in the remote location of Lago Posadas, this hotel is one of the very few options available in this lonely region of Argentina. It is a simple and basic hotel, which is not easy to find in this remote location. It is not very convenient, but the best available choice for breaking the journey on the long way south, through the Argentinean pampa.
Estancia Lunajuim (Standard Room)
Lunajuim is located in downtown El Chaltén and offers travellers a privileged view of Mount Fitz Roy and Mount Torre. Featuring 26 comfortable rooms, each includes a private bathroom with a bathtub, individual heating and a safe deposit box. Passengers can start their adventurous day with a rich breakfast buffet or enjoy the regional cuisine for lunch in the hotel's own restaurant. Other facilities include a large living room with library and fireplace, Wi-Fi in the common areas, room and laundry service.
Hotel Sierra Nevada (Standard Room)
Situated on the main street in El Calafate, this hotel is conveniently located and offers views of Bahia Redonda and the Glaciers National Park. Rooms include a TV, and free Wi-Fi is available.
Each bright rooms is designed with contemporary décor. All of them feature a seating area and a balcony overlooking the garden and the Andes Mountain Range.
A continental breakfast with a variety of local and international ingredients is served at the hotel´s restaurant.
Hostería Mirador del Paine (Standard Room)
Mirador del Paine is part of a cattle farm dated from the late XIX Century, situated outside the park at 52 km / 32 mi distance from the Sarmiento National Park entrance. It offers wonderful views of the Laguna Verde and Paine mountains. This hostería was built in the style of the old estancia, respecting the Patagonian architecture. It is equipped with 20 simple but comfortable guest rooms, all of them with private bathroom and central heating. General facilities include a dining room connected to the living room with chimney and bar in the main house, parking, laundry service and safe deposit box upon request.
Hotel Cabo de Hornos (Standard Room)
Cabo de Hornos is located in the centre of Punta Arenas, next to the Plaza Muñoz Gamero. The accommodation features 110 modern rooms including free Wi-Fi, TV, a private bathroom and laundry service. From each room, passengers have an amazing view of the Strait of Magellan or the historical town of Punta Arenas. In addition, guests can enjoy exquisite cuisine at the gourmet restaurant and end the day with a premium Chilean wine in front of the fireplace. The combination of the hotel's central location in town and the closeness to nature will make the traveller's stay unforgettable.