The M/S Letty is an expedition cruise ship that has been taking travelers to the Galapagos since 1991. Originally, one of 3 identical superior first-class yachts, two of the yachts have been replaced by the slightly larger luxury vessels, Theory, and Origin. Letty  can accommodate up to 20 guests on three decks with comfortable and cabins, each with a private en-suite bathroom.
Accommodations include ten double outside-facing cabins with a window or porthole view, one double bed or two twin lower beds, fully air-conditioned with private bathroom (hot and cold water showers), bio-degradable soap/shampoo dispensers, hair dryer, closet, drawers, intercom and separate climate controls for your comfort. There's a dining room, well-stocked bar and conference area with a flat screen TV, library and panoramic picture windows. Or you can relax in a lounge chair on the sun deck, enjoying sea breezes and a sky full of stars.
Programs:
In order to reduce the pressure on the most popular visitor destinations, the National Park Service has stipulated that all cruise ships alternate their itineraries. There is now an 'A' and a 'B' itinerary, both of which can be booked for 8, 7 or 15 days. Guests on 6-day cruises can disembark in Baltra (South Seymore Island) on Saturday. The 14-day itinerary is the combination of the two itineraries in alternating order.
The order of visits may vary slightly depending on the yacht assigned.
You can choose ONE activity per site or as time permits: SN = snorkel, KY = kayak, PR = panga (dingy) ride
The main difference between the two itineraries is that itinerary A takes a more central/southern route, while itinerary B takes a more western/northern approach.
Rates in 2020/2021
The rates below are given in US dollars, per person for the 8 days/7nights, based on double occupancy. For single or triple rates, please inquire.
Single cabins are limited and assigned by us.  'Females willing to share' (WSF) or 'Males willing to share' (WSM) can be placed on request: the single rate will apply, and only if matched will the share rate apply. Otherwise, the single rate will apply.
TRIPLE cabins have two twins lower beds that can be converted to a king size bed and one additional pull-down berth.  The size of the pull-down berth is smaller than the other two beds and is intended for children or small adults..
Holiday departures
On holiday departures that fall over Christmas Day and New Year's Eve, there are no discounts offered of any kind and a single cabin has 100% supplement.  In addition, there is a holiday supplement of $325 person in 2020.
Family departures
Most of our family departures are multi-generational families with teenage children age 12 to 17 – and even college age. Expect longer hikes and more kayaking and snorkeling opportunities.  We make every effort to assign similar ages of children together on the same yacht. 
Family departures with a cultural exchange or conservation project with  local students from Galapagos
We offer a cultural exchange or scientific project with local students from Galapagos through Ecology Project International (EPI) on selected family departures.    For the EPI Field activity, our guests take an active role in conservation by going into the field with EPI, and get inspired alongside their students.  We meet up at the EPI camp "Reserva Parajo Brujo" where you will collect and analyze data from tortoise dung and learn seed dispersal research protocol. Trust us – it is a fun afternoon!   The cultural exchange is a walking tour given by EPI's Ecology Club students where you will learn the secrets of human history on Santa Cruz Island directly from its people. Local high school students will guide you through the highlights of their hometown while sharing stories, legends and traditions of Galapagos.  Also, you can participate in community conservation efforts by  using handmade nets constructed by students to keep the beaches and bays safe for marine life.  The tour ends at a local ice cream shop with photo opportunities.
Activities on board family departures for children and teenagers
Activities may vary depending on the itinerary (A or B), the ages and involvement level and weather conditions. Kids can visit the bridge and learn about navigational charts and tie nautical knots with our Captain. Our chefs will organize an ice cream social, pizza making, cake decoration or chocolate fondue activities with the kids.  Our guides offer games with prizes, drawing contests or talent shows.  On itinerary B, we celebrate crossing the equator with a King Neptune costume party. On itinerary A, we have a pirate themed party on board. We also have board games, books and DVDs on board that are suitable for children and teenagers. There are masks, fins, wet suits and life vests in child sizes available. A separate briefing geared toward the younger ones and kid-friendly menus with earlier dinner time are offered on family departures (in addition to the regular menu for adults).
| Deck | Double | Triple | Single |
| --- | --- | --- | --- |
| Iguana Deck | US$4900 | US$4700 | US$8700 |
| Booby Deck | US$5350 | | |
| Dolphin Deck | US$5800 | | |
| DECK | DOUBLE | TRIPLE | SINGLE |
| --- | --- | --- | --- |
| IGUANA DECK | US$5050 | US$4850 | US$8900 |
| BOOBY DECK | US$5500 | | |
| DOLPHIN DECK | US$5950 | | |
Itinerary A
Sunday
Puerto Baquerizo Moreno,
SAN CRISTOBAL (Chatham)
Cerro Tijeretas,
SAN CRISTOBAL
Monday
Cerro Brujo (SN, PR, KY)
SAN CRISTOBAL
Punta Pitt, (SN, PR, KY)
SAN CRISTOBAL
Tuesday
Punta Suarez,
ESPANOLA (Hood)
Gardner Bay (SN, PR, KY)
ESPANOLA
Wednesday
Punta Cormorant (PR),
Champion Islet(SN),
FLOREANA
Post Office Bay (PR, SN),
Baroness Point (PR)
FLOREANA (Charles)
Thursday
Highlands of SANTA CRUZ (Indefatigable)
CCFL (Darwin Station),
SANTA CRUZ
Friday
Bartolome (PR, SN) or Las Bachas (SN) Las Bachas (SN) or Black Turtle Cove (PR)
Saturday
South Plaza Island
North Seymour (PR, SN)
Sunday
Interpretation Center,
SAN CRISTOBAL (Chatham)
Sunday
Puerto Baquerizo Moreno,
SAN CRISTOBAL (Chatham)
CCJG (La Galapaguera Cerro Colorado), SAN CRISTOBAL
Monday
Darwin Bay (SN, PR, KY),
GENOVESA (Tower)
Prince Philip's Steps (SN, PR, KY) GENOVESA
Tuesday
Las Bachas (SN) or Black Turtle Cove (PR)
Cerro Dragon (SN)
SANTA CRUZ
Wednesday
Punta Espinosa (SN),
FERNANDINA (Narborough)
Urbina Bay,
ISABELA (SN) (Albemarle)
Thursday
Elizabeth Bay,
ISABELA (PR)
Tagus Cove (SN, PR, KY)
Friday
Puerto Egas,
SANTIAGO (SN) (James)
Rabida Island (SN, PR, KY) (Jervis)
Saturday

Highlands of SANTA CRUZ (Indefatigable)
CCFL (Darwin Station)
SANTA CRUZ

Sunday
SAN CRISTOBAL
Cerro Tijeretas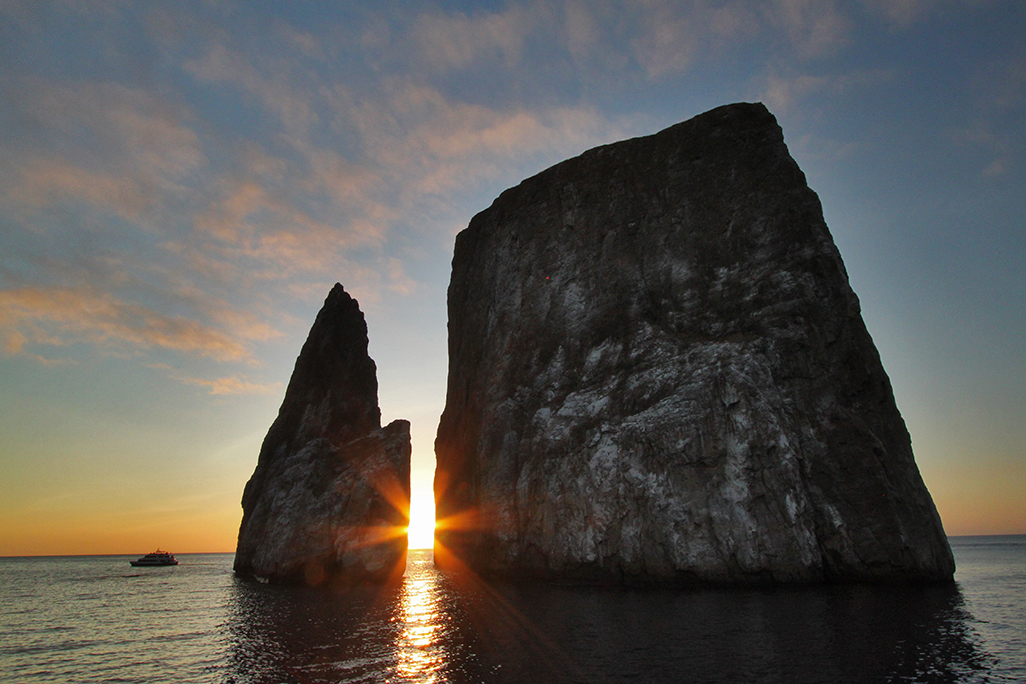 The Galapagos Islands belong to Ecuador, but they lie almost 600 miles off the mainland's coast. Access is via Quito, Ecuador's capital, or Guayaquil, the second largest city, both of which are serviced by direct international flights from the US and Latin America as well as from Europe.
From Quito or Guayaquil, there are direct flights to the Galapagos Islands.
Flights for this particular Cruise company are serviced by AEROGAL Airlines from Quito and Guayaquil. Flight reservations for confirmed passengers are made automatically by us through our allotment of seats on Sundays to/from San Cristobal (SCY). Passengers who purchase their tickets through us for the Aerogal flights will receive assistance with the check-in procedure and can choose to pre-pay the park tax and transit card.
A representative accompanies our passengers on this flight. The airline allows one checked suitcase (maximum 44 lbs.) and one carry-on bag per passenger. Aerogal Airlines is required to spray inside the aircraft with a special process once the doors are closed and the flight is preparing for take-off. This is considered a common procedure for flights bound to fragile island eco-systems that are susceptible in order to prevent any invasive species or virus being accidentally transported to the islands.
Flight Check-In Procedure:
On the day of departure, please be at the airport in Quito or Guayaquil two hours prior to departure for check-in. A card will be left at your hotel the evening prior with the exact check-in time. You must first have your bags inspected by SICGAL as required to travel to Galapagos. Next, look for our representative at the AEROGAL Airline ticket counter to collect your boarding pass, transit card (if prepaid) and get assistance with check-in. Do not stand in line to pay the TCT card if you have already prepaid.
Upon arrival in Galapagos, you may be selected to be fingerprinted to complete the process of the migration control. Next, a queue will be formed to process payment of the Park entrance fee. If you have already prepaid this fee through us, please inform the park representative. They will have a list of prepaid passengers. Once through, our guides will be waiting for you with signs. You do not need to claim your bags, our crew will collect all the luggage and deliver them to your cabin. Passengers who choose to travel to Galapagos earlier or choose to purchase tickets on another carrier will not be provided with the same services.
Included in Cruise Rate
Cabin accommodation, in a deluxe stateroom on the Beagle deck with either two twin beds or a King size bed with large windows providing an unobstructed view of the ocean.
All meals and after-excursion snacks, creatively prepared by our culinary school-trained chefs using ingredients sourced from local, sustainable producers.
All beverages including an open bar policy, featuring wines and spirits, soft drinks, fresh juices, tea, and coffee served complimentarily and the Captain's welcome and farewell cocktail parties.
Guided shore and Zodiac excursions twice daily with two expert naturalist guides (one for every ten guests), the lowest ratio in the Galapagos.  Nightly briefings and lectures providing enrichment on topics relevant to Galapagos throughout the week.
Instruction in snorkeling technique and use of stand-up paddleboard and multiple kayaks for optional water-based activities.  Use of glass-bottom boat for excursions to view marine life.
Use of wetsuits (3mm full style) and snorkeling equipment (masks, fins, and snorkel).
Use of all amenities on board including the library, Jacuzzi and Fitness Center equipped with a treadmill, elliptical, free weights, yoga mats, and more.
Transfers in the islands between the airport with meet & greet services and dock to the vessel in Galapagos.
A crew of 14 including your Captain, two guides and a full-time concierge to attend to your every need.
Not included in the Cruise Rate:
International Airfare to Ecuador (Quito or Guayaquil)
Hotel accommodation in Ecuador the night before your cruise (although we can assist you with your selection and reservation)
Airfare from Quito (UIO) or Guayaquil (GYE) to Galapagos (SCY), although we can book your flights through our allotment of seats on Sunday with Avianca.
Galapagos Entrance fee or Park Tax: The entrance fee to the National Park is $100 for adults and $50 for children 11 and younger and is not included in the cruise rate.
Transit Control Card – A TCT card or tarjeta de control de transito is $20 per person and is required by INGALA for all visitors to Galapagos to control migration to the Islands.
Note: the Park tax and TCT will be automatically added to your invoice and prepaid by Ecoventura for your convenience, and we take care of your paperwork, unless you decline. For those who do prepay, Ecoventura will register and pay your fees for you. Only those passengers flying to Galapagos on Sunday on Avianca can pre-pay the park tax and TCT. Rates are subject to change at any time until day of departure.
Gratuities to guides and crew –  We believe our crew members provide world-class service and we hope you agree. We do not add an automatic service charge to your account as we prefer that guests reward our crew solely based on their performance at the end of their cruise. If you would like to do so, any amount you feel appropriate is truly appreciated. However, for guests who might wonder what the typical amount is, at the Origin we suggest each of our passengers leave in between US $300 – $350 per week which is the international standard for a luxury vessel like this. If you would like to leave your gratuity in cash, please feel free to use the envelope provided and drop it in the gratuity box that will be located in our lounge area. You could also charge the gratuity to your credit card by using your Visa or MasterCard.  Gratuities are distributed among all crew members including naturalist guides.
Purchases from the bar for premium branded of wine or spirits that are available but not included in the open bar policy.
Purchases from our boutique offering high-quality local handicrafts, sundries and gift items.
Satellite communications (Wi-Fi) – additional charge of $100 per day or $300 for the entire week is limited for one PIN card per cabin.
Laundry service – available Monday to Friday only and limited to 5 items per day per cabin.
Travel insurance – we highly recommend that you protect your investment in case of cancellation or delay through World Nomads or other travel insurance company.
We accept cash in US dollars or Visa or Master card only on board as forms of payment. 
Family Departures:
(some of these will be on Letty, others on the Luxury Yacht 'Origin')
Jan 05-12 (A)
Feb 16-23 (A)
March 8-15 (B)
March 15-22 (A) Letty
March 22-29 (B)
March 29-05 April (A) Letty
April 5-12 (B)
April 12-19 (A)
June 7-14 (A) Letty
June 14-21 (B)
June 21-28 (A)
June 28- 5 July (B)
July 05-12 (A) Letty
July 12-19 (B) Letty
July 19-26 (A)
July 26-2 Aug (B) Letty
Aug 2-9 (A) Letty
Aug 9-16 (B) Letty
Aug 23-30 (A)
Oct 18-25 (B)
Nov 22-29 (A)
Dec 13-20 (B)
Dec 20-27 (A)
Dec 27-03 Jan (B)
Regular departures on Letty 2020:
Letty is in Dry Dock until February 16th, 2020
Feb 16-23 (A) – sold out
Feb 23-01 Mar (B) – sold out
Mar 01-08 (A) – sold out
Mar 08-15 (B) 
Mar 15-22 (A) (Family)
Mar 22-29 (B) (Single)
Mar 29-05 Apr (A) sold out
Apr 05-12 (B) (Family)
Apr 12-19 (A) sold out
Apr 19-26 (B) sold out
Apr 26-03 May (A) sold out
May 03-10 (B) sold out
May 10-17 (A) sold out
May 17-24 (B) sold out
May 24-31 (A) sold out
May 31-07 Jun (B) sold out
Jun 07-14 (A) (family)
Jun 14-21 (B) sold out
Jun 21-28 (A) sold out
Jun 28-05 Jul (B)
Jul 05-12 (A) (family)
Jul 12-19 (B) (family)
Jul 19-26 (A) (private charter)
Jul 26-02 Aug (B) (family)
Aug 02-09 (A) (family)
Aug 09-16 (B) (family)
Aug 16-23 (A) (family)
Aug 23-30 (B)
Aug 30-06 Sep (A) (maintenance)
Sep 06-13 (B) fall promotion
Sep 13-20 (A) fall promotion
Sep 20-27 (B) fall promotion
Sep 27-04 Oct (A) fall promotion
Oct 04-11 (B) fall promotion
Oct 11-18 (A) fall promotion
Oct 18-25 (B) fall promotion
Oct 25-01 Nov (A) fall promotion
Nov 01-08 (B) fall promotion
Nov 08-15 (A) (private charter)
Nov 15-22 (B)
Nov 22-29 (A) Thanksgiving
Nov 29-06 Dec (B) fall promotion
Dec 06-13 (A) fall promotion
Dec 13-20 (B) fall promotion
Dec 20-27 (A) holiday terms
Dec 27-03 Jan (B) holiday terms
2021 Letty will be retired in February 2021!
Jan 03-10 (A)
Jan 10-17 (B)
Jan 17-24 (A)
Jan 24-31 (B)
Jan 31-07 Feb (A)
Feb 07-14 (B) (private charter)
Feb 14-21 (A) Final Voyage of Letty!
Children age 11 years and younger at the time of sailing are entitled to a 25% discount off the cruise rate %50 park fee and and 30% discount off the airfare with photocopy of the child's passport showing date of birth.
Children ages 12-17 years are entitled to a 15% discount off the cruise rate only.
Child discounts are applied to cabins on the iguana deck unless not otherwise available. No child discounts are permitted on "Holiday departures" (Christmas & New Year).
Age restrictions: Children age 5 and under are only permitted on an exclusive charter basis when parents or legal guardians sign a waiver.  It is highly recommended that children age 11 and younger confirm only on a designated family departure.
Other conditions: We allow only one child discount to be given per every adult fare paid. And, Ecoventura may limit the number of child discounts permitted on any one departure. Children under 18 years of age must be accompanied by an adult over age 21. Children under 12 cannot be confirmed on Booby deck cabins or occupy a cabin by themselves as a single. Families who want to be on the same deck as their children need to book both cabins on the dolphin deck. On Family departures, iguana deck cabins are used to confirm children and triples only, not adults, unless dolphin and booby are sold out. When children are accommodated in a triple cabin, the discount is calculated from the double iguana deck rate.
These identical superior first-class sister yachts accommodate no more than 20 guests and feature three decks of spacious staterooms with polished teak interiors trimmed with shiny brass fittings. Accommodations include ten double outside-facing cabins with a window or porthole view, one double bed or two twins lower beds, fully air-conditioned with private bathroom (hot and cold water showers), bio-degradable soap/shampoo dispensers, hair dryer, closet, drawers, intercom and separate climate controls for your comfort. There's a dining room, well-stocked bar and conference area with a flat screen TV, library and panoramic picture windows. Or you can relax in a lounge chair on the sun deck, enjoying sea breezes and a sky full of stars.
DOLPHIN DECK
Cabins #1,3 & 4 have two twins lower beds and picture windows.
Cabin # 2 has one double bed and picture window.
(cabins average 95 square feet)
BOOBY DECK
Cabins # 5 & 6 cabins have one double bed and picture windows.
(cabins average 90 square feet)
IGUANA DECK
Cabins #7 & 8 have two twins lower beds and port lights.
Cabins # 9 & 10 have two twins lower beds and one upper berth with port lights. These two cabins can be used as triples.
(cabins average 110 square feet)
SINGLE
Single cabins are assigned to the best cabin available at the time of sailing.
Dress code is casual and comfortable, and informality is basic to all activities. We recommend you use a collapsible, soft-sided suitcase. Checked bags should be securely locked for your security.
LONG PANTS (lightweight, khakis)
SHORTS (Bermudas or other)
SHORT SLEEVED SHIRTS, T-SHIRTS
LONG SLEEVED SHIRTS, SWEATSHIRT (JUL-NOV)
LIGHTWEIGHT WATERPROOF WINDBREAKER
BATHING SUITS (2)
WALKING SHOES OR LIGHT HIKING BOOTS
RUBBER-SOLED SHOES OR BOAT SHOES
SPORTS SANDALS WITH A VELCRO STRAP
SMALL BACKPACK or KNAPSACK
WATER BOTTLE
WIDE BRIMMED HAT, BANDANA
CAMERA (with extra memory cards, polarized lenses, and waterproof bag)
UNDERWATER CAMERA
SMALL PAIR OF BINOCULARS
POLARIZED SUNGLASSES/ STRAP, SUNSCREEN
SEA SICKNESS MEDICATION
INSECT REPELLANT
PERSONAL MEDICATION
Beach towels, water bottle, wetsuits (3mm), mask, snorkel, flippers and hair dryers are provided and therefore it is not necessary that you bring these items.
Climate & Marine Currents
Located on the equator, the Galapagos Islands have a surprisingly cool, sub-tropical climate. The larger islands with volcanic peaks have a variety of climatic zones. The coastal areas are arid and covered with plants adapted to desert conditions. The highland areas receive moisture almost all year round, which support lush vegetation. Temperatures are determined almost entirely by ocean currents, which are influenced by the trade winds.
There are two seasons, both of which have some precipitation. The Galapagos get an average of ten inches of rain per year, so it is never considered "rainy". Unlike most equatorial regions, the Galapagos are not hot and humid; they lie instead in one of the Pacific's "dry zones" where temperatures remain abnormally low, cooled by upwelling in the sea. The Galapagos cycle through two distinct seasons: the warm/wet season (January to June) and the cool/dry season (July to December).
From June to November, the cold Humboldt Current sweeps northward from Antarctica. When it reaches the northern tip of Peru, the southeast trade winds push it toward the Galapagos. This mass of cold water cools the air and creates an inversion layer over the islands. The inversion upsets the usual weather pattern associated with the tropics. While the lowlands are experiencing drought, the highlands receive misty precipitation locally known as "garua" (pronounced gah-ru-ah) season, which means mist in Spanish.
During the months from December to May, the cooling current subside, temperatures rise and the southeast trade winds and the Humboldt Current vanish. Warm waters flow south from Panama. Periods of rain are strong but are of short duration. Temperatures are warm and sunny days outnumber cloudy days. Some years, the flow of warm water is greater than normal and a phenomenon known as "El Niño" results. Surface water temperatures climb higher than usual and rainfall greatly increases. Life on land flourishes, but seabirds and marine life frequently experience extreme breeding failures.
Water Temperatures
• May to November at Wolf & Darwin: 74-78 degrees F
• May to November in Central Islands: 65-72 degrees F
• December to April at Wolf & Darwin: 76-80 degrees F
• December to April in Central Islands: 75-78 degrees F
Galapagos Seasons
January
Warm marine currents arrive. Land birds start nesting On Espanola, the adult male marine iguanas become brightly coloured. The green sea turtle arrives at the beaches of Galapagos to lay their eggs. Land iguanas begin reproductive cycles on Isabela. Water and air temperatures rise and stay warm until June. Warm waters are comfortable for snorkelling.
February
On Floreana, Greater flamingos and White-cheeked pintails start their breeding season Nazca boobies on Espanola are at the end of their nesting season. Marine iguanas nest on Santa Cruz. Highest water temperature reaches 25°C (77°F) and remains until April. Galapagos dove's nesting season reaches its peak.
March
Sporadic tropical rains and intense sun. Air temperature can reach up to 30°C (86°F), water temperatures reach their maximum. Marine iguanas nest in Fernandina. On March 21st, the summer equinox signals the beginning of Spring. The waved albatross arrive in Espanola to begin their breeding cycle.
April
Massive arrival of waved albatross to Espanola to begin their courtships. Hatching season ends for giant tortoises. Green sea turtles eggs begin to hatch. Land iguanas hatch on Isabela.
May
North Seymour's blue-footed boobies begin their courtship. Sea turtles are still hatching on Gardner Bay and Punta Cormorants. Palo santo trees begin to shed their foliage. Albatross on Espanola start laying their eggs. Band-rumped storm petrels begin their first nesting period.
June
Beginning of the dry season with the arrival of the Humbolt current. Giant tortoises migrate from the highlands to lowlands for suitable nesting places to start the nesting season.
July
Seabirds are active, especially blue-footed boobies on Espanola Flightless cormorants court and nest on Fernandina. It is possible to find oystercatchers nesting on Puerto Egas. Lava lizards initiate mating rituals until November. Whales and dolphins are more likely to be observed, especially off the Western coast of Isabela.
August
The Galapagos hawks court on Espanola and Santiago. Large colonies of Nazca boobies and swallow-tailed gulls nest on Genovesa. The temperature of the ocean sinks to 18°C (64°F) which obviously varies depending on the geographic zones within the islands. Migrant shore birds start to arrive and stay on the islands until March. Giant tortoises return to the highlands.
September
The peak of the dry season. The air temperature reaches its lowest (19°C / 66°F). Penguins demonstrate remarkable activity on Bartolome until December. Sea lions are very active, females give birth, especially in the western and central areas of the Archipelago. Most species of marine birds remain active at their nesting sites.
October
Lava herons nest until March. The Galapagos fur seals begin their mating period. Boobies raise their chicks on Espanola.
November
Sea lion pups are active on the Eastern part of the Archipelago. The breeding season of brown noddies and Band-rumped storm petrels begin their second nesting period.
December
The islands receive warm waters from the basin of Panama; the Panama Flow. Hatching of the giant tortoises' eggs begins and lasts until April. Green sea turtles display their mating behaviour. The warm season begins and all of the plants of the dry zone produce leaves. Galapagos 'turns green'. The first young albatross fledge.
Among Galapagos Tour Operators, Ecoventura is a leader in best practices for sustainability, conservation and social corporate responsibility, and they have been since they first started out in this very competitive business.
Charles Darwin Foundation
In 2017, Ecoventura entered into a partnership with the CDF and Galapagos National Park to create the Galapagos Biodiversity and Education for Sustainability Fund (GBESF)to support research and conservation projects related to biodiversity conservation.
GTCF Galapagos Traveler Conservation Fund
Galapagos Traveler Conservation Fund (GTCF) is administered by the International Galapagos Tour Operators Association, a 501c3 non-profit organization made up of responsible tour companies dedicated to promoting sustainable tourism and to providing critical financial support for organizations working on the ground to preserve and protect the Galapagos.
Ecology Project International
Ecoventura sponsors 12 scholarships every year for local high school students to study conservation and ecology-related issues under the direction of Ecology Project International (EPI). Students spent 50 hours in the field directly involved in conservation actions concerning invasive species and tortoise health.  Ecoventura also launched a career shadowing program for  EPI students offering them the opportunity for career exploration in tourism during a Galapagos cruise with Ecoventura with the guides serving as mentors.
Pack for a Purpose
Ecoventura has teamed up with Pack for a Purpose, a charitable organization, that suggests needed supplies visitors can bring to Galapagos. The supplies are donated to the students at the Alejandro Alvear School benefiting children with physical disabilities and adults who are hearing impaired and The New Era Galapagos Foundation that supports art programs, Eco-Scouts and English activities.
Rainforest Alliance
The Rainforest Alliance verified program lets consumers know they are buying a service from a business that cares about its impact on the planet and has taken measures to reduce that impact.
World Wildlife Fund
In 2006, Ecoventura established the GMBF in partnership with WWF that targets environmental education and marine conservation by strengthening the local communities ability to manage natural resources.
CREST
The Center for Responsible Travel (CREST) is a non-profit research institution with offices in Washington, DC and at Stanford University, whose mission is to promote responsible tourism policies and practices globally so that local communities may thrive and steward their cultural resources and biodiversity.
Native Energy
Ecoventura was the first company in Galapagos to offset carbon emissions from the company's four yachts and sales offices from 2006 to 2011. Carbon emissions were also reduced by 10% through the use of high-performance filters and installation of solar panels and wind generators on the ERIC, converting her to the first hybrid yacht in Galapagos.
How you can make a difference
Help us recycle and conserve energy during your cruise.
We have implemented a waste management system and garbage-recycling program on all vessels. Please use the garbage receptacles placed on all decks with separate containers for plastics, paper, glass and organic waste. Organic waste is compacted and discharged according to International regulations and National Park requirements. Inorganic solid waste is separated into paper, glass and plastic and turned over to the local municipal waste service and recycling centre. Better yet, try to take any packaging back with you to dispose of on the mainland. Signs are posted in your cabins to remind you to reduce, reuse and recycle. You will find two types of towels in your cabin. The green towels are to be used for the island visits and snorkelling. The white towels are to be used in your cabin only. Our policy is to change your towels daily. However, to conserve energy, only the towels that you place on the floor will be changed.
Follow the National park rules & regulations
The National Park establishes and maintains nature trails and interpretive signs. Signs posted on board our vessels list the National Park Rules & Regulations. During the orientation, your guide will go over the Galapagos National Park rules which you are required to follow. Visitors cannot legally go anywhere in the designated National Park area without being escorted by a licensed guide. During the cruise, listen to your naturalist guide and follow all the National park rules; they are as follows:
Please do not disturb or remove any native plant, rock or animal on land or in the water.
Be careful not to transport any live material or sand from one Island to the next.
Do not take any food or drink except water to the uninhabited islands.
Please do not touch, pet or feed the animals. Approaching them too closely or taking flash photography will disturb them.
Please do not startle or chase any animal from its nesting place.
Please do not leave any trash on the Islands or throw any litter overboard.
Please follow the marked trails at all times and do not walk out of their limits.
Please stay with your naturalist guide who must accompany all groups on the trails.
Please do not buy souvenirs of objects made from native Galapagos products (except for wood) especially black coral, sea lion teeth and shells of the Galapagos tortoises.
Do not smoke on the islands.