The Lodge
Posada Amazonas is located on the Ese'eje Native Community's territory within the 2000 hectare private communal reserve, which in turn is directly adjacent to the 1.5 million hectares Tambopata Candamo Reserved Zone in southeastern Amazonian Peru. Access is simple: fly from Lima or Cuzco on a daily scheduled commercial flight to the city of Puerto Maldonado and travel by boat two hours up the Tambopata River to Posada Amazonas. The lodge is located less than 10 minutes walking from the river.
Thanks to its accessibility, excellent wildlife observation opportunities, and first-class accommodations, Posada Amazonas is the ideal short, economic introductory nature tours to Amazonia's richest rain forests.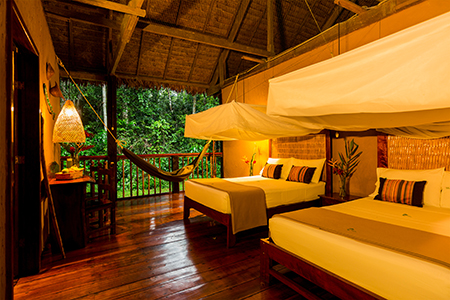 Comfort Rooms
Comfort rooms are 45 square meters and have an open verandah that looks out into a wild tropical rainforest reserve. They are available as singles, doubles or twins, and each is equipped with a mosquito net over large, comfortable beds, two hypoallergenic pillows per person, a hammock, and a reading table.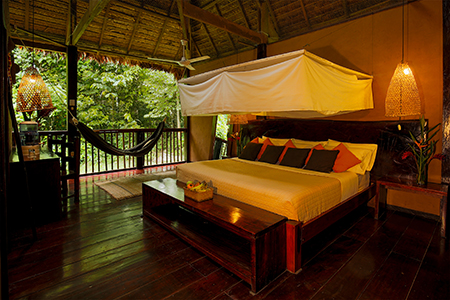 Suite Rooms
Experience a bit of extra comfort and quality by staying in one of the premium rooms.  Each of these beautiful new rooms features authentic Ese-Eja décor that has been crafted by artists from the local indigenous community, beautifully varnished tropical hardwood floors and the same intimate view of the surrounding rainforest as the other rooms.
Equipped with a large, luxurious bed, hypoallergenic pillows, ceiling fans, electricity, and other fine amenities in the middle of the jungle.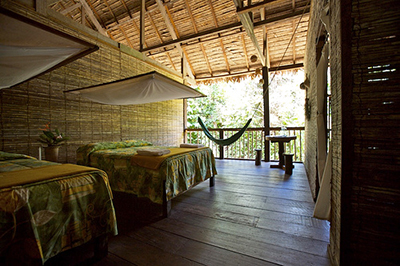 Superior Rooms
Superior rooms are built with local materials such as tropical hardwoods, palms, bamboo, and adobe. Monkeys, many species of birds, frogs, and other rainforest wildlife are often visible from our signature windowless verandahs. Those same verandahs also add comfort with excellent ventilation. Our Superior Rooms are available as doubles or triples and come equipped with mosquito nets for the beds and have spacious private bathrooms with hot water. Numerous kerosene lamps and candles provide soft lighting. Electricity and internet are just a short walk to the common areas of the lodge.
This short 3 day/2 night 'Quicky' program is just long enough to give you a glimpse of the natural wonders that are waiting to be discovered in the rainforest
This 4 days / 3 nights Discoverer program, allows for a slightly more in-depth insight into the ecology of the rainforest and its inhabitants.
This 5 days / 4 nights Explorer program offers the opportunity to explore all the fascinating sites that can be found in the vicinity of Posada Amazonas.