The Lodge
Refugio Amazonas is a simple, 24 room lodge located in a 120-hectare private reserve surrounded by the community of Condenado, 3 hours by boat from the nearest town, Puerto Maldonado, and 2 hours up-river from Posada Amazonas. Puerto Maldonado can be reached in 30 minutes on daily commercial flights from Cusco and 90 minutes from Lima. Thanks to its location in the Tambopata National Reserve buffer zone, Refugio Amazonas is an excellent option for introductory nature tours and the ideal stepping stone for longer explorations to the Tambopata Research Center. Refugio Amazonas plays an important role in coalescing the communities around it to support the conservation of the buffer adjacent to the Tambopata National Reserve. By working together with the surrounding river communities a more effective protective belt can be established to shield the fragile habitat bordering onto the Tambopata Reserve. Involving the communities in the project provides alternative sources of income that are based on conservation and sustainable development rather than on exploitation, poaching or habitat destruction.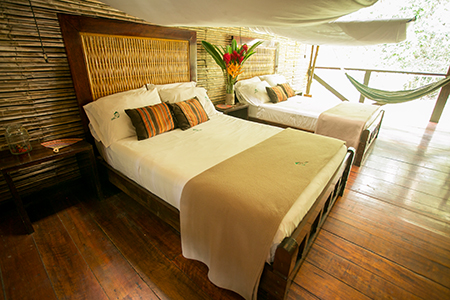 Comfort Room
Comfort rooms are 45 square meters and have an open verandah that looks out into a wild tropical rainforest reserve. They are available as singles, doubles or twins, and each is equipped with a mosquito net over large, comfortable beds, two hypoallergenic pillows per person, a hammock, and a reading table.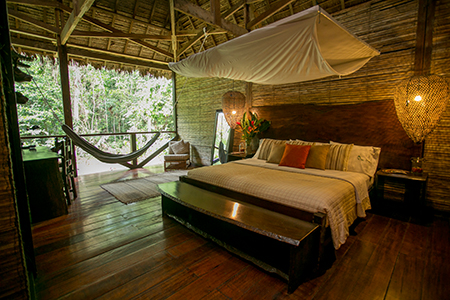 Suite Rooms
Experience a bit of extra comfort and quality by staying in one of the premium rooms.  Each of these beautiful new rooms features authentic Ese-Eja décor that has been crafted by artists from the local indigenous community, beautifully varnished tropical hardwood floors and the same intimate view of the surrounding rainforest as the other rooms.
Equipped with a large, luxurious bed, hypoallergenic pillows, ceiling fans, electricity, and other fine amenities in the middle of the jungle.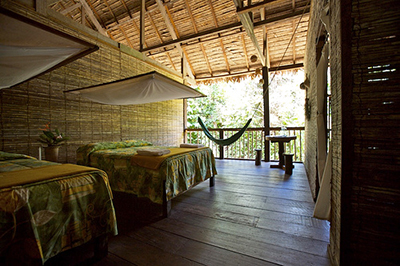 Superior Rooms
Superior rooms are built with local materials such as tropical hardwoods, palms, bamboo, and adobe. Monkeys, many species of birds, frogs, and other rainforest wildlife are often visible from our signature windowless verandahs. Those same verandahs also add comfort with excellent ventilation. Our Superior Rooms are available as doubles or triples and come equipped with mosquito nets for the beds and have spacious private bathrooms with hot water. Numerous kerosene lamps and candles provide soft lighting. Electricity and internet are just a short walk to the common areas of the lodge.
NEW! Activities à la carte!
In order to offer the greatest flexibility, Refugio Amazonas now offers activities 'à la carte', so you can choose all your day's adventures according to your interests and abilities. As some activities are very popular, we recommend that you make your preferred choices at the time of booking, so that we can reserve a spot for you.
Rates in 2020
Rates are per person/per night, based on double occupancy. For single or triple rates, please inquire.
Superior Room
based on double occupancy
Mosquito net

Hot water

Eco-friendly toiletries

Hammock (in two-bed room)

Ceiling fan

Safe deposit box

Mini bar

Private deck

Electric lamps & outlets*

Wifi*

Umbrellas

Slippers
Comfort Rooms
based on double occupancy
Mosquito net

Hot water

Eco-friendly toiletries

Hammock

Ceiling fan

Safe deposit box

Mini bar

Private deck

Electric lamps & outlets*

Wifi*

Umbrellas

Slippers
Suite Rooms
based on double occupancy
Mosquito net

Hot water

Eco-friendly toiletries

Hammock

Ceiling fan

Safe deposit box

Mini bar

Private deck

Electric lamps & outlets*

Wifi*

Umbrellas

Slippers
Flights from Lima to Puerto Maldonado depart from Jorge Chavez airport's domestic terminal and take about 3 hours. Most flights stop in Cuzco before continuing to Puerto Maldonado. Flights from Cusco depart from the domestic terminal of Velasco Astete airport and take around 45 minutes.
Transfer-in (From Puerto Maldonado to Lodge):  daily at 13:00 and 14:00
Transfer-out (Lodge to Puerto Maldonado): daily at 07:00 and 08:00
Transfer time takes about 2 hours. Thus, it is important to schedule flights accordingly – the arrival flight should reach Puerto Maldonado before 2 pm and the departure flight should not be scheduled before midday. We do not take responsibility for any delays.
Lodge accommodations based on double occupancy
All scheduled land and river transportation
All transfers
All scheduled excursions with English-speaking guide services
Meals as specified in the itinerary, B=Breakfast; L=Lunch; D=Dinner.
US$13 reserve entrance fee
International or domestic airfares,
Airport departure taxes or visa fees
Excess baggage charges,
Additional nights during the trip due to flight cancellations
Alcoholic beverages, bottled water, or snacks,
Insurance of any kind,
Extras such as:
Laundry,
Phone calls,
Radio calls or messages,
Reconfirmation of flights
and items of personal nature.
When is the dry season?: Although it can rain at any time of the year, the Tambopata region tends to be drier from May until October. The rains start up in earnest in November and continue until April with the wettest months usually being November and December. During the dry season, trails aren't as muddy, so chances are activities won't be affected by rain and more macaws and parrots can be seen on the clay licks. On the other hand, during the dry season, it is much hotter and steamier, there is less bird activity on sunny days, it is more difficult to find amphibians, and more river transports take longer due to low water levels.
Tambopata during the wet season: Expect a lot of rain, and fewer fellow ecotourists. Usually, it rains in the afternoon, while mornings are a little cooler and cloudy. There may be higher bird activity due to the cloudy weather. The ponds and temporary wetlands that form at this time of the year in the rainforest are excellent sites for nature observation, especially for finding reptiles and amphibians.
Wildlife observation: No month is better than any other for spotting wildlife. Different conditions are favourable for different animals. While parrots and macaws tend to visit the clay lick more during the dry season, other animals come and go no matter what time of the year it is. A much bigger factor for seeing Amazonian wildlife is the guide's level of experience and training.
Spotting monkeys: If you visit lodges such as the Tambopata Research Center, Refugio Amazonas, or Posada Amazonas, you have a very good chance of seeing several monkey species at any time of the year. The rollicking calls of Dusky Titis echo from vine tangles, Red Howler Monkeys call from the canopy, and troops of Squirrel Monkeys roam through secondary growth forest near oxbow lakes. Black Spider Monkeys may be a bit easier to find during the wet season because it's usually easier to locate the fruiting trees they feed on, but a good guide will increase your chances of seeing them no matter what time of year it is.
| | | |
| --- | --- | --- |
| | 4d/3n | 5d/4n |
| Superior Room | US$1824 | US$2431 |
| Comfort Room | US$1944 | US$2592 |
| Suite Room | US$2232 | US$2976 |