The Lares Adventure to Machu Picchu… a journey through the ancient history, living culture and magnificent landscape of Cusco and the Sacred Valley of the Incas. Expert guides will tailor your individual experience with a choice of adventure activities and cultural encounters. Then, as breathtaking sunsets paint the Andean sky, you will settle into deluxe mountain lodges to prepare for the next day.
Itinerary: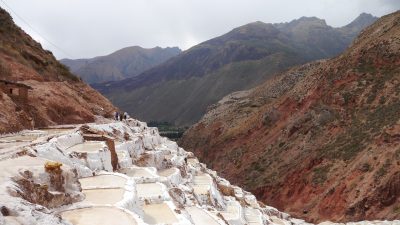 Day 1: Sacred Valley of the Incas
Begin your adventure with a journey from the urban setting of Cusco into the Sacred Valley of the Incas, full of lush green fields and surrounded by striking mountain peaks. Explore the beautiful archeological site of Chinchero, where colonial buildings rest atop Inca foundations.  Enjoy an astonishing hike through authentic Inca trails from Chinchero to the town of Urquillos. Also, you can go back in time and study the natural Inca salt mines of Maras and the astonishing circular terraces of Moray believed to be an Inca laboratory dedicated to the study of foreign plant species.
Day 2: Exploring Pisac
Option to visit the celebrated market at Pisaq or take a moderate hike in the hills and mountains over the Sacred Valley. Later, enjoy exclusive access to the isolated community of Viacha, where you will learn about its artisanal potato farming practices and enjoy a traditional "Pachamanca" meal, cooked under hot stones. After lunch, you will visit the archaeological complex at Pisaq, an afternoon excursion that offers a unique opportunity to explore the complex free of crowds, with the sun setting behind the peaks.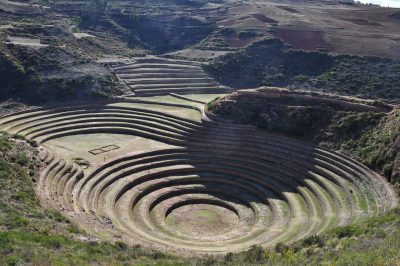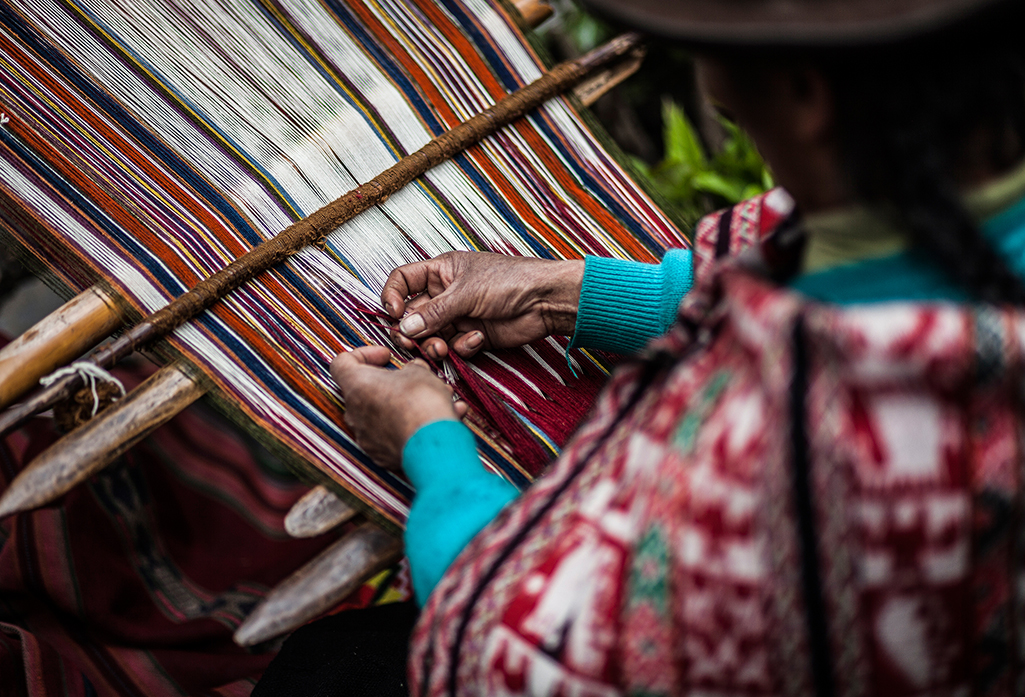 Day 3: Inca Sites and Villages
Go deeper into the heart of the Lares region. A road journey into the mountains will take you through remote archaeological sites. After lunch, choose between visiting a traditional weaver's villager or a scenic drive and a moderate/strenuous hike amidst turquoise blue lakes and towering peaks to the remote village of Huacahuasi. Locals will give you insight into the evolving role of the original Andean people in both the culture and commerce of modern-day Cusco.
Day 4: Community Encounter
If you're in the mood for a relaxing cultural experience today, you can walk through the village of Huacahuasi and learn more about its heritage and daily activities. The expert weavers will share their stories, each depicted in artful textiles full of traditional Inca/Andean symbols and imagery. Then take a cooking class, or just enjoy a walk to a beautiful waterfall near the village. For those who want to go deeper into these remote mountains, challenge yourself with an all-day hike to Quiswarani. Although strenuous, you will be rewarded with amazing views of turquoise lakes and majestic mountains as you travel on well-worn paths edged with wildflowers, passing herds of alpacas and llamas grazing on hillsides as you make your way over steep mountain passes.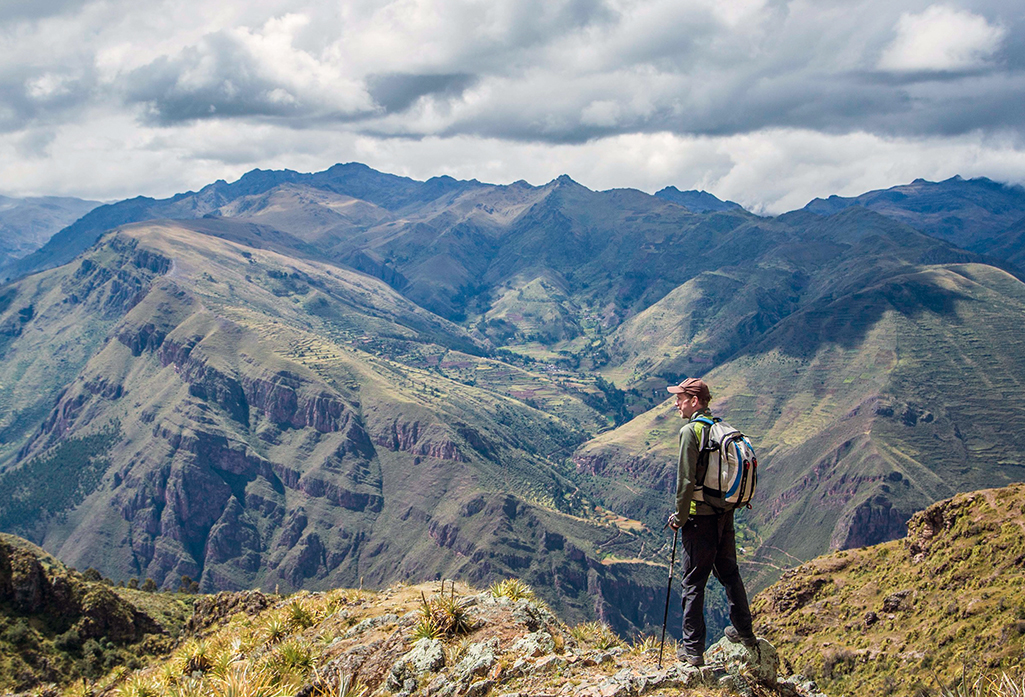 Day 5: Exploring Authentic Inca Trails
Spend some time in the morning learning more about the heritage and day-to-day activities of the Huacahuasi community. Then, you can choose to embark on a spectacular hike through varied terrain and over a high pass, to the adjacent valley leading to the ancient town of Ollantaytambo, the oldest living city in Latin America; or try an easygoing hike from Lares Pass- through an astonishing authentic Inca trail- along a beautiful canyon down to the Local Community of Totora.
If you prefer to see more of the Sacred Valley, you can drive back for a visit to an ethnographic museum featuring the history of Peru's rich civilizations of the past or choose to explore the valley on a mountain bike. Afterward, enjoy lunch in the Urubamba River countryside on your way to Ollantaytambo, where you can spend time meandering through its charming maze-like streets.
Day 6: Discovering Ollantaytambo
Early morning short hike to Inca storage structures high above Ollantaytambo for magnificent views of the town and the temple. After, enjoy a guided tour of the fortress, one of the best examples of Inca architecture and revel in its mystical history…a perfect introduction to the wonder of Machu Picchu. Midday, embark on a scenic train ride along the Urubamba River Valley to Aguas Calientes, a bustling town below the Machu Picchu Sanctuary.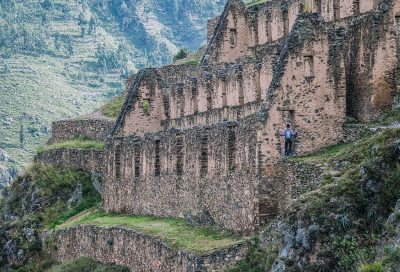 Day 7: Machu Picchu
At dawn, begin your visit to Machu Picchu with a rollicking uphill bus ride. As you enter the Sanctuary, the morning sun rises over the iconic Sun Gate and washes the structures and terraces with resplendent light. Prepare to be awed by the skillful architecture of the many Watchtower, the Temple of the Sun, and the royal Inca residences, among many others. Take a moment to quietly sit and listen to the wind…or to meditate and absorb the mystical energy that envelops you. Let your imagination soar as you contemplate the history of Machu Picchu and its mysterious origins. Optional uphill hike on Huayna Picchu. Lunch in Aguas Calientes. Afternoon/Early evening return to Cusco by train and private coach. Huayna Picchu Mountain tickets are subject to availability*
Rates in 2020
Based on double occupancy. For single or triple rates, please inquire.
Peak Season
Apr 1 - Oct 31 / Dec 15 - 31
Shoulder Season
Mar 1- 31/ Nov 1 - Dec 14
There are four airline carriers that fly roundtrip between Lima and Cusco: LATAM Airlines, AVIANCA Airlines, Star Peru and Peruvian Airlines. All of them offer similar schedules and in-flight service, but we usually recommend either LATAM airlines or AVIANCA as they tend to be the most helpful when unexpected flight cancellations or delays occur. MLP staff is available to assist you in selecting the best flight options for your trip.
4 or 6 nights (According to the program) of accommodation in lodges/ hotels
All meals (except breakfast on the first day and dinner on the last day).
All transportation services mentioned in the detailed itineraries.
Services of professional guides (Excluding moments in the program which are labeled on your own)
Tips for staff at the Lodges and staff in the field are included (except Guide tips).
Daily activities "a-la-carte" (Daily choice of hikes, soft adventure or cultural activities).
Entrance fees to tourist and archaeological sites (Includes 2 half day entrance to Machu Picchu).
Ticket to Huayna Picchu Mountain (subject to availability)
Air tickets.
Personal expenses such as beverages, telephone calls, tips, massages or spa services, laundry service etc
Extras not mentioned in the itinerary
Local taxes (18% IGV) on meals and lodging applicable to Peruvians, foreign residents in Peru and tourists traveling in Peru for 60+ days
Travel Insurance (see trip notes)
Weather:
The weather of Cusco is defined by two seasons: rainy and dry. The rainy season typically runs November through March with average temperatures around 56°F (13.3°C). Occasional showers are expected throughout this period, with the heaviest rains often occurring in January and February. The dry season is normally April through October, during which time we expect to see mostly sunny days followed by cooler nights and the possibility of morning frost. Average daytime temperature around this time is 49.5°F (9.7°C), while July is regularly recorded as the coldest month of the year. In some locations, night temps can drop down as low as 32°F (0°C).
Note: It is important to keep in mind that Cusco is located in a high mountain environment where variable weather conditions are the norm. Rain can occur in the middle of July just as the sun may appear in January, so it is always important to be prepared for mixed conditions.
Healthcare:
Altitude sickness is most common at elevations above 6562 feet and results from the body adjusting to a decreased amount of oxygen. To combat this, we recommend spending two nights in Cusco prior to the start of your program. This amount of time seems to work well for most people. In addition, it is always important to remember to drink plenty of water. Each of our lodges has purified water and guides will carry extra water throughout each route. Oxygen is also carried on the trail and available at the lodges. In cases of high altitude sickness, a hyperbaric chamber is available at the lodges.
It is important to note that everyone's tolerance to altitude differs, and the best preparation will always be good physical training including a healthy diet and physical fitness routine (with hikes!) as part of one's pre-trip training regimen. We also recommend you spend your first day in Cusco resting, eating light, drinking plenty of water, and avoiding alcohol, tobacco or any substances that might interfere with the proper delivery of oxygen to the body or cause dehydration. You may also want to try our delicious coca leaf tea, a Peruvian beverage, which is known to help with altitude sickness.
Emergency Procedures
All our guides have completed a Wilderness First Aid certification and carry a full first aid kit, portable oxygen, a portable hyperbaric chamber and radio with them on the trail at all times. Our company doctor in Cusco is always available by telephone for medical assistance and additional basic medical equipment is stored at each lodge.
Your pre-trip information pack will include an emergency contact number in the event family or friends at home need to reach you in an emergency.
Travel Insurance
All guests are required to provide valid Proof of Travel Insurance, including specific coverage for adventure travel activities in Peru. We can set you up you with an appropriate insurance with coverage (at an extra charge, to be advised prior to your trip) for medical expenses and medical emergency evacuation. We can also assist you in extending this coverage to include any travel days beyond the dates of your adventure, in the event you are planning to spend any additional time in Peru on either end of the trip.
SINGLE OCCUPANCY
Requested single room: 50% supplement of the per person rates.
Requested Willing to Share: 25% supplement of the person rates.
CHILDREN
Children under 12 years old will be granted a 50% discount on the official rate depending on the program when sharing the room with the parent (maximum two children per room). Children from 13 to 16 years old will be granted a 25% discount on the official rate depending on the program when sharing the room with the parent (maximum two children per room). The discount does not apply in a single room. In case children stay in a single room the full adult rate and single supplement will apply.
PRIVATE GUIDES
Depending on group size, we schedule one main guide or one main and one assistant guide for the duration of the itinerary. Private English-speaking guides can be arranged at an additional cost (per guide) for the standard itinerary (regardless of the number of guests). The private guide would join the group on Day 1 and also be present at the pre-trip briefing. Please inquire for guiding in other languages.
ADDITIONAL DAY AT MACHU PICCHU
Although guests will have enough time to see the main parts of Machu Picchu during the regular guided tour, some may want to expand their exploration to include climbing Machu Picchu Mountain and hiking to the Sun Gate, Inca Bridge, and more.
RESERVATIONS
At the time of reservations, MLP will need the following information: Departure Date, Full Name, Passport Number, Nationality and Date of Birth of all participants. A reservation is usually granted a 48 hours hold until a deposit is paid and confirmed. If a deposit is not made during this time frame, the space will be released automatically to serve another request. However existing reservations on hold will be contacted before they are to be released. Full guest information needed 90 days prior to departure date.
DEPOSIT AND PAYMENT
A non-refundable deposit of US$500.00 per person is required at time of booking. Full payment is required 60 days before the departure date. Additional travel services purchased at the same time may have different payment and cancellation terms. 
CANCELLATIONS
In the event of a guest's cancellation, we require notification of cancellations in writing, by email or fax. The following cancellation fees apply:
Up to 60 days prior to trip start date: US$ 500.00 per person is not refundable.
59 – 30 days prior to trip start date: 50% of the total trip cost.
29 – 0 days prior to trip start date: 100% of the total trip cost.
TRANSFER FEE: TRANSFERRING FROM ONE DEPARTURE TO ANOTHER
| | | |
| --- | --- | --- |
| | 7 Days / 6 Nights Program | 5 Days / 4 Nights Program |
| 60 + days prior to departure date | US $ 150.00 per person | US $ 150.00 per person |
| 59 – 30 days prior to departure date | 25% o the rate | 25% o the rate |
| 29 – 0 days prior to departure date | 50% o the rate | 50% o the rate |
Guests do not have to decide when requesting a transfer which future departure date they would like to join.
The transfer fee is due when confirming the future departure date.
Transfers are only valid until the end of the following year depending on availability (for example: if a guest cancels in 2020, the guest must travel on a departure date by December 2021).
If there is an increase in the rates from one year to the next, the guest is responsible for assuming the difference, in addition to the transfer fee.
We will send you complete information regarding packing and baggage upon booking. We recommend packing your belongings in a mid-sized soft duffle bag for the duration of the program. We offer duffel bags on loan (by request at the pre-trip orientation in Cusco) to any guest who might wish to use one. The train to Machu Picchu imposes a
baggage weight limit of 8kg/18lbs per person
. To ensure your bag does not exceed this amount, we highly recommend taking advantage of our duffel and storing your extra luggage at your hotel in Cusco. You will only need a day-pack for each day's hike and your duffel will meet you upon arrival at each evening's lodge.
Drone use is prohibited on these programs.
We are Peruvians who are passionate about our mountains and the people who live there. For more than 10 years, we have had the privilege of hosting guests at our mountain lodges, designed specifically to afford our visitors a seamless experience while they explore our remarkable country. Not only are we committed to sharing the celebrated treasures of Peru, we are also devoted to exceeding our guests' expectations by offering an integrated cultural component that brings these treasures to life. We take great pride in our indigenous people…and as part of our vision for their development in an ever-evolving country, we are dedicated to including them in our day-to-day operations. At the lodges, local villagers simultaneously share their customs and learn how to be industry professionals. Our local teams, comprised of this rich blend of traditions and cultures, are trained to provide outstanding service and will go above and beyond to give each guest an unforgettable experience.
We sponsored the creation of Yanapana Peru, a not-for-profit Civil Association dedicated to social and environmental responsibility. Yanapana is committed to improving the quality of life through sustainable community development, in an effort to reduce extreme poverty in the Andean Highlands. Main activities of the association include donations for the enhancement of nutrition and infrastructure at a local public school, funding and training for local entrepreneurs, which include jam and honey, handmade textiles and organic coffee production. Other supportive efforts are directed towards child sponsorship programs, as well as medical prevention, detection, and treatment programs.
In our own journey through sustainability, we realized that it was necessary to take steps beyond what was traditionally being done in social inclusion, which is why in 2012, a joint-venture was born between the community of Huacahuasi and Mountain Lodges of Peru, naming it Kuska Purispa: Walking Together.
We are convinced that sustainable tourism in the region should be built around a model that empowers local communities, making them active investors in local development projects for the long-term benefit of all. Huacahuasi Lodge opened by the end of 2014, built upon land owned by the local community and staffed by highly-trained residents from the village. Now a full year into the operation, we are very happy to report the relationship has proven a tremendous success for all!
After this successful case, we are committed to work under this innovative business model and keep empowering and generating added value to local communities in Peru.
Private services, additional services, and specialty guides are available upon request at an additional cost.
Standard languages on the trip are English, Spanish and Portuguese.
Daily activities menu will be subject to factors such as weather and other events beyond our control.
 TRAVEL INSURANCE
The Sacred Valley and Lares Adventure is a multi-activity program in remote locations and thus, comes with inherent risks. In order to provide a safe experience for everyone, we kindly request that each guest present valid proof of medical insurance. Please take care when assessing and/or purchasing your insurance policy to ensure that it includes, at minimum, coverage for emergency medical treatment and evacuation during adventure travel activities. The following information is REQUIRED at least 60 days prior to trip start date:
⁄ Name of insurance company and name of specific policy (if applicable).
⁄ Coverage registration number or code.
⁄ 24hr emergency telephone numbers provided by the insurance company.