In the southern tip of Mexico, a region known as the Yucatan peninsula lies the heartland of the ancient Maya civilization.
There are numerous archeological sites, some well excavated, like Chichen Itza, some far more obscure, and overgrown that have been reabsorbed into the jungle.
Less well known is the fact that the tiny country of Belize is also rich with fascinating Maya sites:
Altun Ha
Of these, Altun Ha, near Belize city, is perhaps the most accessible. Archeologists believe it to have been used as a trading city as there is no evidence that human sacrifice, which is a marker for ceremonial sites. On the other hand, many items have been found there that evidently did not originate at the site: e.g. a very large carved head made of jade, and obsidian tools. These could only have gotten there by trade.
Lamanai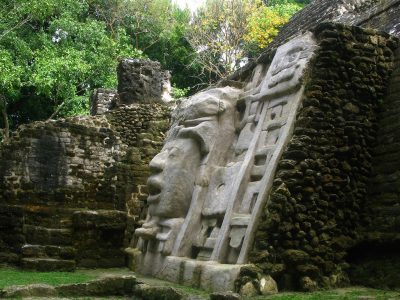 The most important ceremonial center of the Belizean Maya world is thought to have been Lamanai. This impressive site is a bit harder to reach. The best way to get there is by car and boat, traveling on the New River. Lamanai is an extensive site but remains largely overgrown. Only the largest structures have been excavated.
Lamanai is said to have been inhabited for 3000 years. It was abandoned when the Spaniards arrived. To gain control over the local population they built a couple of churches on this sacred site, which 'ruined' the site for ceremonial purposes as far as the Maya people were concerned. And so they burnt them down and left the site.
When the British came they created a sugar plantation and processing mill at this site. That did not last either as the rum, a by-product of sugar production proved too tempting. The site was abandoned once again. Due to this checkered history, Lamanai is the only Maya site that has remains from three different eras and civilizations.
It is possible to visit Lamanai on a long day trip from Belize City. But it is much better to stay at Lamanai Outlook Post for a few days and discover this Belizean outback in more depth. Both the ruins and the lagoons near the lodge are considered premier birding spots in Belize.
The best known Maya sites in Belize are in the far west of the country, in the Cayo district, close to the Guatemalan border.
Xunantunich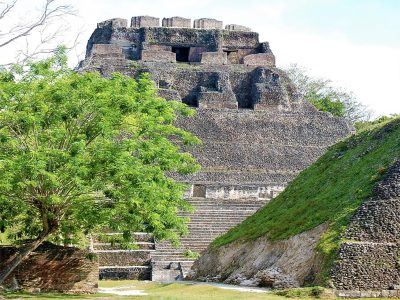 'Xunantunich' means 'stone maiden'. It is a well-excavated site and the pride of Belizean archeology. Oddly, though, there is not much known about this site. It is thought that it was a kind of control post that checked traffic and trade coming in from the Tikal region in Guatemala.
Cahal Pech
This is a small site and less impressive than Xunantunich. But both are worth a visit if you are staying at one of the nearby jungle lodges, such as Table Rock Lodge. And it is certainly also worth stopping by if you are passing through on your way to Tikal,  arguable the most stunning of all the Maya sites in the region.
Visiting the Cayo region in Belize is highly recommended. The area is very different from coastal Belize. The western border of Belize is formed by the Maya Mountains, a chain of rainforest draped limestone mountains, that are riddled with caves. It is a great place for anyone with a little bit of 'Indiana Jones blood' in them. Spelunking is a real thrill here.
Some caves contain Maya artifacts. The Mayans believed that the dead return to the earth's womb in the underworld, from which they eventually are reborn. The underworld cave systems provided an actual place in which the mythology could be played out.
For anyone interested in spelunking, by far the best place to stay in Caves Branch Lodge,  which offers a whole range of exciting activities, but specializes in caving adventures. With its range of accommodations, from simple jungle cabanas to luxury tree-houses, the lodge has a unique and very cool style and excellent guides. The lodge is especially suitable for adventure-loving families.
Caracol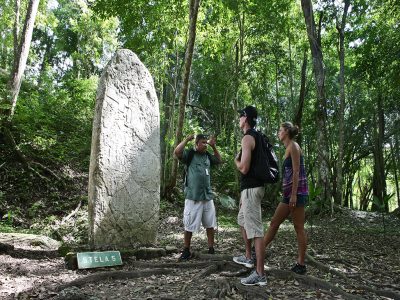 Deep in the 'Mountain Pine Ridge Reserve'. the real pearl of Belizean Maya ruins lies hidden: Caracol. Archeologists at one point thought that Caracol was a rival city to Tikal, almost equal in size. It is hard to know exactly how big it actually is since much of it remains unexcavated.
Nevertheless, with an area of at least 88sqkm, it is certainly the most extensive and important site in Belize. So far, Archeologists have been able to mark some 36000 structures. Although, most of them are little more than overgrown bumps. The largest structures are the massive Canaa Temple and a huge Acropolis. There are also some well-preserved stelae.
Getting there is quite an adventure as it is located in a very remote area. It is very interesting for nature lovers, as the environment changes dramatically in the Mountain Pine Ridge Reserve thus providing a wide range of different habitats for different species. Considering the long and arduous journey to get there it is best to stay at a lodge in the area, such as the Hidden Valley Lodge.
For real Maya aficionados, a stay at Pook's Hill Lodge would be a special treat, since it is nestled within the ancient walls of an ancient Maya settlement. Not much of it is exposed, but structures and walls can be seen throughout the property and the atmosphere there is very special – a hidden gem.
On to Tikal
If you want to venture on, into Guatemala to visit the famous Tikal Ruins, many of the lodges offer this as a day trip. However, it is quite a journey and the site itself is so large that a day-trip hardly does it justice. Some lodges also offer overnight packages with a stay just outside Tikal Archeological Park. This is by far the better option.
It is also possible to go to Tikal on your own, but it is quite complicated as there are no direct buses. The best option is to fly from Belize City to Flores and then take a taxi or shuttle bus, or to take a bus from Belize City, if it is running.
If you don't have much time going with an organised tour is the easiest, fastest and safest option.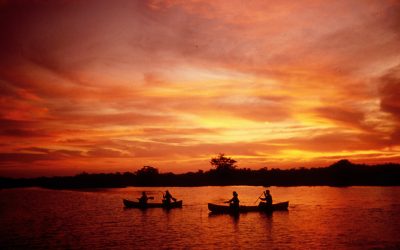 When is the best time to travel to Belize? Find out about the climate and weather conditions in Belize and what to expect at different times of the year.
read more